LG OLED C9 TV tried-and-tested review
The new LG OLED C9 is a TV with all the bells and whistles. And is somehow an improvement on the already fantastic C8 predecessor.
We're reader-supported and may be paid when you visit links to partner sites. We don't compare all products in the market, but we're working on it!

The 2019 LG C9 OLED cements itself as the last word in OLED TVs, building on the success of last year's C8 with all the right improvements. For the rather steep $6,399 price tag, you'd expect some seriously cool new features. I got the chance to test the OLED C9 65" television for an evening and can attest that it is a marked improvement, even over last year's excellent models. Plus it's got lots of new functions to be excited about.
Full disclosure: LG set up the C9 OLED in a hotel room for me to test overnight at their expense.
What's different?
If you stood the C9 side by side with its 2018 C8 predecessor, you wouldn't notice a huge difference in design. Which is not a bad thing – I own the C8 and the design is sleek, sophisticated and fits beautifully into any room. It's a piece of tech that adds to your space rather than taking away. All LG really did with the new C series is to reduce the depth of its stand, which is a welcome change for those who want to place their soundbar in front of their TV. It still sports an insanely thin design and can be wall mounted with the purchase of LG's bracket.
The real changes are inside the TV.
LG C9 new features
What's new and exciting
Loads of new features have been packed into this television. It supports HDMI 2.1, which offers faster throughput (and therefore better quality pictures) for external devices. It's got Apple's AirPlay 2 standard which allows for better streaming of content from your Apple devices, while also adding multi-room support. Last year's Dolby Atmos (for more immersive sound) and Dolby Vision (for deeper, richer blacks) are back, and work nicely with the new processor update in this year's LG OLED. More on that below.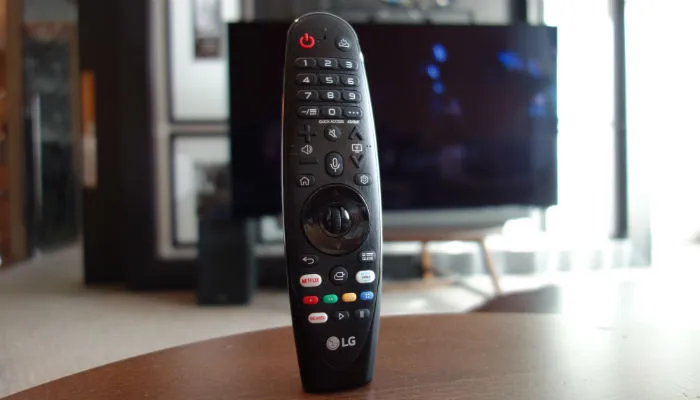 It also includes both leaders in voice control built-in: Google Assistant and Amazon Alexa. And it comes packed with the latest version of LG's truly excellent webOS software, which builds on the experience for the Australian market to make life a bit easier when surfing all that content.
LG's latest version of webOS includes features like enhanced shades in your menus so you can access an app (such as Stan) without actually opening it, and Gracenote support to give you a better understanding of what's what in your TV guide app. LG also wants its new TVs to act like the centre of your smart home thanks to both Alexa and Google Assistant integration.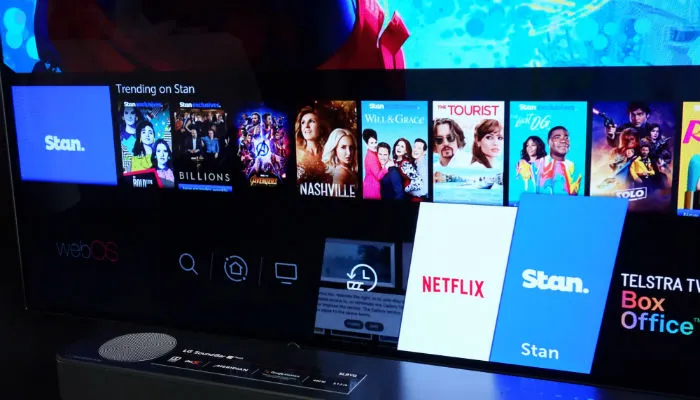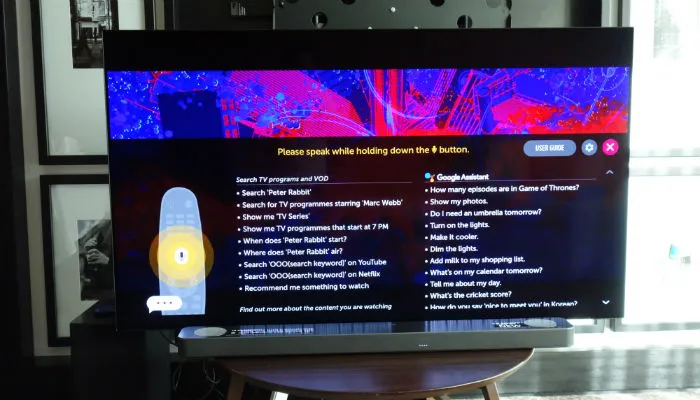 But the real bells and whistles of this television come in the form of the new Alpha 9 Gen 2 processor. It's at the heart of the LG C9 and makes the smart TV smarter than ever. This new processor features what LG dubs AI Picture and AI Sound.
The AI Picture mode, despite having a buzzwordy name, enhances the viewing experience over the previous C8 OLEDs from last year. It compares the picture input to a machine learning algorithm designed to subtly tweak the image and thus optimises the viewing experience. It upscales lower resolution content better than its predecessor. If you're someone like me who lives on a diet of crime and action movies from the 90s, AI picture will become your best friend. The Mummy has never looked so good thanks to some upscaling magic.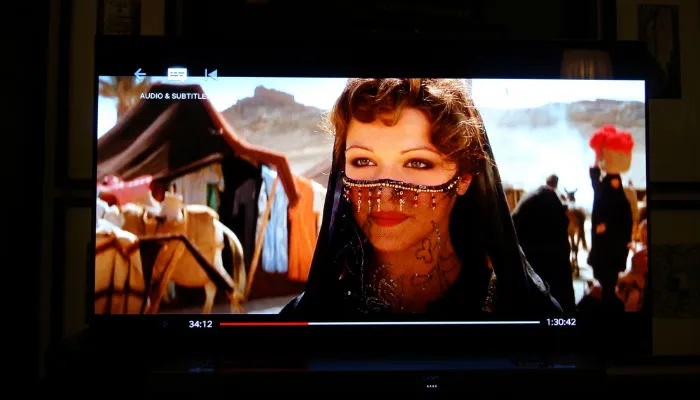 Additionally, we tested three Ultra-HD movies during our time with the LG C9: Spiderman: Into the Spider-Verse, Casino Royale and Jurassic World: Fallen Kingdom. The colours were rich and vivid while webbing through Spidey's interdimensional tale, the blacks were deep and rich during Jurassic World, and the old favourite of Casino Royale – which I've used as a benchmark to test this TV (because I've seen this movie on just about every screen known to man) – played smoothly and beautifully across the scenes. I want to note that I wasn't able to test free-to-air content with the C9 I had, as it wasn't connected to an antenna source.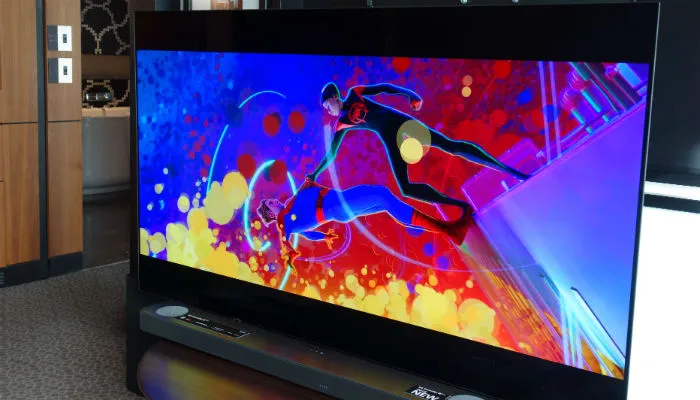 AI Picture also learns about the environment you're watching in thanks to an ambient light sensor, which allows the TV to react to the conditions in the room and display an optimal image. AI Sound on the other hand improves the stereo mixing to trick you into thinking you're hearing 5.1 surround sound, rather than a virtual copy.
The new processor also allows for more frames per second in the image, making the experience look smoother, and intelligently improves the picture upscaling over the previous model, meaning that even standard definition content sings on this immense 4K panel.
LG also gave us one of its new soundbars to test. The soundbar (catchily named SL10YG/SL8YG) now comes with Google Assistant built-in, as well as a new design that teams with the AI Sound feature to upmix 2.1 channels of sound into a virtual surround experience. While we would have liked more time to test the sound, the audio experience was rich and full. AI Sound does a particularly fine job of keeping everything to a cohesive volume. So often with my Sonos soundbar I'm having to turn the dialogue scenes up and the louder action scenes down, but AI Sound did a great job levelling it all out.
What could be better
My only complaint – other than the slightly eye-watering price of $6,399 – is the trade-off you make between the saturation of the image and the smoothness of the image. If you love a colourful, saturated image, you're going to live in the Vivid preset picture setting. Unfortunately, even with the AI Picture mode on and the new Smooth Gradation feature turned on High, the panel still produced a jagged image. That's definitely enough for you to notice during fast-moving scenes. The image smoothness is still leaps and bounds ahead of the C8 – much to this C8 owner's chagrin – but it's still there. We encourage that if it's something that concerns you, opt for an at-home installation option where a specialist can tune the set to your room.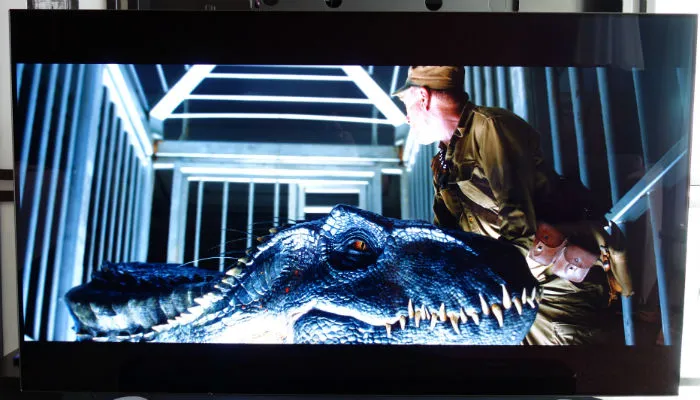 I can't speak to the simplicity or complexity of the set-up myself. The C9 that I played with came pre-installed and pre-set. But if it's anything like the C8, webOS makes it frightfully easy.
The verdict
LG's new OLED models come at a particularly interesting time. Never before has there been a choice between a consumer-ready 8K TV, available at the same time as a 4K counterpart. Within a matter of months, both LG and Samsung (with its QLED range) will have 8K TVs available for purchase. Admittedly, you'll be paying almost double the price* for a TV that doesn't have any content available in its native resolution as yet, but it's a comparison shop worth doing if you're a true high-roller.
(*I note that LG hasn't released the prices for its 8K TVs at the time of publication, but Samsung's 8K QLED model will run you in the neighbourhood of $9,999, compared to the $6,399 of the LG C9 65" I tested.)
LG OLED is still the last word in deep colour, inky rich blacks and eye-popping resolution on even its entry-level OLEDs. Nothing beats OLED for saturation and depth of blacks, so comparison shopping this one with a Samsung counterpart will be tough. Samsung's QLED models have developed in leaps and bounds alongside LG, but in the battle of the South Korean TV companies, LG still has the edge thanks to OLED.
The price for all this fancy tech is admittedly high – even by my standards, and I'm not someone who's afraid of shelling out more for good quality. It's worth pointing out that there's still nothing wrong with LG's C8 55" and 65" OLED TVs from 2018. You'll be able to pick those up for a comparative song over the next couple of months as retailers look to clear their inventory for the new C9 models.
What you miss out on with the older generation is the fantastic new processor with its AI smarts, a team of voice assistants from Alexa and Google and a few webOS bells and whistles, such as being able to access your apps from the ribbon without having to open them. LG did tell me that this software update won't be coming to the older models. I asked hoping that an update might be coming to my TV, but no such luck. If I want the new and improved features, I'll have to buy the new one.
---
Tech deals
More guides on Finder