LEGO The Incredibles review: Family fun that's Parr for the course
LEGO: The Incredibles is a decent movie companion and that's about it.
We're reader-supported and may be paid when you visit links to partner sites. We don't compare all products in the market, but we're working on it!
I'm not proud of the following statement. I was once so desperate for a movie sequel to The Incredibles that I played The Incredibles: Rise of the Underminer on PS2 – a 4/10 experience if ever there was one. I'd given up on a canon adventure until I noticed that TT Games had hideously deformed the Parr family to fit the mould of minifigs. Lego-ificiation aside, it's clear this Incredibles game is the greatest good I'm ever gonna get.
That said, while this may be bonafide Incredible, it sure ain't incredible. Weirdly, this begins with the story of the second movie before allowing you to also play through the events of the first film. It all kicks off with the Parr family and Frozone trying to stop the Underminer. While doing her wardrobe switch, Violet loses her mask and Tony, her crush in the first film, discovers her true identity which has implications later on.
---
< hr />
The bigger issue comes when the family is apprehended, post-battle, by authorities trying to enforce the "no supers" policy. Before the family can do another government-funded disappearing act into suburbia, some super-rich benefactors named Winston and Evelyn Deavor bail them out and express an interest in turning public perception of supers around. Elastigirl is their pick for a poster-woman, leaving Bob Parr to do the stay-at-home-dad thing in one of Deavor's mansions.
From here Traveller's Tales sticks fairly closely to the plot-lines of both of The Incredibles movies. Purists will note that in some cases a scene or two has been massaged a bit to add in extra characters for gameplay purposes. In other areas, the developer goes overboard and makes like Elastigirl to stretch smaller scenes from the movies into full level affairs.
The main mechanical switch-ups of this game are multi-build puzzles where you can shatter the stuff you build in order to reuse the blocks to solve another part of a puzzle. You also have to wrap your head around "family builds" which ask you to amass a new collectible called incrediblocks to trigger a special build location. Once you've done that it's time to button mash with each of the Parr family members to fill a collective meter. It's about as fun as it sounds.
Beyond that, Lego The Incredibles is the same old format really. You lay waste to everything to increase your stud count quicker than a nymphomaniac on Tinder, and then the resulting "True Super" total will reward you with Gold Bricks to spend on unlockables. If you really want to maximise this you'll need to rack up a combo multiplier that rises with every enemy flawlessly killed. You might also want to visit Edna Mode's house to create custom superheroes for a Freeplay mode (pro tip: no capes!) and then you can happily spend 20 hours or so chasing red bricks, minikit vehicles and other non-story collectibles. Basically, it's the Lego busywork thing all over again.
Speaking of deja vu, at any point you can eject out of the story to wander about a standard issue sandbox hub world. This time around you can engage in a family-friendly version of GTA in the city of Municiberg. There are 100+ incredibricks to find along with vehicular races and Crime Wave sub-missions to smash through. Literally smash, too – most of these tasks involve finding a dozen objects specific to a district in order to destroy them. Not very imaginative game design, nor is it incredibly civic-minded for a superhero.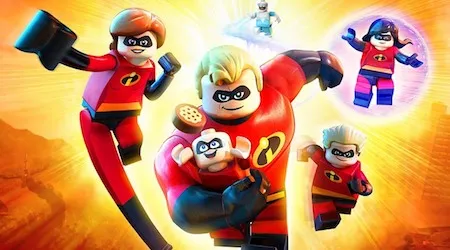 When it comes to unlockable characters, two movies clearly wasn't very much to draw ideas from. To combat this TT has decided to make the roster something of a Pixar love-in. Tick off the sub-missions and you'll be rewarded with plastic fantastic versions of Woody, Dory, WALL-E, Russel, Sulley, Linguini, Merida and more. (I've yet to find the Pizza Planet delivery van but I'll eat my hat if it isn't in there also.) Before you get too excited you should know that a large chunk of the roster is also made up of no-name DC and Marvel clones, plus the hub world itself feels emptier than the last TT game we got.
While there's nothing majorly wrong with Lego The Incredibles, it just feels saggier than Bob Parr's midsection. TT has itself to blame for this really, having thoroughly exhausted the superhero shtick with its four previously-released DC-licensed Lego adventures, and just as many Marvel ones as well. As always, this is a great title for some kiddy co-op, but in the grand scheme of the Lego franchise, we've got a Syndrome situation going on here. When everybody is super... no one is.
We reviewed Lego The Incredibles on PlayStation 4 with a copy provided by the publisher.
Lego The Incredibles
6.5 GOOD
What we liked...
It's the Incredible game that's been long overdue.
Solid co-op, as always.
Packed full of Pixar fan-services.
What we didn't like...
Roster is a little too no-name.
Hub world feels thin.
Barely shakes up the formula.
VERDICT
An uninspired addition to TT's Lego franchise. In terms of content offered and new mechanics pales in comparison to the Marvel and DC offerings. A decent movie companion and that's about it.
For more information on how finder.com.au scores games, check our review guidelines.
---