LEGO Star Wars The Force Awakens Review: Not just another brick in the wall
Pro tip for maximum survival: Don't play Solo.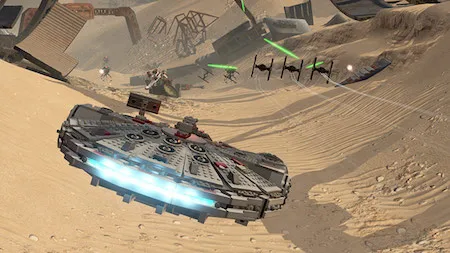 We're reader-supported and may be paid when you visit links to partner sites. We don't compare all products in the market, but we're working on it!
After more than 18 LEGO games, it feels like we go through the same old motions every time we review a "new" one. Developer TT Games regurgitates its usual gameplay mechanics once more, just onto a new intellectual property, and we bust out our plastic-fantastic puns in an effort to stave off our own boredom.
You know, jokes about how this one's not exactly a blockbuster. That it involves the finding of more studs than an avid Tinder user. Or perhaps it might contain an especially large boss that made us crap bricks.
Stuff like that.
That said, for the first while in a long while, we have in our hands a LEGO game that's different enough to make us reconsider our standard procedures.
Yes,
LEGO
Star Wars: The Force Awakens
is a different beast to what we're all used to, but we're absolutely still going to use the same cruddy dad jokes to describe it to you (sorry to build up your expectations there).
The most obvious new addition to the formula is cover-based shooting, and it clips onto the existing base quite nicely. Every once in a while you'll be made to insta-stick to a low wall in order to blast a specific quota of foes using a free-aiming reticle on your left stick.
Real talk: it's no Uncharted 4, or Gears of War, but dodging incoming fire is made fun and intuitive thanks to obvious on-screen warnings – and hey, blasting waves of badly-aiming stormtroopers is fun (and accurate to canon). Sometimes this gunplay requires you to shift to specific new cover-points in order to get a bead on a shootable piece of environmental puzzles. Fans of destruction will also get a kick out of a special meter that builds to deliver a satisfying block-rocking room clear attack.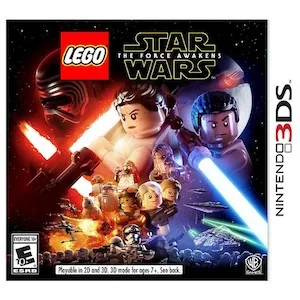 LEGO Star Wars The Force Awakens 3DS Game
from ozgameshop.com
In LEGO Star Wars: The Force Awakens, players relive the epic action from the blockbuster film Star Wars: The Force Awakens, retold through the clever and witty LEGO lens.
View details
Something else that diverts from TT's usual construct-by-numbers instruction book is multi-builds (the ability to make two completely different things from the same pile of stuff). For example: flicking left might cause you to cobble together a pulley system that allows Rey to climb up. Flicking right on the same heap will make Finn bush-mechanic together a grapple point that only he can use.
Flight sections have never been anywhere near as well-polished and expertly-scripted as this.
Last but not least, this LEGO adventure includes a bunch of entertaining flight sections which seamlessly mix on-rails tunnel runs, where you haven't much agency, to open-area dogfights, and back again. Though we've experienced sections similar to these in the past, they've never been anywhere near as well-polished and expertly-scripted as this.
Individually, these three aforementioned mechanics won't sound mind-blowing, but together they construct a LEGO game that plays and feels like nothing else before it. Especially when you factor in some unlockable side-missions that explain behind-the-scenes moments driving events in the original film.
We wish we could say more about them, but they're best left unspoiled. It's also worth noting that the fill-in voice actors, who expand upon the dialogue, do a great job during these moments, too.
Depending on skill level, this adventure equates to roughly six hours worth (or 10 episodes and an epilogue) of game play. Even though there have been great strides towards trying new things, I still feel that's a pretty short run time. Mind you, these new elements felt like they were being overused towards the end, so perhaps the end credits arriving early was a good idea.
This LEGO game is also guilty of the sort of padding seen in earlier titles. Very minor moments in the movie, like walking across a small desert encampment to get into the Millennium Falcon, have been stretched into epic ordeals of much faffing about.
If you're familiar with the film, and you know what's coming around the corner, slogging through busywork to get there can feel a little tiresome. It's almost like TT Games should stop trying to milk a single movie into a single game, and just wait until it has a full trilogy of films to draw upon (like it did in the good old days with LEGO Indiana Jones and LEGO The Lord of The Rings).
Much like those precursors, a fair amount of post-credits time can be wasted on the unlocking of bonus characters in hub worlds like Jakku, Takodana, D'qar and Starkiller Base, but these locales are not nearly as creative and expansive as Lego games gone by. There's still a Bantha poodoo-load of collectibles to keep the younglings well amused, just don't expect to be physically traversing into a galaxy far, far away to discover them all.
LEGO Star Wars The Force Awakens is available now on PS4 ($60.99), PC ($23.99) and is coming soon to Wii U ($48.99).
We reviewed LEGO Star Wars The Force Awakens on PlayStation 4 with a copy provided by the publisher.
More guides on Finder