Lastminute.com.au promo codes and deals for October 2020
Leaving things to the last minute can pay off, especially when it comes to travel with these Lastminute.com promo codes and deals.

We're committed to our readers and editorial independence. We don't compare all products in the market and may receive compensation when we refer you to our partners, but this does not influence our opinions or reviews. Learn more about Finder.
With COVID-19 restrictions in Australia easing, we're here to help you plan your next trip. Remember to follow government regulations and check with your supplier for up-to-date information.
Offering Australians last-minute travel bargains for the last 10 years, Lastminute.com.au is the place to grab a bargain on flights, hotels and holiday packages.
With it's Best Price Pledge guaranteeing you'll get the best price and a host of deals available around the clock, it's an ideal spot for nailing a bargain on your next trip.
And we'll let you in on a little secret, they've got deals for non-last-minute travel too!
Latest verified Lastminute.com.au promo codes and deals:
Popular Lastminute.com.au coupon codes
| Last checked | Code description | Code |
| --- | --- | --- |
| 28 Oct 2020 | Up to 40% off pet-friendly hotels | ******** |
| 28 Oct 2020 | Up to 30% off last-minute Australia stays | ******** |
| 16 Oct 2020 | Up to 56% off Australia getaways | ******** |
| 6 Dec 2019 | Book a Secret Hotel for up to 64% off | ******** |
| 29 Sep 2020 | Up to 16% off WILD LIFE Sydney Zoo admission | ******** |
Lastminute.com.au's coronavirus (COVID-19) cancellation and changes policy update
As of 16 March 2020, Lastminute.com.au is following the same cancellation and changes policy as the airline you have booked your flight with and does not have its own policy.
For hotel bookings, if it is a refundable booking, you can cancel it online. If it's not, but your check-in date is still 14 days (or more) away, you can fill out a cancellation form found on Lastminute.com.au's site here to apply for your cancellation fees to be waived.
Deals overview for Lastminute.com.au
Total deals: 15
Best discount: 40%
Best deal (by discount): Up to 40% off pet-friendly hotels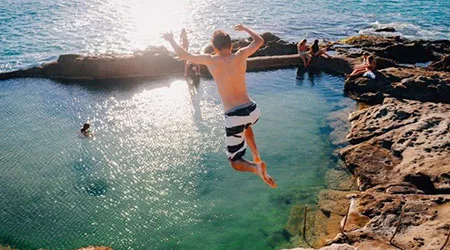 ---
---
Lastminute.com.au | Pros and Cons
Pros
Lowest price guarantee. If you find a better holiday or hotel deal within 24 hours of booking, Lasteminute.com will refund you the difference.
Secret Hotels deals. Stay at brand-name hotels at low rates. The hotel name and exact location are only shown after confirmation. All Secret Hotels bookings are final and cannot be cancelled, refunded, changed, exchanged or transferred.
Member discounts. Sign up as a member and enjoy further discounts on hotel and holiday deals.
Secure payment. Lastminute.com.au uses the highest standard of digital information security to keep you and your personal information secure.
Pay now or pay at hotel option. If you want to lock in a rate but don't want to pay for it just yet, many hotels listed on Lastminute.com.au will allow you to pay upon arrival.
Cons
No live chat feature: There is no live chat available on the website. If you are having issues with your booking, you can call the number provided or email customer support 24/7.
---
Can I book secret hotels with Lastminute.com.au?
Not anymore. Lastminute.com.au used to offer secret hotels, where you'd find out the name of your hotel after you book based on a rating, brief description and approximate location - for up to 50% less than the price of knowing upfront.
While Lastminute.com.au doesn't offer this anymore, there are other sites that do, which you can read about here.
Does Lastminute.com.au offer gift vouchers?
While the UK version of Lastminute.com.au does offer gift vouchers, they aren't currently available on the Australian site. If they do become available, we'll update this space.
How do I make a booking with Lastminute.com.au?
Enter your departure and arrival dates into the search form. You have the option to select flights or hotel deals, holiday packages, experiences and even hire a car! Click "Search" to be redirected to the best holiday deals on Lastminute.com.au
---
What forms of payment does Lastminute.com accept?
All major credit cards including Visa and MasterCard
---
What is the Lastminute.com.au cancellation policy?
Lastminute.com.au won't charge you a cancellation fee, but some hotels, airlines, experience providers and car hire companies might. Read the cancellation policy for these service providers to avoid paying a penalty fee.
---
| Deals overview for Lastminute.com.au | Provider name | Expiration date | Deal description |
| --- | --- | --- | --- |
| Up to 40% off pet-friendly hotels | Lastminute.com.au | 31/10/2020 | Available on stays until October 2020. Destinations include Sydney, Canberra and Brisbane. T&Cs apply. |
| Up to 30% off last-minute Australia stays | Lastminute.com.au | 31/10/2020 | Available for stays until October 2020 in Sydney, Melbourne, Perth, Canberra, Adelaide, Brisbane, Newcastle, Rockhampton and more. |
| Up to 56% off Australia getaways | Lastminute.com.au | 05/11/2020 | Available on stays until December 2020. Destinations include Sydney, Melbourne, Perth, Cairns, Brisbane, Townsville, Adelaide, Canberra and more. T&Cs apply. |
| Book a Secret Hotel for up to 64% off | Lastminute.com.au | 05/11/2020 | Not fussed about where you stay? Book Lastminute's secret hotels where the name is revealed when you book for up to 64% off the regular price. |
| Up to 16% off WILD LIFE Sydney Zoo admission | Lastminute.com.au | 31/10/2020 | Available until December 2020. T&Cs apply. |
---
More guides on Finder