SMILE eye surgery
SMILE can treat Australians with short-sightedness and astigmatism, but not those with long-sightedness.
SMILE is a relatively new method of laser eye surgery. Since its creation in 2011, SMILE has been performed on more than one million eyes around the world.
The procedure has a longer visual recovery time than other laser eye surgery procedures but a quick healing process because it is minimally invasive. This makes it an appealing option for athletes and professionals with a high risk of eye trauma.
Read on to find out everything you need to know about SMILE eye surgery.
What is SMILE surgery?
SMILE or small incision lenticular extraction is also known as Femtosecond lenticule extraction or FLEx. SMILE is a method of laser eye surgery used to treat short-sightedness and astigmatism. Unfortunately, SMILE is not currently able to treat long-sightedness.
Laser eye surgery clinics offering LASEK
SMILE eye surgery is minimally invasive and has less impact on corneal nerves than other methods of eye surgery, including LASIK. This makes it a suitable option for patients with dry eyes. Also, because SMILE involves a smaller incision than other laser eye surgery types, patients can generally return to contact sports sooner. However, SMILE does have a lengthy visual recovery time compared to other procedures.
Eligibility
Who can get LASEK?
You must have a fixable refractive error within a certain range to qualify for SMILE. Refractive errors that can be treated by SMILE include the following:
Myopia (short-sightedness)
Astigmatism (an imperfection in the eye's curvature)
SMILE cannot currently be used to treat hyperopia (long-sightedness).
You must also have regularly shaped corneas with adequate corneal thickness and meet the following basic criteria to qualify for SMILE:
Be at least 18 to 20 years old
Have a relatively stable glasses prescription for at least 12 months
Not be pregnant or breastfeeding
Have no active eye infections
No history of eye scarring
Have good general health
How does SMILE work?
SMILE is a three-step procedure involving the following:
First, a surgeon uses a femtosecond laser to make a small incision in the cornea.
Next, the surgeon creates a disc of corneal tissue using the femtosecond laser.
Finally, the surgeon removes the disc of corneal tissue to correct the refractive error.
How much does SMILE cost?
SMILE eye surgery is generally more expensive than other types of laser eye surgery such as LASIK and PRK because the procedure is newer and not as widely performed in Australia. The cost of SMILE eye surgery in Australia generally ranges from $3,300 to $3,700 per eye or $6,600 to $7,400 for both eyes. The total cost of your procedure will depend on your location, the technology of the clinic, the surgeon's experience and individual circumstance.
It is important to ask your clinic or surgeon for all information relating to cost before your procedure. Some clinics have one upfront cost that includes an initial consultation, testing, medication, procedure and follow-up appointments. Other clinics will charge separately for each step of the process.
While you probably want to keep the cost of your procedure low, it is important to consider more than just price when choosing which laser eye clinic is right for you. Some clinics offer payment plans to help cover the upfront cost of laser eye surgery.
What to expect during SMILE
SMILE eye surgery is a quick procedure. You may need to avoid wearing contact lenses or eye makeup for a few days leading up to your surgery.
Before your SMILE procedure, you will be given numbing eye drops and may be offered a mild sedative.
The actual procedure generally only takes 5-10 minutes per eye. You will be awake during the procedure and a speculum will be used to keep your eyes open. Most SMILE patients don't feel any pain but some feel pressure on their eyes.
After your SMILE procedure, you will be taken to a recovery room and given antibiotic eye drops to help reduce the risk of infection. You will not be able to drive after surgery, so make sure to arrange transportation home. You will likely need to take some time off work to rest and recover.
Recovery time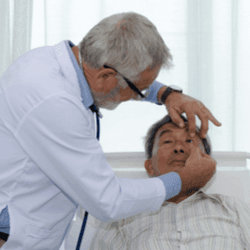 SMILE eye surgery has a longer visual recovery time compared to other methods of laser eye surgery but a quicker physical recovery. Most patients experience light sensitivity and discomfort in the days following SMILE.
Your surgeon will schedule a follow-up appointment within 24 to 48 hours to check your eyes and make sure you are healing effectively. It is important to avoid rubbing your eyes and to refrain from wearing eye makeup while your eyes are healing.
Some SMILE patients can see relatively clearly a day or two after their procedure, although it usually takes a few weeks for vision to fully stabilise. You may be able to resume driving within two or three days of surgery, but you shouldn't get behind the wheel until your surgeon has given approval.
Risks
While research indicates SMILE is a relatively safe procedure, every surgery has potential risks and complications. Read reviews of any potential laser eye surgeon or clinic to find out about their success rates.
SMILE eye surgery has the following potential risks, side-effects and complications:
Visual disturbances. Some SMILE patients report seeing "ghost" images and hazy vision after the procedure. Visual disturbances usually disappear within 6-12 months but in some cases last longer.
Tears and abrasions. According to studies, minor tears and epithelial abrasions at the incision site are some of the most common complications of the SMILE procedure. These tears and abrasions will usually heal on their own but may delay visual recovery.
Dry eyes. Dry eyes are a potential side effect of all laser eye surgery procedures. Most patients can effectively treat dry eyes with eye drops.
Over or under-correction. All laser eye surgery procedures have the risk of over or under-correction. In some cases, a second procedure may be required. Occasionally, laser eye clinics include the cost of an "enhancement procedure" in the initial price of SMILE eye surgery.
Pain. Another commonly reported side-effect of SMILE surgery is discomfort or pain. Your surgeon may prescribe pain medication to help you manage any irritation.
Infection. Infection is a potential complication of any surgical procedure. SMILE eye surgery has a low risk of infection. Your doctor will likely give you antibiotic eye drops after the procedure to help reduce the chances of infection.
Success rate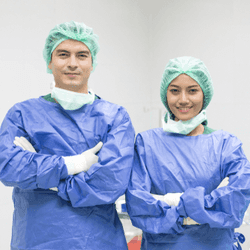 Although SMILE is a relatively new procedure, studies show SMILE to have similar results to LASIK.
According to the American Academy of Ophthalmology, more than 76.5% of SMILE patients achieved 20/20 vision within one year of surgery. Your vision should remain stable after the first year. Studies report 93.3% of SMILE patients are satisfied with the results of their surgery.
Unfortunately, if you wear reading glasses, you will likely need to continue using them after SMILE because the procedure does not treat long-sightedness.
Frequently asked questions about SMILE
Read more on this topic