PRK eye surgery
PRK eye surgery can treat Australians with short-sightedness, long-sightedness and astigmatism.
While LASIK eye surgery is the most performed eye surgery in the world, PRK was the first. The popularity of each laser eye surgery method varies from country to country, but PRK remains widely available in most places. According to the Department of Health, PRK is one of the two most performed laser eye surgery procedures in Australia.
Read on to find out everything you need to know about PRK eye surgery.
What is PRK surgery?
PRK, or photorefractive keratectomy, was developed in the 1980s and is the foundation of all methods of laser eye surgery, including the popular LASIK procedure. PRK is also known as ASLA (advanced surface laser ablation).
PRK is a refractory correction technique used to treat short-sightedness, long-sightedness and astigmatism. PRK is often recommended for patients whose thin corneas or dry eyes make them ineligible for LASIK.
Laser eye surgery is generally considered to be safe and effective, but there are risks associated with any surgical procedure.
Laser eye surgery clinics offering PRK
Eligibility
Who can get PRK?
PRK laser eye surgery can correct the following common errors within a certain range:
Myopia (short-sightedness)
Hyperopia (long-sightedness)
Astigmatism (an imperfection in the eye's curvature)
In addition to having one of the above refractive errors, you must meet some basic criteria. To be eligible for laser eye surgery, you must meet the following criteria:
Be at least 18 to 20 years old
Have a relatively stable glasses prescription for at least 12 months
Not be pregnant or breastfeeding
Have no active eye infections
No history of eye scarring
Have good general health
How does PRK work?
PRK is a four-step procedure involving the following:
First, a surgeon uses a topical solution to soften the top layer of corneal cells, known as the corneal epithelium.
A surgeon next removes this layer of epithelium, exposing the corneal tissue bed below.
A surgeon then uses an excimer laser to reshape the corneal tissue bed to correct the refractive error.
Finally, a contact-lens-like bandage is placed on the eye to help facilitate healing.
How much does PRK cost?
PRK generally costs $2,400 to $3,400 per eye or $4,800 to $6,800 for both eyes. The total cost of PRK surgery depends on the severity of your refractive error, clinic location, the technology used by the clinic and the surgeon's experience. You may be given the option of treating each eye separately over two procedures or treating both eyes together. It used to be more common to treat one eye at a time, but PRK is now usually performed on both eyes at the same time. While having two separate procedure allows some patients to take less time off work, the cost will be higher.
Some laser eye surgery clinics charge one upfront cost covering the initial consultation, diagnostic testing, procedure, medication and follow-up visits. Other clinics charge individually for each aspect of the procedure. Make sure to ask your clinic or surgeon for a detailed breakdown of the cost of your PRK eye surgery. While the high price of PRK eye surgery may seem prohibitive, laser eye surgery actually costs less than a lifetime of contact lens use and glasses for most people. Many clinics also offer payment plans to help reduce the financial stress of laser eye surgery.
What to expect during PRK
PRK eye surgery is a relatively quick same-day procedure. Doctors recommend refraining from using contact lenses and eye makeup for a period of time before surgery.
When you arrive at your laser eye surgery clinic you will be taken to a procedure room and may be given a mild sedative. Numbing eye drops will be applied to your eyes so that you will not be able to feel any pain during the surgery.
PRK surgery generally only takes 5-10 minutes per eye. You will be awake during the procedure. A speculum will be used to keep your eyes open while your surgeon performs the procedure and corrects your refractive error. Most patients don't consider the procedure to be painful, but some report feeling pressure on the eye.
Your surgeon will cover your eye with a contact-lens-like bandage. This bandage is usually worn for a few days during healing until new epithelial cells grow back. You will likely be given antibiotics and pain medication to reduce pain and minimise the risk of infection. You will not be able to drive after PRK surgery so make sure to arrange transport home. Most people arrange to take time off work to rest and heal.
Recovery time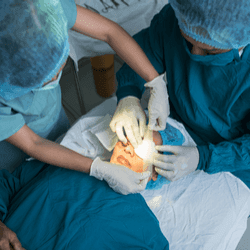 PRK has a longer recovery time than other types of laser eye surgery. Most people experience mild discomfort and irritation for one to three days after PRK. Many patients report feeling sensitive to light. Pain can usually be managed by medication prescribed by your surgeon.
You will have a follow-up appointment within the first few days so that your surgeon can check your healing and remove the bandage from your eye or eyes. According to the Health Services Research Unit at the University of Aberdeen, the epithelium is usually healed within three to four days.
Your doctor will schedule additional follow-up appointments in subsequent weeks and months.
It may take up to six months for your vision to fully stabilise, although you should be able to return to most activities, including driving, within a few weeks. Some patients continue to wear glasses for improved vision while their eyes are healing.
Risks
PRK eye surgery is considered to be one of the safest surgical procedures in Australia. While the chance of serious complications is very low, patients do commonly report side effects such as hazy vision and glare, especially during the healing process.
PRK eye surgery has the following potential side effects, complications and risks:
Visual disturbances. The most frequently reported side effect of PRK surgery is visual disturbance, including corneal haze, double vision and glare. According to the Health Services Research Unit at the University of Aberdeen, visual disturbances account for more than half of all reported side effects of PRK surgery. This is most frequently reported during the healing process and is usually resolved within six months. According to the National Institute for Health and Care Excellence, up to 31% of PRK patients experience corneal haze.
Infection. Infection is a potential risk of every surgical procedure and can usually be treated with antibiotics. Attending regular follow-up appointments and complying with your surgeon's recovery instructions will help reduce the risk of infection.
Pain. Some patients report mild pain and discomfort after PRK, especially in the first few weeks. The risk of severe or serious pain is low and only reported by 1.3% to 3.8% of PRK patients.
Poor night vision. Some patients experience difficulty driving due to poor night vision after PRK. Poor night vision is more commonly reported after PRK than other types of laser eye surgery. You may need to continue wearing glasses at night until your vision fully stabilises.
Over- or under-correction. There is a risk of over- or under-correction of your refractive error as your eyes heal after PRK. If you experience over- or under-correction you may need a second procedure or to continue using contact lenses or glasses to be able to see clearly.
Dry eyes. Dry eyes is a commonly reported side effect after PRK, though the risk of severely dry eyes is significantly lower after PRK than LASIK surgery. Dry eyes can be treated with eye drops.
Success rate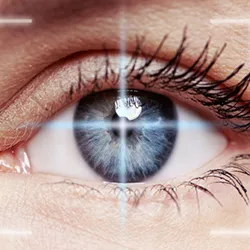 PRK has been performed longer than any other form of laser eye surgery with a generally high success rate. The procedure has undergone many technological advancements and improvements over the past 30 years.
According to the Health Services Research Unit at the University of Aberdeen, 81% to 100% of PRK patients achieve 6/12 vision or better and 26% to 82% achieve perfect 6/6 vision or better. Follow-up studies of PRK patients indicate these results are stable after the first year.
Successful PRK surgery will result in patients being able to see clearly without contact lenses or glasses.
Some patients will still need glasses or contacts after surgery to see clearly, usually those with high prescriptions. If you wear reading glasses due to presbyopia you will need to continue using glasses as laser eye surgery cannot treat presbyopia.
What is the difference between PRK and LASIK?
LASIK is the most commonly performed laser eye surgery in the world and, along with PRK, one of the two most popular laser eye procedures in Australia. Like PRK, LASIK (or laser-assisted in situ keratomileusis) is used to treat short-sightedness, long-sightedness and astigmatism. Unlike PRK, LASIK involves creating a flap in the top layer of the cornea, which is folded back to reveal the corneal bed and refractive error below.
LASIK has a significantly faster healing time than PRK. Most patients have relatively stable vision and can resume most daily activities within 24 hours of the LASIK procedure. LASIK is also generally considered to be less painful than PRK. LASIK has a slightly increased risk of surgical complications due to the creation of the corneal flap, which can become lost or damaged during surgery. LASIK is also not suitable for those with dry eyes or thin corneas. Many patients qualify for either PRK or LASIK, but some people may qualify for both procedures and are able to choose between the two.
Frequently asked questions on PRK
Read more on this topic