LASEK eye surgery
LASEK eye surgery can be an effective alternative for those who aren't eligible for LASIK.
We've been having problems with our vision for as long as we've been around, and that's unlikely to change anytime soon. However, what has drastically changed in the last 30 years is the number of available options to help people with vision problems see more clearly. One of those options is LASEK eye surgery, which was developed in the 1990s.
LASEK was largely developed as an alternative eye surgery for those who are ineligible for the more popular LASIK procedure. Unlike with LASIK, having thin or irregularly shaped corneas will not disqualify you from being able to get LASEK.
Read on to find out everything you need to know about LASEK eye surgery.
What is LASEK surgery?
LASEK, or laser-assisted subepithelial keratectomy, is a refractory correction technique. LASEK eye surgery can be used to treat several common refractive errors, including short-sightedness, long-sightedness and astigmatism.
LASEK was created as a combination of LASIK and PRK eye surgery and is often recommended for those whose thin corneas or physical activity make them ineligible for LASIK.
Though the procedure is not without risk, LASEK eye surgery is generally considered safe and effective. Most patients are able to stop wearing glasses or contact lenses after LASEK.
Laser eye surgery clinics offering LASEK
Eligibility
Who can get LASEK?
To be eligible for LASEK eye surgery, you must have a fixable refractive error. LASEK can correct the following common errors within a certain range:
Myopia (short-sightedness)
Hyperopia (long-sightedness)
Astigmatism (an imperfection in the eye's curvature)
In addition to having one of the above refractive errors, you must meet some basic criteria. To be eligible for laser eye surgery, you must meet the following criteria:
Be at least 18 to 20 years old
Have a relatively stable glasses prescription for at least 12 months
Not be pregnant or breastfeeding
Have no active eye infections
No history of eye scarring or severe dry eyes
Have good general health
How does LASEK work?
LASEK is a six-step procedure involving the following:
First, the surgeon uses an excimer laser or small blunt instrument (trephine) to create a thin layer from the corneal epithelium, the outer layer that protects the eye.
An alcohol solution is then used to loosen this layer of tissue.
Next, the layer of epithelium is moved to the side to expose the corneal tissue below.
The surgeon then reshapes the corneal tissue to correct the refractive error.
When the error is corrected, the surgeon re-positions the outer layer of epithelium back on the eye.
Finally, the surgeon places a contact-lens-like bandage on the eye to help keep everything in place while the eye heals.
What is Epi-LASIK?
Epi-LASIK, which stands for epithelial LASIK, is a surface ablation technique. Epi-LASIK is very similar to LASEK but unlike LASEK, Epi-LASIK does not involve the use of an alcohol solution to loosen epithelial cells. The costs, recovery time and risk factors of Epi-LASIK are comparable to LASEK.
How much does LASEK cost?
LASEK eye surgery generally costs between $2,400 to $3,400 per eye, or $4,800 to $6,800 for both eyes. Prices for LASEK surgery will vary based on clinic, surgeon, technology, location and the severity of the refractive error. Some clinics charge one flat rate for the procedure that includes an initial consultation, any necessary testing, medicines and follow-up appointments. Other clinics will charge individually for each step of the process. Make sure you ask any potential clinics for a detailed outline of all costs involved in your LASEK procedure.
While it may seem tempting to simply choose the cheapest available option, laser eye surgery is a potentially life-changing procedure and it is important to consider more than just price to determine the best possible clinic or surgeon for your eyes. If the up-front costs of laser eye surgery are prohibitive, many clinics offer payment plans to lessen the burden of paying for everything all at once.
What to expect during LASEK
Laser eye surgery is typically a relatively quick, in-and-out procedure. Most eye surgeons will instruct you not to wear contact lenses for a period of time leading up to the surgery since contacts can affect the shape of your cornea.
Before
On the day of the procedure, your doctor may give you a mild sedative before you are taken to a suite or operating room where the procedure will take place. The actual surgery usually takes around 15 minutes per eye.
During
During the procedure, anaesthetic, or numbing drops will be applied to the surface of your eye to prevent you from feeling pain, but you will be awake for the procedure.
After
Post-procedure, you'll be taken to a recovery area and provided with eye drops. Keep in mind, you're not allowed to drive immediately following surgery so make sure you've arranged transportation home. You may also want to arrange to take a few days or a week off of work to give your eyes time to heal and adjust.
Recovery time
At the end of your LASEK procedure, your doctor will apply a contact-lens-like bandage to your eye that you will need to wear for a period of time to help your epithelium heal. After LASEK surgery, vision can be hazy for around a week and could take up to three months to fully stabilise.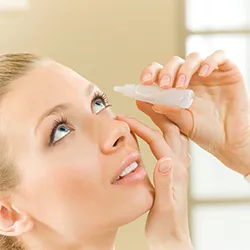 You will most likely be given eye drops, topical steroids or antibiotics to help facilitate healing and lower the risk of infection.
Patients typically experience some discomfort in the days or weeks following surgery, but not usually pain.
If you experience strong pain following your procedure, contact your doctor. According to a study by doctors at Harvard Medical School, 78% of patients show complete epithelial healing within three days of the LASEK procedure.
Taking the following precautions may help lower the risk of infection following LASEK:
Replace old eye makeup.
Avoid using eye makeup for at least a few days.
Avoid contact with any potentially polluted water, such as rivers, oceans, lakes and pools, for at least one week.
Abstain from rubbing your eyes while they are healing.
You will have a follow-up appointment with your surgeon, usually within the first few days, to check on your recovery. There will likely be additional check-ups in the subsequent months to keep track of your progress.
Risks
While there are risks associated with any medical procedure, laser eye surgery is considered to be one of the safest surgeries in Australia. Though some patients experience side-effects and complications following LASEK, the chances of serious complications are low. Potential risks, side-effects and complications due to LASEK eye surgery include the following:
Glare, haze or cloudy vision. Patients have reported vision problems following LASEK eye surgery, including hazy or cloudy vision and glare. In most cases, these problems are resolved within six months to one year. According to the National Institute for Health and Care Excellence, up to 25% of LASEK patients experience corneal haze, although this is most common in patients with a high degree of myopia.
Pain. There is some risk of experiencing pain or discomfort after LASEK, usually during the healing period. Patients have also reported feeling like something foreign is in their eye during the first week of recovery.
Dry eyes. Though the risk of severe dry eyes is significantly lower from LASEK than the more popular LASIK, there is still some risk. This is usually temporary and can be helped by the use of eye drops.
Halos. One of the most commonly reported side effects of LASEK surgery is halos or circles that surround light sources. This is usually temporary, but there are cases of this lasting more than a year.
Poor night vision. You may experience poor night vision after your LASEK procedure. If you do, remember to wear your glasses while driving at night.
Eye infection. There is some risk of infection with any surgical procedure. Infection most commonly occurs during the healing process immediately following the LASEK procedure. Infections can often be treated with antibiotic eye drops. Occasionally, untreated eye infections can lead to vision loss.
Over or under-correction. With every laser eye surgery procedure there is some risk of over or under-correction of your refractive error as your eye heals. In this case, a second procedure may be required or you may have to continue to wear glasses or contact lenses.
Flap problems. While flap problems are most commonly associated with the LASIK procedure, there is some risk of damage to the epithelial flap during LASEK. According to the Health Services Research Unit at the University of Aberdeen, if there are flap complications during LASEK, the procedure can sometimes be converted to a PRK procedure by removing the epithelial flap completely. Patients with a high degree of myopia are most at risk for this complication.
Reaction to alcohol solution. Occasionally, the alcoholic solution used during the LASEK procedure can lead to tissue damage and slowed healing.
Success rate
LASEK eye surgery is generally considered to have a high level of success. Though there is limited data on the outcomes of LASEK in Australia, worldwide data has shown LASEK to have a similarly high success rate as the LASIK procedure. According to the Health Services Research Unit at the University of Aberdeen, 96% of patients achieve 6/12 vision or better within six months of LASEK and 67% of patients achieve perfect 6/6 vision.
Most patients will be able to see clearly without the use of glasses or contact lenses after LASEK. Occasionally, those with a high degree of refractive error will be helped by LASEK eye surgery, but still have to wear glasses or contacts. While their prescription will be much lower, they may not be able to achieve perfect vision. Other patients may still need to wear glasses for reading or night driving after LASEK.
What is the difference between LASEK and LASIK?
While LASEK sounds a lot like LASIK, or laser-assisted in-situ keratomileusis, they are in fact two completely different methods of laser eye surgery. The outcomes of LASEK and LASIK are similar, but there are quite a few important differences between the two procedures.
Procedure
Pros
Cons
LASEK (laser-assisted subepithelial keratectomy)

Can be used on those whose thin corneas make them unsuitable for LASIK
Low risk of flap-related complications

Long recovery time
Not widely performed in Australia

LASIK (laser-assisted in situ keratomileusis)

Faster healing time
Most widely available laser eye procedure in Australia

Higher risk of flap-related complications
Not suitable for those with dry eyes or thin corneas
One of the biggest differences between LASEK and LASIK is the flap that is created during the procedure. With LASEK, the flap is a very thin layer of epithelial tissue, whereas with LASIK, a thicker flap is created that includes epithelial tissue and deeper corneal tissue. This means those with thin corneas are usually not eligible for LASIK.
Also, because the flap created during LASEK is thinner, there is a lower chance of experiencing severe dry eye as a complication than there is following LASIK. If you have a job or hobby that puts you at a higher risk of eye injury, such as boxing or rugby, you may not be eligible for LASIK because you have a higher potential to dislodge the corneal flap.
Another difference between the two forms of laser eye surgery is that LASIK has a significantly shorter recovery time. Most patients are able to see clearly within 24 hours of LASIK, compared to a week or longer following LASEK.
Frequently asked questions on LASEK
Read more on this topic