How to drive from Las Vegas to Monument Valley | A couple of travel makers
Five unforgettable days on the road… in the very best way.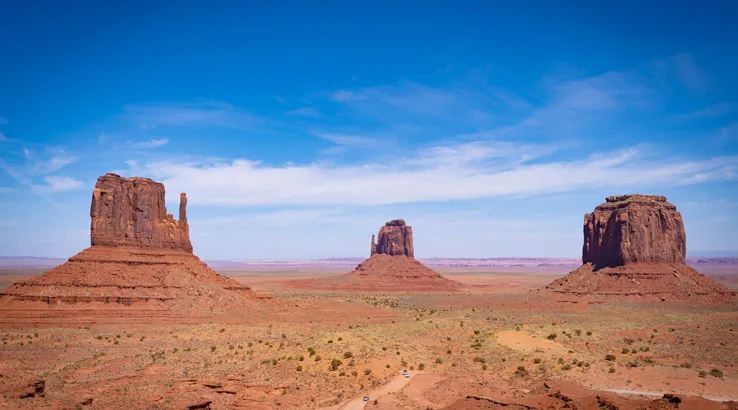 We're reader-supported and may be paid when you visit links to partner sites. We don't compare all products in the market, but we're working on it!
When you first eyeball the map you might be thinking Monument Valley seems world's away from civilisation. And it is.
Straddling the Utah and Arizona border, the closest touristic city to Monument Valley is Las Vegas at just under seven hours' drive away. That is, unless you feel like visiting Salt Lake City or Phoenix, which are marginally closer.
In other words, you're definitely looking at an overnight trip at the very least.
The good news is that it's not the only natural wonder on the map worth visiting in the area. With the Grand Canyon, Horseshoe Bend and Antelope Canyon en route it's worth turning into a multi-day road trip.
Here's our itinerary, advice and most importantly, pics.
Jump to...
Who are a couple of travel makers?
We're Stef and D, a pair of married jetsetters. We've visited over 50 countries in total, and are determined to see even more. And all while working full-time and paying off a mortgage. We count our dollars at home and away and are here to share our tips on how you can travel on a budget.
New blog posts every fortnight on Mondays | Follow us: @acoupleoftravelmakers
---
Las Vegas to Monument Valley round-trip
Monument Valley, Antelope Canyon, Horseshoe Bend, Grand Canyon, Mexican Hat, Forrest Gump Point and Meteor Crater. We popped them all on our road-trip map and more. Here's how we played it in a nutshell:
Day 1: Las Vegas–Grand Canyon–Page
Pick up your car in Las Vegas bright and early. We chose Enterprise in downtown as it was close to where we were staying (Four Queens) and was the cheapest hire we found at US$373.82 for 5 days.
After you've picked up your wheels, head for the South Rim of the Grand Canyon which is around a four-hour drive.
Another option is to swing by the West Rim instead. This side is famous for its glass floor SkyWalk which pulls you out right on top of the canyon. However, this drive takes 4 hours and 40 minutes from downtown Las Vegas, which gives you slightly less time to explore the canyon.
At the South Rim, the place to start is the visitor centre. From here you can walk the rim and take in the majesty of the canyon from various viewpoints. Afterwards, drive along the rim calling in at its various other viewpoints. They're generally smaller than at the visitor centre but a lot less crowded.
We stuck around for sunset over the canyon and if you're unafraid of night driving we highly recommend it as the ochre from the canyon's rock glows bright red and the sky turns a whimsical pink-purple. At least it did for us.
You can stay the night at the Grand Canyon, but we chose Page as it was cheaper. It's another 2.5 hours away so if you're staying at the canyon for sunset you'll likely get to Page quite late.
We stayed at the Baymont which was one of the cheaper options at $328.78 for 2 nights.
Budget tip:
Do your homework before you set off by comparing prices and booking your hire online. Since you don't have to submit any credit card details to make your booking you can easily cancel fee-free if you find something better before you drive off. Start your search with Rental Cars below:
Day 2: Page
"What's in Page?" I hear you ask. Its biggest claims to fame are Antelope Canyon and Horseshoe Bend.
Both take a relatively short amount of time to cover so you can tick them off in half a day if you wish or spread them out over a full day like we did.
Word of warning: Antelope Canyon can only be accessed by tour. This leaves from the centre of Page or from the parking lot near Antelope Canyon, depending on your tour company.
There are plenty of options available, but it's encouraged you book early for peak season dates (March to October) and times (10am to midday).
We went during August but since our trip was last-minute, we didn't have too many options at our disposal so we wound up booking an afternoon slot with Antelope Slot Canyon. This was well organised and included numerous photos in the canyon, taken by our tour guide.
At US$230.98 for the 2 of us, it's a fairly steep activity. However, you can find options as low as $65 per person online if you book far enough in advance and during low season.
Horseshoe Bend was a lot less taxing on the wallet. It's a 5-minute drive from Page and is free to enter outside of a parking fee of US$10 per vehicle. From the parking lot it's a short 10- to 15-minute walk to the canyon viewpoint.
In the early morning you're likely to catch a shadow on the rock (see our pics) so the best time to photograph it is mid-morning when the sun is high at around 10am. Bear in mind though that this is also peak tourist time.
Day 3: Page–Monument Valley
The road from Page to Monument Valley is uneventful but takes you just over two hours.
Don't be confused by the first visitor centre you hit. As we learned first-hand that's the Navajo Welcome Centre.
Instead, continue a smidgen further and turn right onto Monument Valley Road and you'll literally stumble into the centre.
There's a $10 fee per person or $20 per vehicle to enter Monument Valley Navajo Tribal Park. This is taken at booths at the entrance and your ticket is valid for 24 hours.
You can explore the centre and catch the views of the famous Monuments from it but if you've made it this far you'd be a fool not to drive the scenic valley drive.
If you haven't been before, let me tell you now the place is absolutely huge. Driving the park feels like you're on an African safari only instead of spotting wildlife, you're spotting rock formations, buttes, sacred sites and more.
The designated loop is 17 miles long (27 kilometres) which doesn't sound like much but with stops and photo opps we spent the better part of 3 hours on the road.
What we loved about the DIY drive is that you can go at your own pace. You also don't need a special off-road vehicle.
Another option is to go on a tour, which ensures you professional commentary along the journey. Select tours also take you off-road or take you on a night tour, both of which you're prohibited to do without a guide.
Stay the evening in Monument Valley and you can catch sunset over the monoliths and sunrise the day after.
Budget tip:
If you're feeling a little tight on the green the gates to Monument Valley Navajo Tribal Park are completely open after hours.
We drove in to catch sunset and the boom was up.
This can save you some dosh but if you want to take the scenic self-drive through the park you won't be able too as the entrance to the loop drive is closed overnight.
Day 4: Monument Valley–Flagstaff
From Monument Valley to Las Vegas you're looking at close to seven hours of driving. This can be done over a day but if you have time to spare and other landmarks to tick off, it's easier to choose a halfway point to break up the trip.
One of the great novelties to take that Insta-worthy pic is Forrest Gump Point. It's literally where he stopped running in the movie and is marked by a wooden sign.
It's an easy five-minute drive from Monument Valley and you'll know you're there by the number of tourists running onto the road to take a pic.
D especially went out of his way to visit Mexican Hat. The monument, not the town, though the monument is in the town. Anyway, it's a rock formation that looks like someone wearing a sombrero.
For something that's more than a photo opp we recommend dropping by Meteor Crater, just east of Flagstaff. It's not the largest (though it looks mighty impressive) but it is the best preserved meteor crater in the world.
Daily tours take you onto the rim. As we went in summer we were only granted access to a small section of the rim due to the heat and exposure. In cooler months you can walk further.
We also called in at Coconino National Forest on our way to Flagstaff and drove around its volcanic pipes, lava flows and crumbling pueblos which were the homes and community spaces of the native North American Indians who used to live there.
Day 5: Flagstaff–Las Vegas
Drive back to Las Vegas, drop off your car and paint the town red until you have to hightail it out of there.
---
A little more on Monument Valley
Now that we've sold you on your visit, here are a few pointers on where to stay, how to see the valley and when to go.
Monument Valley accommodation
You have two main options here: stay in the park itself at The View Hotel or stay outside of the park.
If you choose the latter, one of the closest options is Gouldings Lodge, which is where we stayed. The lodge offers a variety of campground spaces that are ideal for RVs and cabins for anyone who's come by car (that was us).
We stayed in a one-bedroom casita (pictured). It's basically a demountable in the campground but has a living room, bedroom and bathroom.
Honestly, it's still on the pricey side, setting us back $275.88 for the night, but was one of the most affordable and comfortable options for us.
Monument Valley tours
Granted, we didn't sign up to any tours in Monument Valley, but we did suffer from FOMO as we watched the groups of tourists travel by open-air jeep through the national park.
If we had more time we would have loved to go on an off-road/backcountry tour as they take you to lesser-seen and less-crowded monuments that you can't visit without a Navajo guide.
You can find a bunch on Viator.
Monument Valley weather
In a word: hot. You're driving through the desert and you're pretty exposed most of the way, so expect some searing heat as you pass through the area. In August it was sitting close to 40℃ most days turning us into a bronzed god and goddess.
During winter, it can drop down to a pleasant 23℃.
How much spending money do I need for Monument Valley?
Here's a breakdown of what we spent on our trip.
Car hire, petrol and car wash: US$446.23
Accommodation: $856.70
Meals and drinks: US$402.33
Activities and experiences: US$306.98
Other: US$40.86
Annual leave days taken: 3 days (Thursday–Monday)
Total for 5 days/4 nights: $2,551.23
This was one of many pitstops on our trip around the USA. Catch some of our either guides below:
More guides on Finder