L.A. Noire: The VR Case Files – A Lock for VR GOTY?
Replay it again, Sam.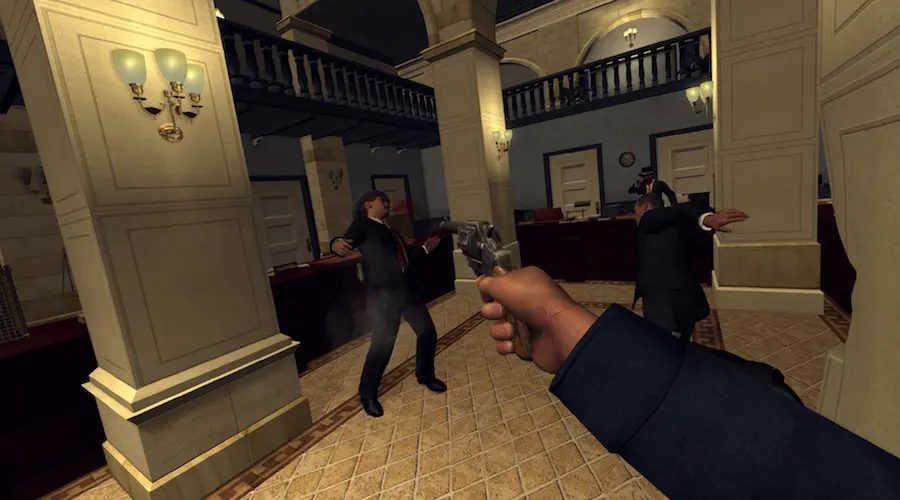 We're reader-supported and may be paid when you visit links to partner sites. We don't compare all products in the market, but we're working on it!
As a VR officer of the law, I know I'm supposed to have standards. But this perp has the most punchable face I've ever seen. (We can thank L.A. Noire's revolutionary MotionScan technology for this fact – 32 cameras captured every smug nuance of a real-life actor paid to play a lying sack of crap). The bullshit smell coming off him is strong enough to build a garage on. He's so guilty I've physically scribbled the word next to the face sketch I've done of him in my trusty notebook. I also gave him a Hitler mustache he doesn't have.
I'm a split-second away from accessorising his forehead with a phallus when fate intervenes. During the course of our conversation I've "bad copped" him into losing his cool and now he's doing a runner (note: the old dialogue options have changed from "Truth, Doubt, and Lie" to "Good Cop, Bad Cop, and Accuse"). Like a hungry wolf, I watch him windmill away. Hot diggity. It's time to put the beat in beat cop.
He makes me work for it. A chase down an alleyway begins and to gain ground I swing my two Vive controllers forward and backwards, effectively mimicking the motions my upper body would make during a real-life jog. Pleasingly, I'm propelled down the alleyway at top speed, and wherever I look determines my trajectory.
By the time I reach the ladder of a nearby fire escape, the perp is up out of reach and I'm in danger of breaking a sweat. Too many doughnut-fuelled stakeouts. Next time, I'll use the control mechanic that lets me hotspot click to highlighted objects. It's 1947 and this city is paying me sixty-bucks a month to unravel the truth behind a string of arson attacks, racketeering conspiracies and brutal murders; I ain't paid enough for this Jesse Owens shit.
I dog my friend up to the rooftop and he springs his trap. Punches rain towards my face, and I curl my hands into fists (by holding the two trigger buttons) and pull them against my chin, hoping to weather the storm. I terminate a few before they can reach their destination. I duck a few more and slide backwards until my back is up against the wall (read: the unseen leather lounge in the demo room behind me). Even at this distance I can see an impossibly high-res smile spread across his lips.
---
And you know what? It just rubs me wrong. This scumbag gunned a citizen down in broad daylight not thirty minutes ago. He's the reason I've been dragging my keister across lalaland all day in my sumptuously-detailed Ford Police Special. I'd nearly killed myself on the drive over, too. I'm not used to having to avoid pedestrians and respect red lights in a sandbox. I play GTA V.
Being distracted by the mini-map cleverly integrated into the rear-vision mirror sure didn't help my driving skills, either, and pawing at the various knobs and siren buttons on the dash while doing 95mph also wasn't conducive to safe driving. When the inevitable accident did come, I was going to write "I was gawping out the side window, like a goon, marveling at how full of life and detailed this VR city is" on the accident report.
Back to the murderous jerk in front of me, and I'm remembering that he's the reason I had to physically squat down and roll over the most disturbingly life-like dead guy ever. A corpse with a real face. A corpse who had a virtual life with NPCs somewhere that cared about him. Somebody who is probably scripted to endlessly wait for him to return to his sweet downtown apartment (I know about this because I opened up his jacket and pulled out a bill of sale).
Life's a bucket of shit with a barbed wire handle, but every once in a while we can fish out some justice. I look up at the perp as he shuffles into my personal VR space. My hands curl into fists again, and for the first time, I notice a wedding band on my left mitt. Looks like I'm gonna have to be a southpaw today.
I meet him halfway in the arena space provided to us, and two things happen in an instant. He fires off a wild right hook; I drop to a crouch and return fire with a straight cross, right to the polygons. Wincing in pain (I can see it register on his face) he stumbles back as I rise up to feed him seconds, thirds, and fourths. I jab this palooka twice in the kisser and buy him a ticket for the midnight express with an overhand left.
The moments I have in my short demo case are cool, but they're just the start of what could be a beautiful friendship. Not only is VR Case Files without a doubt the most gorgeous VR experience I've ever been immersed in (and you can thank MotionScan for a lot of that), but just existing in your own personal 1940s noir film is fucking cool. I lost far too much time in the black-and-white main menu that is Cole Phelp's office.
And how could you not? As oblongs of streetlight sliced in behind me through Venetian blinds, I fired up a cigar and waved my hand through the smoke that curled away from my virtual mouth. The fashion-minded among you might opt to seek out the full-length mirror here and insta-switch into a zoot suit by changing Cole's hat. The mood is set by L.A. Noire's main theme: soft saxophone melodies and drum brushes accented with subdued piano work. But you can always shuffle over and swap the record to something with a faster tempo. Honestly, the only thing only missing in this scene is a knock at the door made by a dame to kill for, with gams for hours.
Another missing piece of the puzzle is gunplay. I get to scoop up a revolver from my desk, but Rockstar doesn't let me pop a cap in any creeps. Curious. The screenshots clearly show a bit of gunplay, and even though this is an abridged version of L.A. Noire that "picks out case files suitable for play in VR", I seem to recall most of them involved a fair bit of bang-bang. This is the one concerning blindspot I have for a game that is on track to be the coolest VR experience yet.
Don't be a mook. If you own an HTC Vive, you'd be mad not to put out an APB on this, immediately.
Looking for the best price on the latest consoles? Finder compares the best deals on PlayStation 4, the biggest bargains on Xbox One and the latest prices on the upcoming Xbox One X.
More guides on Finder