Knuckle Sandwich is a Down Undertale about finding your passion
Melbourne's Andrew Brophy talks about his journey from drifting between jobs to game developer.
Through the many conversations we had at this year's PAX Australia, one consistent theme that kept popping up was personal growth. Last year was all about adrenaline-pumping local multiplayer, while this year seemed to lean more towards narrative-driven adventures brimming with the kind of emotion, detail and in some cases, hilarity that can only be told first hand. The Gardens Betweens cross-pollinates childhood experiences from its development crew to nurture its memory-riddled worlds. Robot House's Rumu tells a heart-wrenching story about a sentient Roomba and its surrogate AI parent.
For Andrew Brophy, video game development began as a means to an end. Sick of soul-searching and bouncing between jobs, Brophy knuckled down and started work on Knuckle Punch, a game that tracks Brophy's very personal journey of leaving home at the age of 14 and eventually getting into video game development.
Brophy: Knuckle Sandwich is about me, as you can clearly tell (points to a claymation character on the game's poster) as a teenager. Influenced by the time I moved out of home at 14 and moved to Melbourne. I decided to try and get my first proper job through Centrelink but it didn't work out too well; which is why I'm making video games, spoiler alert. But yeah, the search landed me a few jobs, like one at a really bad restaurant, and I've turned those experiences into a video game.
If it's not obvious already, Knuckle Sandwich's story, while certainly personal and important to Brophy, is approached with a light heart and tongue firmly in cheek. To give you an idea of its offbeat brand of humour, I think the game (at least what we've seen of it) is best described as an Aussie Undertale. Brophy doesn't stick to one specific style, changing from a top-down isometric adventure, to a 3D first-person monster catching game on the fly. Also, there seems to be a sequence in which you catch a fat cat that's totally not Garfield with a spherical device that's totally not a Pokéball. It's wonderfully absurd with surprises around every corner.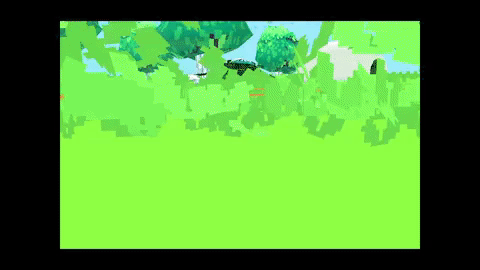 Knuckle Sandwich's primary style of gameplay seems to tow the line fairly close to more traditional RPGs like Earthbound, Pokémon and Final Fantasy. With that said, our first experience was a hectic Dance Dance Revolution-style minigame that was the result of an ill-fitted job recommendation from the game's job centre which is a thinly veiled in-game representation of Centrelink.
Brophy: I grew up playing Super Nintendo and Gameboy games. They always had the great vibrant style. The games that really inspired Knuckle Sandwich were the Mario and Luigi RPGs and Warioware. I suppose, with RPGs, there's a lot I hate about them. I hate having to do puzzles, for example. So there's none of that in this game.
From the outside looking in, there seems to be no set recipe for Brophy's Knuckle Sandwich. A random blend of ideas layered one on top of the other to create a delectable fusion cuisine of childhood influences and popular culture. An absurd game like this requires a suitably insane selection of ingredients. When you've almost completely abolished all known boundaries the world is your oyster, but with so much creative freedom we wondered if the process of landing on just a handful of ideas would be difficult.
Brophy: Not really, I mean I think it's fun to make something really ridiculous. When you're searching for jobs in the game, one's as a dancer, one's catching bugs, one's cleaning up rubbish in space. Having something so ridiculous like this also means I can shift genres when I please. I wanted to take a really boring plot point, like looking for a job and actually make it fun.
This ridiculous adventure unfolds on an island that's a thinly veiled nod to the city of Melbourne, where Brophy has spent most of his adult life searching around every corner for the hilarious and stylish game he would eventually create.
Brophy joked at the end of the interview that the game ends with him showing off Knuckle Sandwich at PAX, talking to journalists like ourselves. The more I think about it, the less that seems like a joke.
The game is still in development but you can check out its Steam page here and sign-up for updates over at the game's official website.