Kindle Oasis 2017 Review: A waterproof luxury e-reader
Amazon's latest Kindle is squarely aimed at serious readers who want a touch of uninterrupted luxury.
Quick Verdict
The updated Kindle Oasis is an excellent e-reader if you crave a distraction-free gadget, but it's also a luxury indulgence given how easy it is to get Kindle apps elsewhere.
The Good
Easy access to your Kindle library
Comfortable to hold
Water resistance
The Bad
Goes totally nuts if you try to read in the shower
You almost certainly don't need the 3G model
Expensive if all you want to do is read eBooks.
Back when it first launched the Kindle, Amazon was spearheading eBooks as a concept, even if it didn't invent them by a wide margin. However, in 2017 the idea of a standalone e-reader such as the updated Kindle Oasis might seem almost like a throwback. You can get Kindle apps for desktop and mobile with astonishing ease, so why invest in a single use gadget?
The answer, simply put, is that this is a device for the folks who treasure their reading time and want something to read eBooks on without the distractions of incoming email, mobile calls or social media. There's something very simple about pulling up a Kindle to simply read, because for the most part that's all you can do with the Kindle Oasis.
Design
The new Kindle Oasis measures 159x141x3.4-8.3mm, meaning it's a smidge larger than last year's 143x122x3.4mm-8.5mm Kindle Oasis. It's also just a little bit heavier at 194 grams where last year's model was only 131g, although that's the kind of weight difference you're unlikely to really feel in the hand. What you get in return for that additional bulk is a boost in screen size up to 7 inches at 300ppi, which for an e-ink display like the Kindle Oasis means that it's very sharp indeed.
Like last year's Kindle Oasis, one of the key design features of this year's model is the deliberate "bump" at one side that forms a holding grip while you're reading. The idea is that you'll hold it with the page turning buttons in easy thumb reach, further pushing towards that idea that you should bury yourself in the book, rather than fight the interface. Except for the page turning buttons and a standard micro USB socket for charging, there's not much else to the Kindle Oasis 2017's design to note, and again, that's quite deliberate.
Performance
Amazon has had a long time to work on the Kindle interface and reading experience, and its claim for the new Kindle Oasis is that it's the "fastest" Kindle ever. There is still some delay when you're buying and downloading books depending on your network speed, but for actual reading purposes, it's slick and quick to flick between pages for basic reading. Amazon touts that you've got even more control over font and bolding choices, so if existing Kindles have left you a little wanting in the ease of reading department, then the Oasis could be a good match.
There is a small learning curve to sorting out the touchscreen interface depending on whether you want to simply flick pages or mark out specific sections of whatever you're reading, but this isn't too onerous. Again, that's with the idea that an e-reader, even in 2017, should get out of the way and let you get on with some serious book digestion.
The updated Kindle Oasis' headline feature is the fact that it features water resistance, rated at IPX8 for immersion in fresh water for up to 60 minutes. It's a neat enough feature if you're worried about being caught in a sudden rainstorm, but like most water resistance features, there are some significant caveats to be aware of. Firstly, that's a test in fresh lab water, so your dreams of surfing while reading War & Peace will have to remain just dreams, or risky endeavours if you do try it.
Then there's the issue of what happens to the Kindle Oasis when you do deliberately get it wet. While it felt completely alien, I took the review Kindle Oasis into the shower with me to see what would happen, keeping the water suitably cool as to not cook it.
It's very weird, by the way, to be trying to read an e-reader while completely naked and wet. Or at least in my estimation it is. Maybe you've always wanted that feature, and if so, more power to you.
The Kindle Oasis did indeed survive the immersion in running water, but as so often happens with capacitive displays, the impact of the water on the screen can be interpreted as a touch event, with wildly variable results. Pages can turn, fonts can change and it's even theoretically feasible (if a little unlikely) that your shower could accidentally buy a Kindle eBook for you.
I didn't leave it under water pressure for long enough to find out, but the real practical use of its water resistance is much more to do with durability than reading in the bath, shower or pool.
As it has done for some time, Amazon sells the Kindle Oasis in two variants. There's the standard Wi-Fi only version which ships with 8GB of storage, or the 3G-enabled version which comes with 32GB. Unless you're very keen on graphic novels (which only display in monochrome on the Kindle Oasis anyway), the 8GB is enough for thousands of books, which should keep you busy enough.
The allure of 3G "worldwide" (or at least anywhere Amazon has a local telco arrangement) to buy books sounds nice in theory, but in reality, you're rarely all that far from somebody's free Wi-Fi these days, which will do just as well. The "experimental" browser that Amazon has had on Kindles for years is still present, but it's only really useful if you're desperate because even on a strong Wi-Fi connection, it's still painfully slow.
Strange browsers aside, there is absolutely something to be said for putting a single use, dedicated e-reader in front of your eyes. I could have read Alexei Sayle's Thatcher Stole My Trousers on just about any screen, but dropping it fresh onto the Kindle Oasis forced me to concentrate on it and savour the simple act of reading.
Battery Life
One of the huge benefits of the continued use of e-ink for e-reader displays is the superb battery life. Amazon's own estimates are that a single charge should last about six weeks if you're reading for only half an hour a day.
There's little doubt that the Kindle Oasis is the luxury buy of e-readers, and it's hard to imagine any dedicated reader would limit themselves to that extent. Regardless, I've been using the Kindle for a few solid hours of reading each night and it's made it through a week without issue. Recharging is via micro USB, and it's nicely quick when and if needed.
Verdict
The Kindle Oasis isn't for everybody, for a number of significant reasons.
Firstly, there's the simple issue that you can get the Kindle app for just about every smart device platform you'd care to name, so if you already own a smartphone, laptop or tablet, you're already Kindle-ready. If you're only after the ability to access the Kindle store and your existing books, you don't need to buy the Kindle Oasis specifically.
That's because it's very much the luxury Kindle buy, aimed rather squarely at folks who buy and read a lot of books and want a really nice experience, uncluttered with any other application or distraction while they do so.
That's a niche (and probably a very profitable one for Amazon) of readers, and if that does sound like you and you fancy rewarding yourself this Christmas (or know an avid reader who needs spoiling for whatever reason) it could be an excellent fit.
Pricing and availability
Amazon sells the Wi-Fi enabled 8GB Kindle Oasis in Australia for $389. The 3G-enabled 32GB Kindle Oasis costs $529, and the leather cover that fits either model sells at $84.95 through Amazon.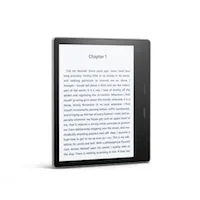 Purchase the All-New Kindle Oasis (2017)
from Amazon US site
The all-new Kindle Oasis with a 7-inch high-resolution display is also waterproof. Order yours today.
View details
---
Amazon Kindle Oasis Specifications
Product Name

Kindle Oasis (2017)
Display Size

7 inches.
PPI

300ppi
Connectivity

802.11n Wi-Fi or 3G
Bluetooth

A2DP
Storage

8/32GB
Water resistance

Waterproof (IPX8), tested to withstand immersion in 2 meters of fresh water for 60 minutes.
Battery

Up to 6 weeks depending on usage
Dimensions

159 mm x 141 mm x 3.4-8.3 mm
Weight

194g
Price

$389/$529
Latest technology headlines
---
Follow us for all the latest technology news and deals
---