Kia EOFY sales guide: List of deals, discounts and bonuses
The end of financial year is a fantastic time to find a deal on a new car. Here is a guide to all of your Kia EOFY deals.
We're reader-supported and may be paid when you visit links to partner sites. We don't compare all products in the market, but we're working on it!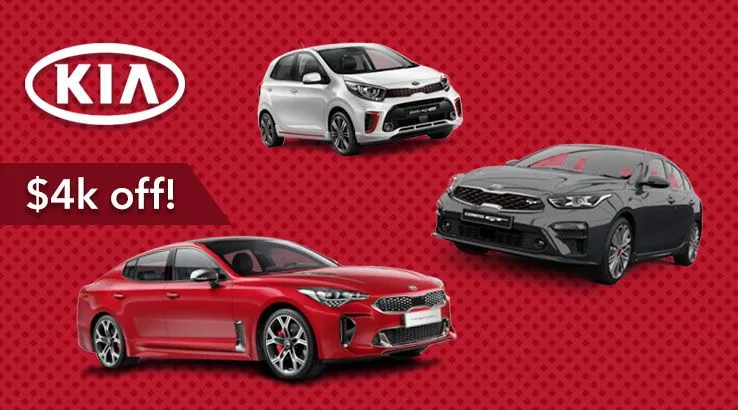 Kia is Australia's sixth favourite car manufacturer, going by the sales figures in 2019. With popular and well-reviewed vehicles like the Cerato hatch, the micro car Picanto, the Carnival people mover, Stinger sedan, as well as the Seltos, Sportage and Serano SUVs, it's easy to see how Kia became such a big player in the Aussie market.
With the EOFY sales, now is the time to bag yourself a Kia, at an attractively discounted rate.
Why buy during the Kia EOFY sales?
In short, to save money. Some Kia models have $4,000 slashed off the price right now!
Australians are hard workers, which also means we're big taxpayers. For many then, the purchase of a car used in part or in full for work, at the end of the financial year is an opportunity to bring down their annual salary and pay less tax. It's also an opportunity for car manufacturers to sell vehicles with a late 2019 or early 2020 plate model and write off any loss to lower the dealership's tax bill.
The end result then is a bit of a buying frenzy, with both buyer and seller motivated to shake hands over a better deal. Whether you're looking for just a new car or a new car for work purposes, it's worth looking around to see what deals are available during the Kia EOFY sales.
List of Kia EOFY sales
| Car | EOFY start price | Savings |
| --- | --- | --- |
| Kia Sportage SX Petrol automatic | $32,690 | $3,881.00 |
| Kia Cerato S Manual | $21,490 | $3,792.70 |
| Kia Cerato Sport Plus | $29,240 | $4,128.20 |
| Kia Picanto GT | $19,190 | $2,468.70 |
| Kia Rio S Automatic | $18,990 | $4,315.70 |
| Kia Stinger 200S | $50,690 | $1,431.50 |
| Kia Seltos S | $26,690 | $2,901.70 |
| Kia Sorento Si Petrol Automatic | $44,690 | $3,441.70 |
| Kia Carnival SLi Petrol | $56,919.75 | $2,006.50 |
Kia is also currently offering 2% p.a. comparison rate finance, over a maximum of three years.
Compare car loans
Always do your research by comparing car loans and get pre-approval, so you can negotiate a better deal.
Image: Supplied
More guides on Finder
Get more from Finder