Kettle Finder: How to choose the perfect kettle for your home
Electric or non-electric? Glass, plastic or stainless steel? Budget or high-end? We'll answer all your questions and tell you what you need to know about buying a new kettle.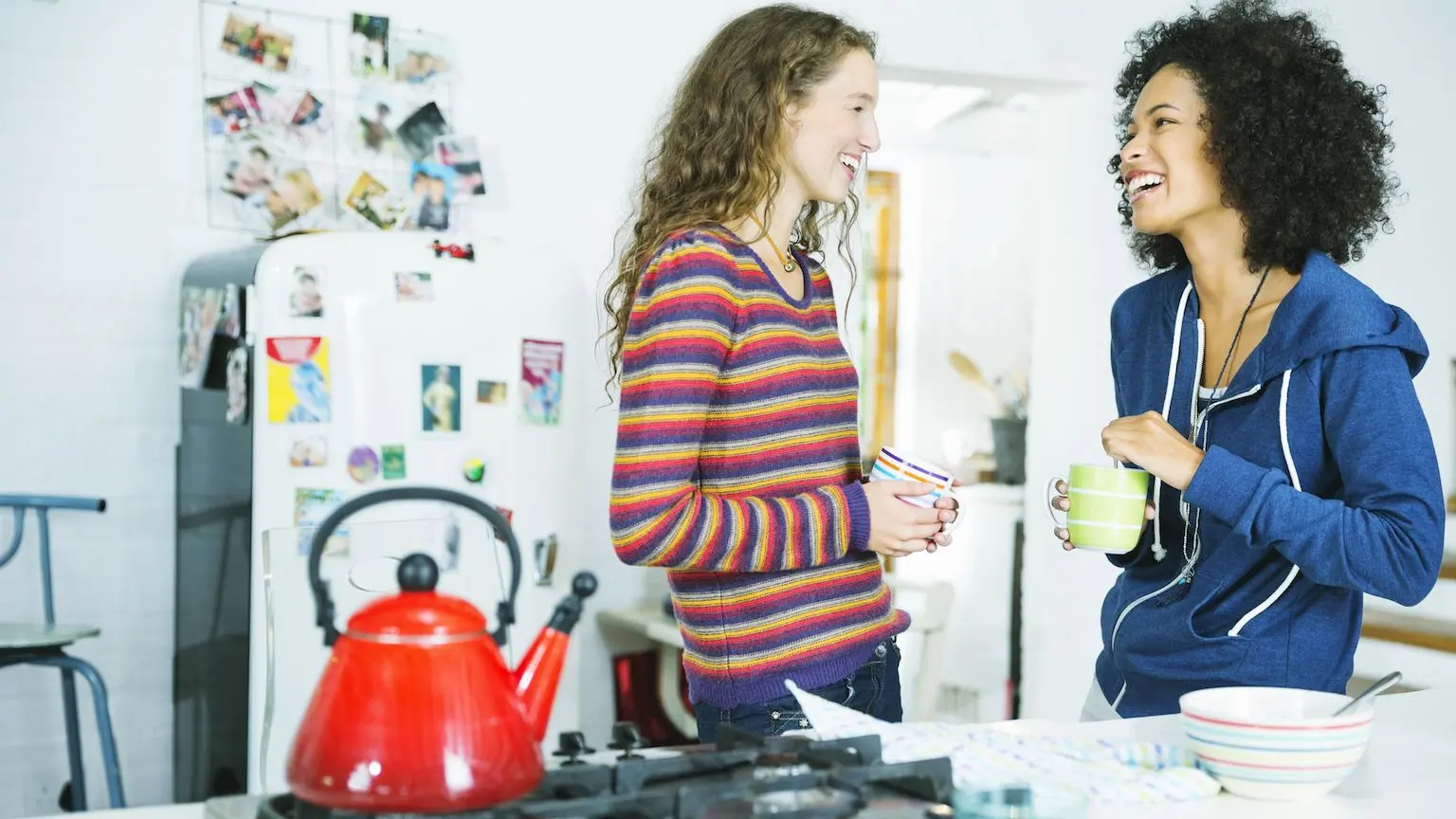 We're reader-supported and may be paid when you visit links to partner sites. We don't compare all products in the market, but we're working on it!
Best Rated Kettle Brand: Morphy Richards
If you're looking for value for money, then Aussies recommend a Morphy Richards kettle. It's also one of the more quiet brands, so you can continue the conversation while you're making tea.
Quick facts about comparing kettles
You can choose between electric models that plug into an outlet and non-electric ones that are heated on a stovetop.
Costs range from $10 for budget models through to $200 for high-end brands.
A budget kettle doesn't necessarily mean poor quality. If it boils, it's doing its job – but you may need to replace it sooner than a high-end model.
Compare kettles
Electric vs non-electric
A kettle is an essential appliance for most Aussies. When buying a new kettle, you have two main options: electric and non-electric.
Electric
Electric kettles are the most common type found in many households. They have a base with a cord that connects to a wall plug and the kettle sits on top. Electric kettles heat up quickly and most models turn off by themselves when the water is boiled. Some come with additional features that may be useful.
If you want to be more energy-efficient, an electric kettle is the better choice over a non-electric one.
Non-electric
Non-electric kettles come in a range of styles. They sit on your stovetop and heat up from the element, but are generally less energy-efficient due to heat being lost in the air. However, induction cooktops tend to be a bit more energy-efficient than electric or gas. Rather than an automatic off switch when your water is boiled, you will have to turn off the element or stovetop once it's done, so it's important to be nearby while boiling water.
Materials
Kettles come in different finishes including glass, plastic and stainless steel.
Glass. Glas kettles have a more modern look. They can become discoloured from mineral residue, but you can avoid this by cleaning with vinegar or bicarbonate of soda regularly.
Plastic. Plastic kettles are cheaper than other materials but don't typically last as long. They can also cause the water to taste a bit funny, especially if you use water that has been boiled in the kettle many times. If you do choose to buy a plastic kettle, try to only boil the amount of water you need rather than filling it up right to the top.
Stainless steel. If you have other stainless steel appliances, you can match your kettle with the rest of your kitchen. However, stainless steel tends to show fingerprint marks and become smudgy.
If you're into retro-style appliances, take a look at these 5 brands that offer retro designs.
How to compare kettles
When purchasing a new kettle, it's worth knowing what you should look out for so you can find the best model for your needs. You can also check out our round-up of the best kettles in Australia.
Water capacity
Most kettles hold around 1.5 litres of water, which is the equivalent of 6 cups of water. If you have a larger family, a 2-litre model can save you having to refill and boil again if you're all wanting a hot drink at the same time. For single-person households, you can opt for a smaller one that holds 1 litre or less.
Boiling speed
If you are often in a hurry for your morning tea or coffee, the speed at which the water boils is going to be important to you. A 3kW kettle filled with 4 cups of water will be ready in just 2.5 minutes, but models of only 1.7kW can take up to 2 minutes longer.
Handle
You don't want to be touching the body of the kettle when you pick it up after boiling, so look for one that has ample finger room and allows you to hold it securely.
Lid
A hinged lid means that you have less chance of losing it since it's attached to the kettle. This is most common in electric models.
Spout
Look for one with a wider spout to avoid spills and make it faster to pour water.
Cord length
It's not always convenient to have your kettle right next to the plug, so look for one with a longer cord. Some models come with retractable cords for tidier storage.
Base
Check if the base is non-slip so it doesn't move around as easily when you are removing and replacing the kettle. For added convenience, you should be able to place it on the base in any direction.
Indicator light
An indicator light allows you to easily see if you have turned the kettle on to boil. This is handy if you are in a rush and need to double-check from the other side of the kitchen.
Boil dry protection
Electric kettles have a minimum water level that you need to fill past in order for it to work. If there is not enough water, the boil-dry protection kicks in and turns the kettle off.
What extra features can I find in electric kettles?
The main function of your kettle is to boil water, usually for coffee or tea, but some of the more expensive electric kettles include additional features such as:
Quiet boil. If the sound of the water boiling bothers you, you can look for a model that has a quiet boil function. These reduce the noise of the bubbles by making them smaller.
Temperature control. Some models offer different temperature settings, which can come in handy when you want hot rather than boiling water for tea or cooking purposes.
Cool-touch exterior. Rather than burning yourself if you accidentally touch the outside of your kettle, you can find models that aim to remain cool to the touch even after boiling.
---
Best rated kettle brand award breakdown
| | Total Score | Overall rating | Value for Money | Features & functions | Performance | Quietness |
| --- | --- | --- | --- | --- | --- | --- |
| Westinghouse | 8.36 | 4.67 | 4.50 | 4.33 | 4.33 | 4.00 |
| Morphy Richards | 8.32 | 4.62 | 4.23 | 4.62 | 4.69 | 4.08 |
| Delonghi | 8.00 | 4.37 | 4.19 | 4.15 | 4.41 | 4.04 |
| Kmart | 7.93 | 4.30 | 4.38 | 4.10 | 4.44 | 3.84 |
| Sunbeam | 7.86 | 4.32 | 4.20 | 4.18 | 4.30 | 3.98 |
| Smith + Nobel | 7.83 | 4.25 | 4.50 | 4.00 | 4.00 | 4.00 |
| Russell Hobbs | 7.80 | 4.32 | 4.08 | 4.26 | 4.38 | 3.74 |
| Kambrook | 7.73 | 4.20 | 4.18 | 4.04 | 4.36 | 3.92 |
| Breville | 7.70 | 4.22 | 4.22 | 4.06 | 4.20 | 3.78 |
| ALDI | 7.52 | 4.14 | 4.04 | 3.89 | 4.32 | 3.71 |
| Bellini | 7.26 | 3.94 | 4.25 | 4.06 | 4.19 | 3.38 |
| Tefal | 7.12 | 3.80 | 3.90 | 4.00 | 4.00 | 3.50 |
| Other | 7.02 | 3.78 | 4.04 | 3.88 | 4.10 | 3.64 |
| Kenwood | 6.81 | 3.75 | 4.00 | 4.00 | 4.00 | 3.25 |
| KitchenAid | 6.79 | 3.75 | 3.58 | 4.08 | 3.83 | 3.83 |
*Brand did not meet the sample threshold to qualify for the award
Data: Finder Retail Brand Survey, 2020, Kantar. Metric out of 5 stars unless indicated. Methodology and more info.
Previous Retail Awards
More guides on Finder