Keeping Up With The Kardashians best moments and season 20 details
Ahead of the premiere of the 20th and final season, we take a look at some of the best moments of KUWTK.
Calling all Kardashian fanatics! Your favourite family is back to grace your screens for the very last time. The 20th and final season of Keeping Up With The Kardashians is premiering on Friday 19 March (AEDT) the same day as the US.
You'll be able to stream the 20th season on hayu, Foxtel Now and BINGE. You can see a full breakdown in our KUWTK broadcast guide. The 20th season will run for 12 episodes and our brains are already buzzing with what could potentially happen.
Will we get an inside look into the beginning stages of Kim and Kanye's divorce? Did the family record Kim's lavish 40th birthday party on the private island? Will Khloe and Tristan have another baby together? Do Scott and Kourtney rekindle their past love? All these questions and more will be answered in the new season and we cannot wait to watch it all unfold.
Ahead of its highly anticipated release, we've decided to take a walk down memory lane and remember the funniest, craziest and most dramatic moments of Keeping Up With The Kardashians.
"Kim, stop taking pictures of yourself, your sister is going to jail"
The family is heading off to jail, where Khloe was about to serve her sentence for her DUI. What does Kim decide to do? Take selfies of course.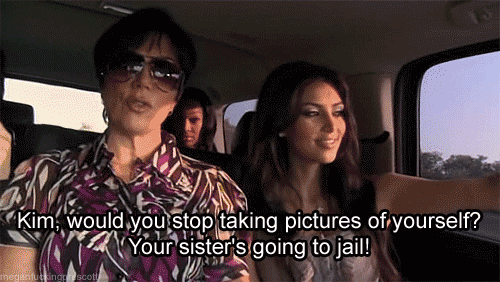 "You're doing amazing, sweetie"
This iconic meme-worthy phrase came from the mouth of Kris, as she was taking photos of Kim in her Playboy shoot. We love a supportive momager!
That iconic handbag fight
Sister fights can get intense. After Kim buys her very first Bentley, the girls fight it out and it ends with Khloe getting knocked in the head with a handbag.
Kim's iconic crying face
Kourtney making fun of Kim's ugly crying face is burned into our memories forever. The image has now turned into a popular meme and Kim herself decided to bring it out into a "Kimoji".
"Kim, there's people that are dying"
Somewhere in the ocean is Kim's missing diamond earring. Her ugly crying face is back and it's paired with a super dramatic reaction. The result? The rest of her family looking at her with utter embarrassment.
Scott Disick becomes a lord
Back in the day, Scott was obsessed with power, royalty and wearing a polished suit almost every day of his life. So much so, he became an actual lord upon visiting London. Thankfully, he's a lot more chilled out now.
The Tristan and Khloe cheating scandal
Each of the sisters jump on a call as soon as the news drops of Tristan's cheating scandal. While watching these moments play out on television was absolutely heartbreaking, we have to admit that seeing the sisters band together to support Khloe was a tear-jerking moment.
Caitlyn Jenner is here
The very first meeting between Kris and Caitlyn Jenner is recorded on camera and it gets pretty intense. The show brought out a two-episode special on her transition and introduction to the world, and the whole process is truly eye-opening.
Kim vs Kourtney gets physical
The feud between Kourtney and the rest of her sisters was built up for some time – for context, Kourtney was no longer passionate about filming her life and wanted some more privacy – but all that came crashing down when the two sisters got in a physical altercation.
"She's the least exciting to look at"
Surprise, surprise, another sister fight from Kim and Kourtney! A disagreement over commitment issues leads to Kim striking her older sister with a pretty low blow.
Kris Jenner gets tackled to the ground
It's no surprise that the Kardashians know how to pull pranks. Kris and Khloe band together to prank Kim, pretending that her security have just tackled their mum to the ground. I don't know about you, but I think Kris deserves an Oscar for that acting performance.
Kris looks after Kylie after surgery
Kylie gets Lasik eye surgery and as a result, is bed-ridden. Just like any other good mother, Kris decides to take care of her and gives her a tiny bell to ring for her. Kylie ends up summoning her for a glass of water, a plate of delicious hand-made tacos and some cuddles in bed.
Tequila or bread?
The family go out for dinner and are all drinking and having a good time. Kylie debuts her latest single "I'm going to get wasted" and Kourtney responds with the phrase "I don't know what's going on, so I'm just appreciating my bread". The moment went viral on TikTok, with the likes of Joe Jonas, Sophie Turner and Bella Hadid re-creating it.
Kylie vs Kendall
The same night, a fight occurs. While the two youngest sisters have battled it out before, nothing compared to the fight in the most recent season. The actual footage wasn't caught on camera, so all we have is the audio and the recount afterwards. Kris was in tears and the girls didn't end up speaking for weeks.
The Kardashian clan impersonate each other
To end things on more of a sweeter note, one of our favourite moments of the show is when the sisters get together to impersonate each other. Not only are the impressions spot-on, but they're also super hilarious.
Not sure which service is best for you? Don't worry, the entire trio of hayu, Foxtel Now and BINGE have free trials so you can stream season 20 of the Kardashians for free without missing out on the next iconic moment.
Of the trio hayu would be best if you largely love trashy reality TV. Think every season of the Real Housewives and Below Deck franchises. hayu is entirely reality based, except for its limited true crime library which is…… also reality TV themed.
Then there's BINGE. Like hayu it has all the Real Housewives and Below Deck your heart desires. However, it also has HBO if you want something performed by actors instead of reality stars. The list includes The Undoing, Genera+ion, Zack Snyder's Justice League and more. You can start streaming in HD from $18 a month.
If you're after a really diverse library and live TV then you may want to try Foxtel Now. Prices range from $25 to $104 a month depending on how many channel packs you're after. But it does give you the option to add on live sport and has Foxtel exclusives that aren't on BINGE, such as Wentworth and The End.
Image source: KUWTK Instagram page