Jurassic World Evolution review: Clever girl…
While it's not the most complex park-management sim out there, building the kingdom is an addictive exercise in rex-sponsibility.
We're reader-supported and may be paid when you visit links to partner sites. We don't compare all products in the market, but we're working on it!
In Jurassic World Evolution, I didn't see the danger inherent in what I was doing. Genetic power is the most awesome force this planet has ever seen, but I wielded it like a kid who found his dad's gun. And I'll happily do it again.
Latest game reviews
If you're looking for the next great couch co-op game, Brief Battles is well worth considering, though its lack of an online mode is a bit disappointing.
Read more…
Crafted World offers saccharine sweet visuals, diverse worlds and great 2-player co-op action in abundance
Read more…
Sekiro wall-kicks away from the RPG heavy elements of the Dark Souls formula and lands comfortably in a fascinating new space.
Read more…
Like a moron, I stood on the shoulders of scientific geniuses, and before I even knew what I had, I patented it, packaged it and slapped it on a plastic lunchbox (sold for $9 at three convenient toy store locations placed in my park). I played God. I built an amusement park of the future where nothing could "possibly" go wrong. Uh, possibly go wrong. That's the... first thing that's ever gone wrong...
And now the second, third and fourth things to go wrong have happened, just now, as I'm typing this. I've left my 5-star park to run on idle and the feeders haven't been manually restocked by my jeep-based ranger units. Without goats to mung on, the comfort levels of my T. Rex have plummeted and sixty-five million years of gut instinct are taking over.
Hah! Some chaos theory has kicked in to help, too: a tropical storm has rolled in, cut the power to the fences and now it's on for young and ancient. Any shrieking AI tourist who doesn't become an entree to the big unit gets mopped up by my three rampaging velociraptors. One poor tourist gets too close to a dilophosaurus and gets the Dennis Nedry treatment. I've never been so happy to see my hard-earned work go to crap.
---
---
It's like watching a version of Disneyland where the Pirates of the Caribbean ride breaks down and the pirates eat the tourists. Or, if you're old enough to remember it, the glorious moment in Sim City when you saved your game and deliberately unleashed hell on your creation – Godzilla, giant robo-tanks, tornadoes; it's your choice, sadist. I could pick up the controller now and right the ship, with tranq-equipped air units and a free coupon day after the massacre, but it'll be tough to do.
Fortunately, the process of building afresh is just as enthralling. Consistently achieving 3-star island ratings will unlock four more to manage – one is a kid gloves tutorial area and another is Isla Nubla (the setting of the original film). The latter is a true sandbox where you have no monetary restrictions (so spare no expense) while the former helps you get to grips with the three core disciplines of running a park. You need to build with a purpose to appease your Science, Entertainment and Security divisions. Ignore any one of these folks for too long and irate employees will sabotage your park's systems (which I imagine are all running UNIX).
There's also the all-important matter of keeping your slack-jawed yokel visitors happy. Using a simple buy-and-plonk method, you'll need to place viewing platforms, power stations, a variety of tourist trap shops, hotels and even a monorail to put really yourself on the map, like Brockway, Ogdenville or North Haverbrook. Then, everything has to be connected via power poles and walkways, and you'll need storm coverage towers and emergency bunkers for when things go very south.
When it's all rigged and running, JWE makes any park look impressively life-like and populated. There's ridiculous attention to detail in this engine, and in no time, you'll feel a weird sense of pride in what you've created. You can even experience it up close and personal by piloting helicopters, gyrospheres and jeeps through your world, like a basic but functional version of GTA. At ground level, you can even get your Pokémon Snap on to earn extra bucks from Kodak moments, or you can whip out a tranq rifle to manually put your problem children to bed early.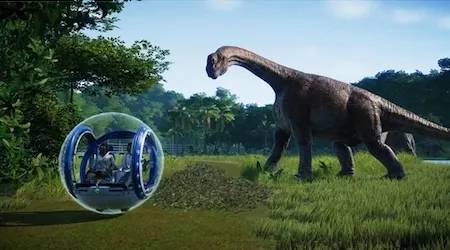 Jurassic World Evolution PS4 Game
from ozgameshop.com
Place yourself at the heart of the Jurassic franchise and build your own Jurassic World.
View details
And you better believe they'll be painasauruses. Once you've acquired enough DNA material from overseas fossil expeditions, you can manufacture dinos, and they'll all be temperamental. Fail to have *just* the right pen environment for a species – tree coverage, water, grassland, etc – and they'll riot. They're also finicky about overpopulation and some are prone to loneliness, too. The quest to build their genomes up to pure-breed 100% status gets highly addictive as is making your scientists work harder to unlock gene-tweaks that'll make them look fancier for your guests, or smarter and harder to kill. Why would you want that?
Because apparently, humans are quite stupid.
Honestly, I'm not much of a theme-park gamer, nor did I go in excited about the prospect of playing a reptilian babysitting sim. Even still, I'm quite hooked on JWE. First, because this is such an authentic JP experience – an invested Jeff Goldblum lends his voice, the lovely John Williams soundtrack ties everything together and this game is overflowing with fan service references. There's a lot of love in this production.
Second, this is just an incredibly good looking and intuitively built park management sim. The gameplay loop is heroin pancake levels of addictive, and I can see myself happily chasing the missing unlocks in this 42-dinosaur roster for hours. Will that quest be a smooth ride that's devoid of frustration? No. And that'll be the best part. When it comes to emergent fun created by algorithmic curveballs, you'll very much find that life, uh... finds a way in Jurassic World Evolution.
We reviewed Jurassic World Evolution on PlayStation 4 with a copy provided by the publisher.
Jurassic World Evolution
8.5 EXCEPTIONAL
What we liked...
The loop of earning 42 different dinos is addictive
As is keeping them in line and off a human diet
Good-looking engine packed full of detail and (dinosaur) Easter eggs
Great ambient audio design and soundtrack
What we didn't like...
Not a huge leap over Jurassic Park: Operation Genesis
Will feel a tad simplistic for hardcore genre fans
Aquatic and aerial dinos would've been nice
VERDICT
This isn't the most complex management sim out there, but it sure is fun, well built and pretty as a picture. After careful consideration, I've decided to endorse this park.
For more information on how finder.com.au scores games, check our review guidelines.
---
More guides on Finder