Joint bank accounts are losing their appeal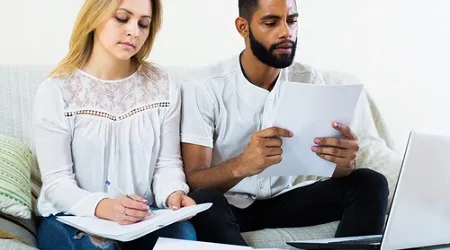 Many couples have become accustomed to managing their finances individually.
A new study has found Australian couples are becoming less keen on shared bank accounts, preferring to keep their finances separate, despite being in a relationship.
ME Bank's analysis of 2,000 Australian banking customers found less than half of those in a relationship hold a joint transaction account (49%), a joint credit card (48%) or share an online savings account (39%).
The survey reveals joint accounts are somewhat less popular (-7%) now than they were three years ago.
However, more than three-quarters of couples (77%) opened individual bank accounts before they formed their relationships, suggesting many have become habituated to independently managing their money.
There's a generational gap in regards to couples combining finances. Baby boomers (60%) were most likely to hold joint transaction accounts, followed by Generation X (48%) and Generation Y (33%).
More than half of the respondent couples said they had no need for a joint account (54%), while around a third preferred to remain financially independent (32%).
A small proportion blamed their partner's bad saving habits as reason not to open a joint account (5%).
Marriage (60%), being involved in a long-term committed relationship (15%) and moving in together (10%) were prevailing reasons to open a shared bank account.
The results of the survey support research conducted by finder.com.au earlier this year. This data revealed just one-fifth of couples have a shared savings account (21%) and more than a third of Australians don't want to merge money (36%) even after merging everything else.
When working towards similar financial goals as a couple, a joint account could be the best option. Start with a detailed budget, research which banks offer joint accounts and compare joint personal loans.
Latest bank account headlines
Picture: Shutterstock