The coolest Japan hotels to book
Discover the top hotels in Japan for an enjoyable and stress-free trip.
We're reader-supported and may be paid when you visit links to partner sites. We don't compare all products in the market, but we're working on it!
Japan offers a variety of accommodation options to appeal to everyone from luxury travellers to backpackers on a budget.
Whichever type of traveller you happen to be, there's a perfect stay for you in the land of the rising sun. We've picked out some of the best stays in Japan's most popular cities, which boast the most ideal locations for sightseeing and shopping in each destination.
---
Our top Japan hotel picks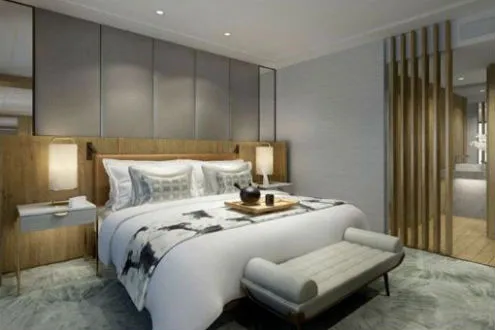 Keio Plaza Hotel
from Finder Hotels
Keio Plaza Hotel is conveniently located within one of Tokyo's top shopping districts and close to a metro and train station. It offers views of Tokyo's skyline, child-minding services and a karaoke bar.
Star rating: 4-stars
Location: Shinjuku, Tokyo
Suitable for: Couples, families and business travellers
View details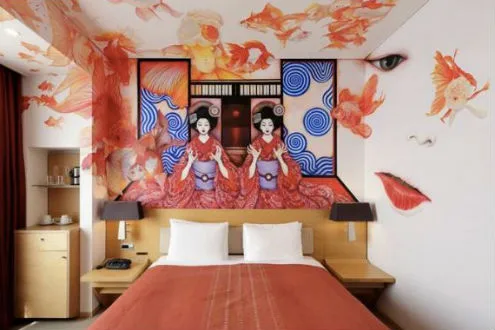 Park Hotel Tokyo
from Finder Hotels
Many attractions and eateries are located within walking distance of Park Hotel's central location. Each room is unique and the on-site spa offers a number of massage and body treatments.
Star rating: 4-stars
Location: Minato, Tokyo
Suitable for: Couples and business travellers
View details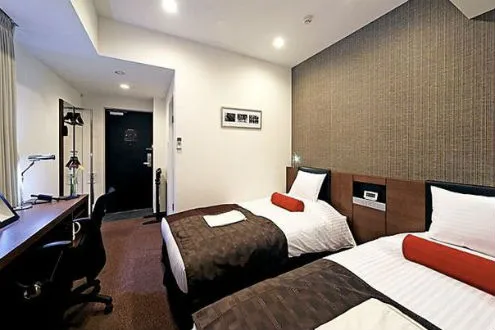 Hotel Mystays Asakusa bashi
from Finder Hotels
This budget-friendly option is in an ideal location to explore the area by bike. It's within walking distance of the Akihabara Railway Station making it easy yo experience Tokyo's nightlife and other attractions.
Star rating: 3-stars
Location: Taito, Tokyo
Suitable for: Couples and business travellers
View details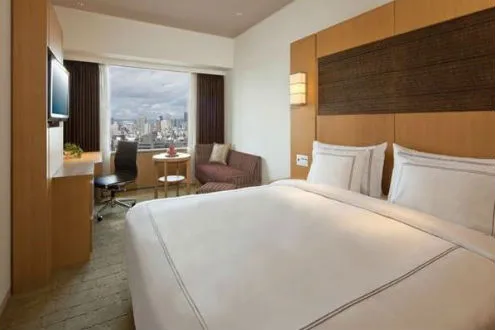 Swissotel Nankai Osaka
from Finder Hotels
Swissotel Nankai offers stylish accommodation with city views. It's conveniently located within walking distance of Namba train station and Namba parks. After a day of sightseeing relax in the jacuzzi, at the spa or with a yoga class at the on-site gym.
Star rating: 5-stars
Location: Chuo, Osaka
Suitable for: Couples and business travellers
View details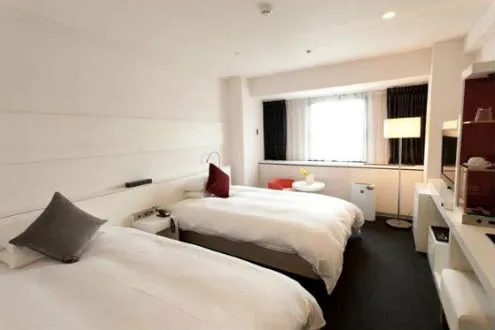 Cross Hotel Osaka
from Finder Hotels
Cross Hotel Osaka is located in the centre of the tourism and shopping district with other areas like Dotonbori and Shinsaibashi only a stroll away. A massage and beauty centre is available on-site as well as free Wi-Fi.
Star rating: 4-stars
Location: Chuo, Osaka
Suitable for: Couples, families and business travellers
View details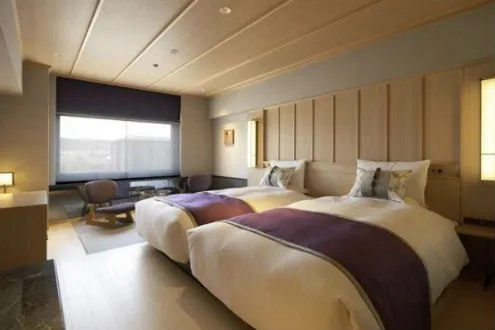 Kyoto Century Hotel
from Finder Hotels
Kyoto Century Hotel is ideal for those looking to sightsee with Kyoto Tower just a short walk away. Plenty of cafes and restaurants are close by. Alternatively, if you'd prefer to dine in, Kyoto Century Hotel has an on-site restaurant and bar.
Star rating: 4-stars
Location: Shimogyo Ward, Kyoto
Suitable for: Couples, families and business travellers
View details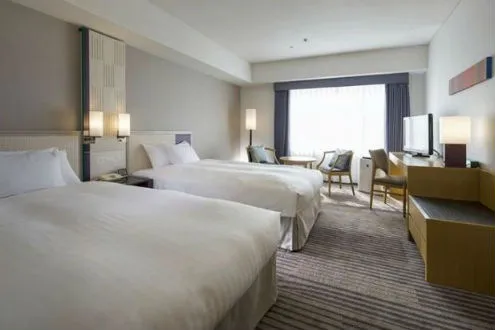 New Miyako Hotel
from Finder Hotels
Traditional rooms provide comfort at New Mikyako and the on-site restaurant and bar are ideal for relaxation. Nishi Honganji, Higashi Honganji and Kyoto Tower, as well as shopping and restaurants are all within walking distance.
Star rating: 4-stars
Location: Minami Ward, Kyoto
Suitable for: Couples, families and business travellers
View details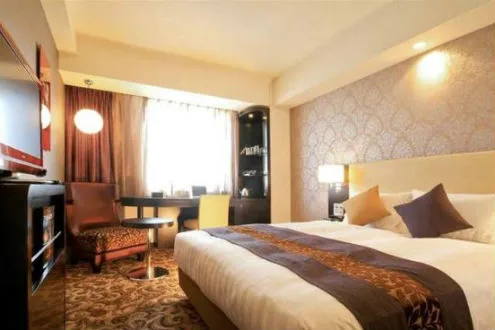 Mercure Sapporo
from Finder Hotels
Mercure Sapporo offers stylish and modern accommodation at a central location. Sapporo Clock Tower, Odori Park and Nakajima Park are all within walking distance.
Star rating: 3-stars
Location: Chuo Ward, Sapporo
Suitable for: Couples, families and business travellers
View details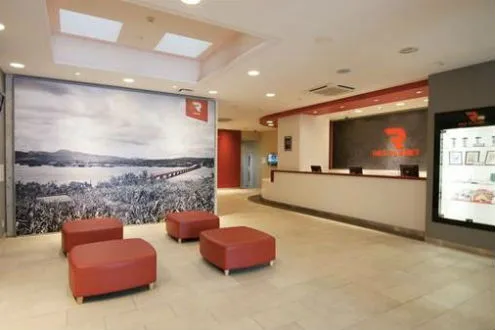 Red Planet Naha Okinawa
from Finder Hotels
Dining, nightlife and shopping are at Red Planet Naha Okinawa's doorstep. This budget accommodation features an in-house restaurant and friendly staff to provide tourist information.
Star rating: 3-stars
Location: Naha City Centre, Naha
Suitable for: Couples, families and business travellers
View details
How did we pick these Japan hotels?
Our editorial team selected the Japan hotels on this list based on price, location and real customer feedback from hotel booking sites and review platforms. Where applicable, we used our own personal experiences to make recommendations.
---
Best places to stay in Japan
Tokyo: Japan's bustling capital is a must-visit. Staying in the thick of it is not difficult as each of its 47 neighbourhoods is as action-packed, colourful and accessible as the next thanks to the city's extraordinary metro system. Popular neighbourhoods include entertainment district Shibuya, expat and party mecca Shinjuku, fashionable Ginza, quirky Harajuku, artificial island Odaiba, traditional Asakusa, tech-heavy Akihabara and hipster Shimokitazawa. From Tokyo, you can reach Mount Fuji, Fuji-Q, Jigokudani Monkey Park and Yuzawa ski resorts.
Osaka: Japan's second largest city is a gateway to Kyoto, Nara and Hiroshima. The city itself is well worth visiting for its nightlife and food. The main Dotonbori Street is a sensory overload with restaurants serving traditional cuisines and iconic interactive signs to light the way.
Kyoto: The former capital of Japan is a flashback to a bygone era. It served as the seat of the emperor's residence from 794-1868 and maintains many traditions and cultures from those times. Kyoto's Gion district is particularly famous for its kaiseki dining options, geisha shows and Buddhist temples.
Hiroshima: Steeped in history, the city of Hiroshima has grown from strength to strength since being destroyed by an atomic bomb in World War II. Much of that era has been captured in museums and memorials.
Kobe: While traditional food experiences can be had all throughout Japan, religious carnivores should make the pilgrimage to Kobe to sup on the delectable marbled Kobe beef in its city of origin. Kobe also offers a beautiful harbour setting, mountainous landscapes and some of Japan's oldest Shinto shrines.
Sapporo: This city on the island of Hokkaido is a popular destination during winter as it's the gateway to popular ski resorts Niseko and Furano. During winter, it hosts the Sapporo Snow Festival where gigantic ice sculptures overrun the town in a magical winter wonderland.
Okinawa: Seeking a beachside holiday? Japan actually has some incredible subtropical beaches. Okinawa Prefecture in Japan's south is the resort town that locals hightail it to in the peak of summer. Comprised of over 150 islands, it boasts an enviable tropical landscape of sand, surf and reef as well as World War II sites.
---
Unique Japan accommodation options
Capsule hotels
Capsule hotels are not made for the claustrophobic – your hotel "room" is little more than a bed-sized pod. You will need to store your luggage and personal belongings in your own locker, which comes with a key. Hotels may provide complimentary travel packs that include slippers, a towel and toothpaste. Bathrooms and kitchens are communal, but keep in mind that men and women are usually separated on different floors for privacy. These hotels are great for those of you who are travelling solo or with a friend.
So where can you find a capsule hotel? Tokyo hosts an abundance, including the Astil Dotonbori, the Anshin Oyado Akihabara and the Capsule Hotel Anshin Oyado Ogikubo.
You'll also find them in abundance in Yokohama, including the Capsule Hotel Palace and the Resort Capsule Sakuragicho.
Love hotels
Just as the name suggests, the love hotels of Japan are an option for couples looking for some privacy. Discretion is one of the biggest factors when it comes to Japanese love hotels. Interaction with staff is kept to a minimum, rooms are booked via computers and payments are made within the room itself. Some hotels provide complimentary gifts upon arrival. Food and beverage can also be ordered straight to your suite.
You can find an array of these stays in Osaka, including the Hotel Love Namba Kuromon, the Osaka Hotel Live Artex or the One Love Hotel for adults only.
Ryokans
Ryokans are traditional Japanese inns typically housed with communal baths and tatami-matted rooms. You're very likely to have seen these in popular television depictions of Japan. Guests of a ryokan hotel get to wear the customary Yukata dress, which is provided to the rooms. This type of accommodation usually has a few house rules that include no shoes indoors and springs must be entered unclothed. Due to the mats within the room, dining and sleeping occur on the floor. It's also not unusual for owners to join their guests for dinners.
We recommend checking out Ryokan Wakaba or Yufuin Ryokan Nogiku, which are situated in the southern regions of Minamioguni and Yufu. If you happen to be staying in the city, a great option is Onsen Ryokan Yuen Shinjuku, which is located in Tokyo.
Buddhist temple accommodation
For those of you after accommodation of a spiritual kind, a Buddhist temple might just be for you. Expect morning fire rituals, sutra copying and meditation; locals, pilgrims and tourists are all welcome. These can easily be booked online and the staff usually speak both Japanese and English. Just like the ryokan stays, baths and other facilities are communal. Dinners are also brought to your individual rooms.
Some great temple options include the Shukubo Kakurinbo Temple in Minobu, the Temple Stay Seizanji in Nagasaki and the Takayama Zenko-ji in Gifu.
---
Japan hotel deals
---
Feature image: Park Hotel Tokyo
More guides on Finder
Handypay Green Loan

A Green Loan from Handypay could help you make your home more energy-efficient. Handypay green loans are available up to $75,000 on terms of up to 10 years.