Ironing board Finder: How to choose the right one for you
Learn about the different types of ironing boards and what to consider when making a purchase.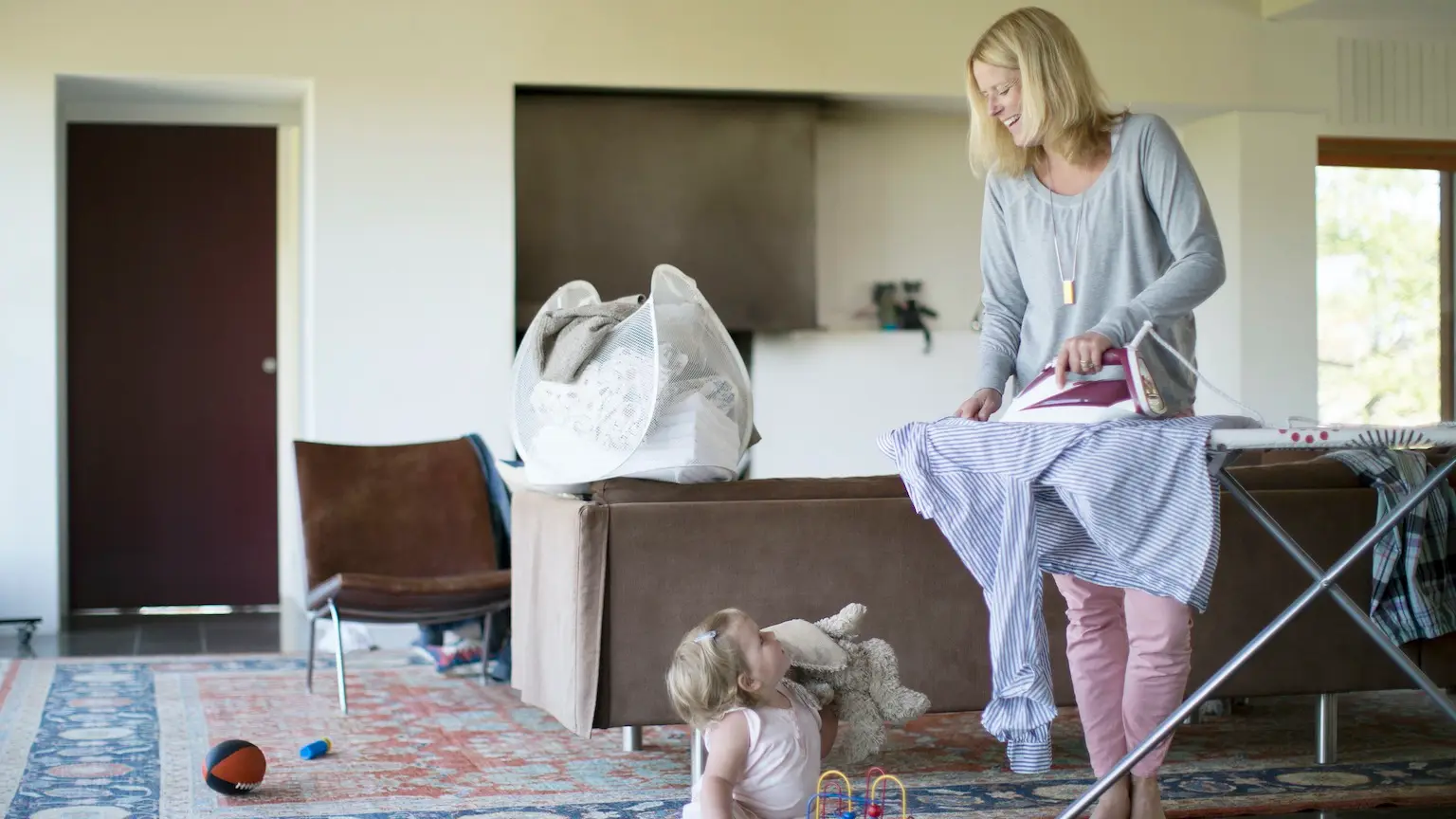 We're reader-supported and may be paid when you visit links to partner sites. We don't compare all products in the market, but we're working on it!
Best Rated Ironing Boards Brand: Hills
As the top-rated ironing board brand for design, durability and ease of use, it's no surprise that Hills took out the Finder Award for the best ironing board brand.
Quick facts about ironing boards
Freestanding ironing boards cost between $20 and $200.
Larger boards are more efficient but take up more storage space.
Accessories can make ironing easier and more convenient.
Types of ironing boards
Whether you are checking off things to buy for your first home or you need to replace your existing ironing board, there are four types of ironing boards to consider.
Freestanding. The most common type of ironing board found in homes is a freestanding model. These boards have X-shaped legs that fold down flat for storage and can be adjusted to suit people of different heights. Thanks to their portability, you are not restricted to where you can use this kind of ironing board, so you can set it up in front of the television or anywhere where you have space. Freestanding ironing boards come in different dimensions so you can find the right size to suit your height and ironing habits.
Table top. A table top ironing board is placed on a table or benchtop so you can do your ironing at an appropriate height without damaging the surface. It has shorter legs and a smaller board, but most models include an iron rest and will fold down for storage. This is an option to consider if you live in a confined space such as a tiny home, and you can also use it on a hardwood floor if you are unable to stand for periods of time.
Wall-mounted. A wall-mounted ironing board is a board that attaches to the wall and doesn't have legs. The wall bracket usually allows you to fold the board up when not in use, or you can keep the board out flat. This type of board is suitable for installing in laundries or other rooms where you have the space to do your ironing and you won't be able to move this board from room to room.
Built-in. A built-in ironing board is another type of board that can't be moved from room to room. Some built-in boards come in cabinets that need to be mounted on a wall. You can fold out the ironing board when you open the door, and there is space to keep your ironing board and accessories in the cabinet. You can also get built-in boards that sit in a pull-out drawer under a benchtop in the kitchen or laundry.Both of these options require customisation to fit in with your home design, although you can buy standard fully-assembled ironing board cabinets ready to be mounted on your wall.
How to compare ironing boards
Before you start shopping for a new ironing board, find out how to compare your options.
Cost
The cost of an ironing board depends on the type, the brand, the workmanship and the special features or accessories included. These are the price ranges you can expect to see:
Freestanding: $20 to $200
Table top: $15 to $50
Wall-mounted: $200 to $300
Built-in: $300 to $600
There is a large difference in price with freestanding models. While it's possible to pick one up for as little as $20, it may not last you as long due to flimsy legs or substandard workmanship.
Board size
Board size can vary between brands and models. For freestanding boards, you can see widths of between 33cm and 48cm and lengths of between 120cm and 140cm. Table top and wall-mounted models can be just as long as freestanding boards but they tend to have shorter lengths of between 70cm and 105cm.
Opt for a wider board so you are not needing to reposition your clothes as much, and if you iron a lot of pants or maxi skirts, then a longer length is more desirable. On the other hand, if you only tend to iron a few smaller items from time to time, a smaller board may be all that you need.
Height
Your ironing board should sit at a height that is level with your hips if you iron standing up. Most freestanding boards can be adjusted to be between 70cm and 92cm tall, although some may have a smaller or larger range. If there will be more than one person using your ironing board, you should look for a model that can be adjusted for the comfort of everyone.
Height is not so much of a concern if you are opting for a wall-mounted or built-in model as you can fit these to the appropriate height.
Sturdiness
An ironing board needs to be sturdy enough to take the weight of you pressing down without it collapsing or falling over, especially when you have a steaming hot iron. Cheaper and lightweight ironing boards tend to squeak and move, and can even topple over with gentle knocks. Generally, more expensive models have a more stable and longer-lasting structure.
Padding
Padding should be between 4cm and 8cm thick. Foam is often used in cheaper ironing boards but as this can lose shape over time. Heavy felt or cotton fibre is a more desirable choice.
Cover
Ideally, a cover should be smooth and scorch-resistant. Reflective covers make ironing easier by transferring heat back into clothes and non-stick covers avoid material adhering to the board. Teflon-covered or silicone-coated cotton covers are a popular choice as they are easy to clean and prevent clothes sticking.
Ironing board accessories
Ironing can be a chore, but thanks to some modern accessories and special features you can have an easier and quicker experience. You may find some of these are included when you purchase a new ironing board, especially in high-end models, or you may be able to purchase certain accessories separately.
Hanging rack. A hanging rack sits at the end of your board so you can hang up clothes that have just been ironed. This helps to keep clothing crease-free until you are able to hang them up in the wardrobe.
Iron rest. This is a place to rest your iron without it burning the board cover or falling on the floor. Need a new iron? Our iron buying guide will help you make the right choice.
Sleeve board. A sleeve board is shaped like a small ironing board and attaches onto your main board. You can use it to iron shirt sleeves or other items.
Retractable shoulder wing. This feature makes ironing the shoulder area of shirts less fiddly.
Storage hook. You can store your ironing board out of sight and keep more floor space free by attaching a storage hook on the wall or the back of a door for your iron to sit on.
Wheels. Some ironing boards have wheels, which makes moving the board easier.
Three things to consider
Ironing board covers can usually be easily replaced if they become damaged or you would like to upgrade without buying a new board. You can expect to pay between $20 and $50 for a new cover.
If you find that ironing is hard on your body or you have trouble with standing for periods of time, a garment steamer is worth looking into.
While high-end ironing board models are sturdy, they can still fall over, so make sure not to leave a hot iron unattended if you have children or pets around.
Best rated ice cream maker brand award breakdown
| | Total Score | Overall rating | Value for Money | Design | Durability | Ease of use |
| --- | --- | --- | --- | --- | --- | --- |
| Hills | 8.13 | 4.36 | 4.36 | 4.48 | 4.52 | 4.44 |
| Sunbeam | 7.99 | 4.33 | 4.36 | 4.15 | 4.27 | 4.45 |
| Target Essentials | 7.59 | 4.16 | 4.34 | 4.06 | 3.91 | 4.09 |
| IKEA | 7.57 | 4.00 | 4.36 | 4.09 | 4.09 | 4.25 |
| Kmart | 7.57 | 4.04 | 4.39 | 4.02 | 4.04 | 4.24 |
| Other | 7.32 | 3.94 | 4.00 | 3.89 | 3.89 | 4.06 |
Data: Finder Retail Brand Survey, 2020, Kantar. Metric out of 5 stars unless indicated. Methodology and more info.
More guides on Finder