Interview with ANZ 'Be Money Confident' ambassador – Antonia Kidman
ANZ have consistently offered Australian consumers great value credit card offers. We took the opportunity to speak with ANZ, and gain some insight in to ANZ's direction for 2010 and beyond.

ANZ
ANZ has over 8 million customers worldwide.
ANZ opened its first office in Sydney in 1835.
ANZ is a publicly listed company, and was incorporated on 14 July 1977 in Australia.
ANZ employs more than 48,000 people around the world.
In the past ANZ has led customer satisfaction polls. What do you feel is the biggest contributing factor to Australian's having a high satisfaction rating of ANZ?
ANZ has been ranked number one of the major four banks in customer satisfaction for almost six years (Roy Morgan) ANZ has a current satisfaction rating of 77.8% (December 2009) and leads NAB (72.4%), CBA (74.5%), and Westpac (74.2%) (January 2010).
We believe our almost six-year lead in customer satisfaction has been the result of sticking to our strategy of making banking more convenient and simple for our customers.
This is about continuing to invest in the things our customers told us were important to them: better access to convenient branches and ATMs (through conveniently located branches, extended branch hours, and doubling our ATM network) simplified products, straightforward and transparent fees ($5-all-you-can-eat account), and informed staff.
With the launch of our new brand last year, we have an even stronger commitment to continue to change the way we do things by understanding what is going on in our customers' world and making banking more convenient and less complicated.
Credit card security and fraud protection is becoming increasingly important. What sort of initiatives are ANZ taking to combat this issue?
ANZ recently announced the ANZ Fraud Money-Back Guarantee which demonstrates ANZ's commitment to do whatever it takes to ensure customers' card security. The Guarantee protects all ANZ cardholders from fraudulent transactions on their ANZ card (provided they didn't contribute to the loss and notified ANZ promptly of the fraud). All ANZ cards are covered, including credit cards, debit cards and day-to-day transaction account cards.
Since ANZ's credit card fraud detection tool ANZ Falcon was introduced in 2005, ANZ continues to make significant investments in protecting customer's banking. ANZ Falcon is used by the fraud team to monitor the activity of ANZ credit card accounts 24 hours a day, 7 days a week.
ANZ was the first major credit card issuer in Australia to issue chip cards to customers. ANZ has invested extensively over the past few years to ensure that we remain at the forefront of card security. The chip embedded in the card helps protects against skimming as it makes it more difficult to fraudulently copy the credit card details. When used in conjunction with a PIN it will also protect significantly against lost and stolen card fraud.
The strategic use of Verified by Visa and Mastercard Securecode has also been very successful in reducing online credit card fraud. Improved ATM security, such as anti-skimming devices are also in place to reduce the risk to our customers.
ANZ was the first major credit card issuer in Australia to issue chip cards to customers.
Would ANZ ever consider providing incentives to consumers, for bundling their financial products together (eg: credit cards, savings, home loans etc.), in the same way that insurance products are bundled?
ANZ provides packages such as the Breakfree package which offers customers an ANZ Home or Residential Investment Loan, an ANZ Everyday Banking account and an ANZ Credit Card account. Customers receive discounts on products included within the package – for example, the annual fee on ANZ Gold is waived.
---
ANZ launched a brand new initiative for the month of February 2013 called FebuSave to help get Australian women saving.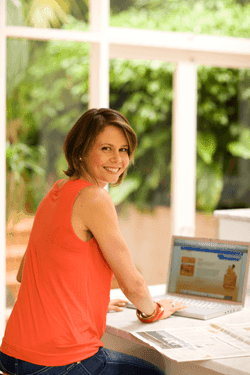 Antonia Kidman
Antonia Kidman is an Australian television personality and journalist.
One of the official FebuSave coaches.
We thought it would be a good idea to speak with Antonia and find out a little more about her role as an ANZ 'Be Money Confident' ambassador.
What do you find to be the most rewarding part of your role as the ANZ 'Be Money Confident' ambassador?
Apart from everything I'm learning it's wonderful to be able to encourage other Australian women to take up the Febusave challenge and set a savings goal that will hopefully then become a pattern for the rest of the year.
What is your personal savings goal, and what do you actively do to reach your savings goal?
I want to learn more about the share market so I set up an Online Investment Account with ANZ. As it is a long-term investment I want to add to it slowly but regularly. I'd like to increase my monthly credit amount with the goal that when my children finish school I'll be able to give them some money to put towards travel, a car or perhaps a home deposit.
I have a very strong desire to set myself up and plan for my future.
Do you ever find it challenging to stay disciplined and on track with your savings?
I do when I see something I like! But having said that I've just moved house and thrown out so much stuff I don't think I'll ever buy another thing! Saving can be tricky because it seems non-essential. But I have a very strong desire to set myself up and plan for my future. That desire overrides small frivolous temptations so no I'm pretty good.
What is your #1 tip for Australian women who are just starting off with their savings?
Just start small. A little bit can go a long way, particularly if it is over a long period of time. The 28 days of February is a good start to get you into the habit of saving. I encourage people to log onto the FebuSave website and sign up today. On the site you will have access to savings calculators to determine how much you can save as well as inspirational tips and stories from the FebuSave coaches.
Back to top
Related Posts
Credit Cards Comparison
Updated February 18th, 2020
* The credit card offers compared on this page are chosen from a range of credit cards finder.com.au has access to track details from and is not representative of all the products available in the market. Products are displayed in no particular order or ranking. The use of terms 'Best' and 'Top' are not product ratings and are subject to our disclaimer. You should consider seeking independent financial advice and consider your own personal financial circumstances when comparing cards.