Interview: Samsung's Allan Devantier on why soundbars are winning the home audio war

Samsung's head of Audio R&D opens up on how to build the best possible soundbar, and how you build an audio lab from the ground up.
At CES 2018, I had the opportunity to sit down and chat to Allan Devantier, Vice President of Audio R&D at Samsung America, and prior to that, manager of Acoustic Research at Harman International. In other words, Allan's a man who knows his sound, although, the journey for Samsung's audio labs has been one of careful planning and research.
"The mission statement for the lab was to help Samsung become the number one audio brand, just like TV, just like cell phones. And we want to attack it the same way.
"If you think about what Samsung has done with TVs, that huge focus 15, 20 years ago to LCD technology making great slim designs and really improving the picture quality of that technology and taking them where they are today. It's the same idea with sound, right?"
Samsung's audio labs actually started off quite small, although it's a rapidly growing part of the company, according to Devantier:
"Four years ago, we started with a group of 5 people, we acquired some lab space, about 8500 square feet," he said. "We started with that space, two anechoic chambers and two listening rooms for about 20 people. And as little as two years later, we knew we had to get more space.
"We literally doubled it, now we're over 17,000 square feet. We've got room for 40 employees, there's about 23 of us currently. Four PhDs, seven with Masters degrees and about 300 man-years experience designing speakers and audio gear."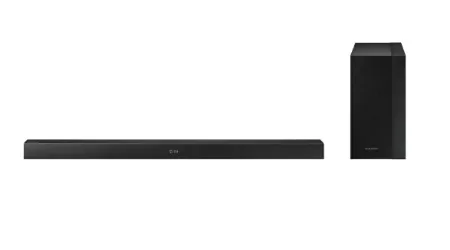 Buy a Samsung 2.1Ch Soundbar 200W
from The Good Guys
View details
However, it's not just a question of audio competence. Devantier is passionate about music, and he's keen that his staff is too:
"The most important thing about that team is that fully eight members of the team are active musicians, working the LA music scene, playing Saturday night gigs and mixing shows.
"We've got one of the guys in our team in a band, he tours up and down the western United States. They're just a small band thankfully because he's a really good engineer, and I want to keep him!
"That team is just so in love in with music, and we're really about delivering high quality audio. So with the lab expansion this year, we added an additional listening room, space for 20 more people, and we added a prototyping lab, so we can build prototypes very quickly to help the development process."
While much of the focus at CES 2018 was on Samsung's AI ambitions for the future as well as the impressive 146 "Wall" TV, Devantier was keen to talk up how the growth in the popularity of soundbars has impacted people's lives.
"We want to make absolutely fantastic sounding loudspeakers that are every year easier to use, better integrated with the TV and better integrated to your lifestyle," he said.
"So we're definitely moving in that direction. We've seen it with the soundbars. The sound quality improvement in the last four years has definitely gone up, and you're going to see this year... last year there was such a huge focus on the one body design. Now we're going to try to bring that together with the traditional two – the soundbar and the subwoofer – and make sure that those products cover all the bases.
"One body is spectacular for most customers, great for comedies, great for romantic shows, fantastic for news shows. For music that maybe isn't EDM. So basically about 90% of what people are going to listen to.
"But the fact is that in the end, there's going to be some big rooms, some customers that are doing EDM music, hip-hop or they're watching a lot of sci-fi stuff, and so they need that sub-woofer, right? They need that little bit extra. So you're going to see this year that those product lines are very strong. Both of them giving the best possible performance.
"So the K950 soundbar has been really successful in Australia, the new 950 is actually a big improvement on it. We're really pleased. It integrates some side surround built in as well as the ATMOS drivers pointing up, and it improves subwoofer over the first generation. All the transducers inside the new 950 are all improved. They're all built around the ideas that are in the existing one body, so it really moves up the sound quality. I believe it's going to be a big hit.
"With the surround channels built in on the sides, you can have just the soundbar up front and the subwoofer, and the sense of spaciousness and envelopment with the ATMOS drivers and the surround channels on the side is spectacular. When you add the surround channels and the ATMOS surround channels, it takes it a step further above the existing 950 model."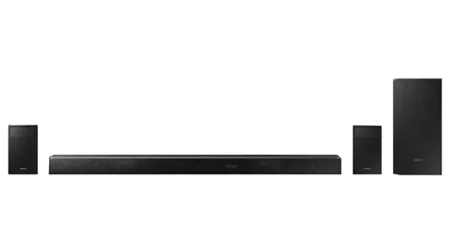 Buy a Samsung Series 9 Soundbar with Dolby Atmos
from The Good Guys
View details
How much of a challenge was it for getting to the number one position?
"The audio business is much more difficult to measure than the TV business, where everyone knows who the key players are, and the products are pretty much the same. The audio business is really hard to measure because you can talk about consumer audio, soundbars, home theatre, Wi-Fi – all that stuff. Then you get that grey area. You talk about the stuff that JBL Pro does, big stadiums and the like. Does that count in the audio business? It's a completely different business, supporting venues like arenas and stadiums.
"Samsung, depending on how you measure it, and I think I'm allowed to say this, is somewhere around five-ish. Certainly with acquiring Harman, actually, if you think about our business in soundbars, we're number one in the world.
"The K950 has better than 50% market share. Soundbars are pretty much the biggest thing in the audio business right now. Bluetooth is coming on.
"What's interesting, where Harman is really strong is in two areas. Harman is in a lot of cars. There's an opportunity for synergy there that's going to continue to grow. The other one is, funnily enough, Harman is very strong in Bluetooth.
"Bluetooth audio for Harman is really doing very well. I think the synergy opportunities there are going to be really good. Coming in at number five a couple of years ago, and adding Harman in, by some measures you could say we are the number one audio business. But it's that hard to measure, depending on how you slice it. Certainly top three. Certainly."
One of the larger challenges for soundbar sales are in full home theatre systems, and while Devantier admits there's still room for improvement, he sees advantages with soundbars in convenience and continually improving sound.
"What we used to see in the US was that people would go out and buy a 65" Samsung TV, and they'd go and get an AV receiver, and they'd fumble with the two remotes, and in the first week or two they'd do it – people stopped using the AV receiver day to day. They'd only use it at special times. The ease of use of soundbars is completely growing the business. All of that is just leveraging around ease of use.
"I really believe that the only weakness in the soundbar model is that the transducers aren't that far apart. If you don't get that separation, it's not good. With a soundbar with surrounds, it helps.
"Really, that's the only weakness from a sound pressure basis, bass, from a lack of colouration in the midrange, nice clean voices, nice highs – all that's there, and maybe just a little bit of width that you're just going to get naturally when speakers are 10 feet apart. That's just going to happen. Really, that's to me the only weakness that's left. We've come that far. Just four years ago soundbars had so many problems. We're proud of the work so far."
One of the other factors for soundbars is that they're designed to flow into home decor, but that has the potential to build tension between the needs of audio design and the desires of Samsung's industrial designers. Here Devantier states that it's a mixed race:
"A lot of times, we'll make a first prototype even before industrial designers have figured out where they're at," he stated.
"Basic shapes, the size that it needs to be, how the electronics are going to fit in there. On the last two generations, the industrial design... I like it, it's very clean and simple and I think they did a great job... turned out to be very easy for us to work with.
"So really, once the industrial design was done, those next generation prototypes, it was really easy to make the finished product sound good. Because really, it was a very uncomplicated design. It was clean, simple, and the 45-degree bezel on the top only helps the sound quality. It's better than a sharp edge, so that was great. The industrial designers have been great with coming up with designs that I like – and I'm just an engineer. I guess I'm predisposed to like it because I know it sounds good.
"Sometimes we're ahead of the designers, sometimes they're ahead of us. It's very organic, and it's flowing great. For the soundbars, the synergy is great. As an example, and this is really cool, is that when the speakers get close to the wall – and the wall is part of the design – we can get a really good amount of bass out of that soundbar because it's on the wall, rather than the typical one foot away. So it's going to be a fantastic product, really elegant and good sounding product."
At CES 2018, much of the talk was around the integration of voice assistants, including Amazon's Alexa, Google's Assistant and Samsung's own ambitions for its Bixby voice assistant, but Devantier's focus isn't in that area:
"Everybody's always asking my team about that, and we're so much associated with audio, so it's a natural question to ask," he said.
"Really our focus is so much on sound quality, woofers, tweeters, amplifiers, that, I've got to tell you – I'm hoping that we can do a great audio controlled product because that's going to help us be that much more successful. We're not involved in the voice control area. I know what we're doing in this area, but my group isn't actively involved in it."
Given his particular audio background, it's not much of a surprise when I ask him what he personally uses:
"There's a whole bunch of Harman gear in my house. I was very happy when Samsung acquired Harman so I didn't have to be embarrassed to answer that question anymore! I go through the math in my head, but there are probably 20 pairs of speakers in my house.
"In the main living room, we have a 7.2 sound system, there's a Harman Kardon speaker system for the outside, front patio, living room, garage, just everywhere in the house, ready to play music. It's such a joy. I love being able to just go around the house and just have music anywhere that I want it to be."
I felt like I had to ask, so I did: Does that level of sound annoy your neighbours?
"(laughs) Actually, we're reasonably far apart. I'm a Genesis and Peter Gabriel fan, and funnily enough, so is my neighbour. So it's not a problem when we're belting out Solsbury Hill. Nobody's complaining at all!"
Alex Kidman travelled to CES 2018 as a guest of Samsung.
Latest technology headlines
---
Follow us for all the latest mobile phone news and deals
---