Interior paint Finder: How to choose the best paint for your home
What you need to know to transform any room with the perfect paint.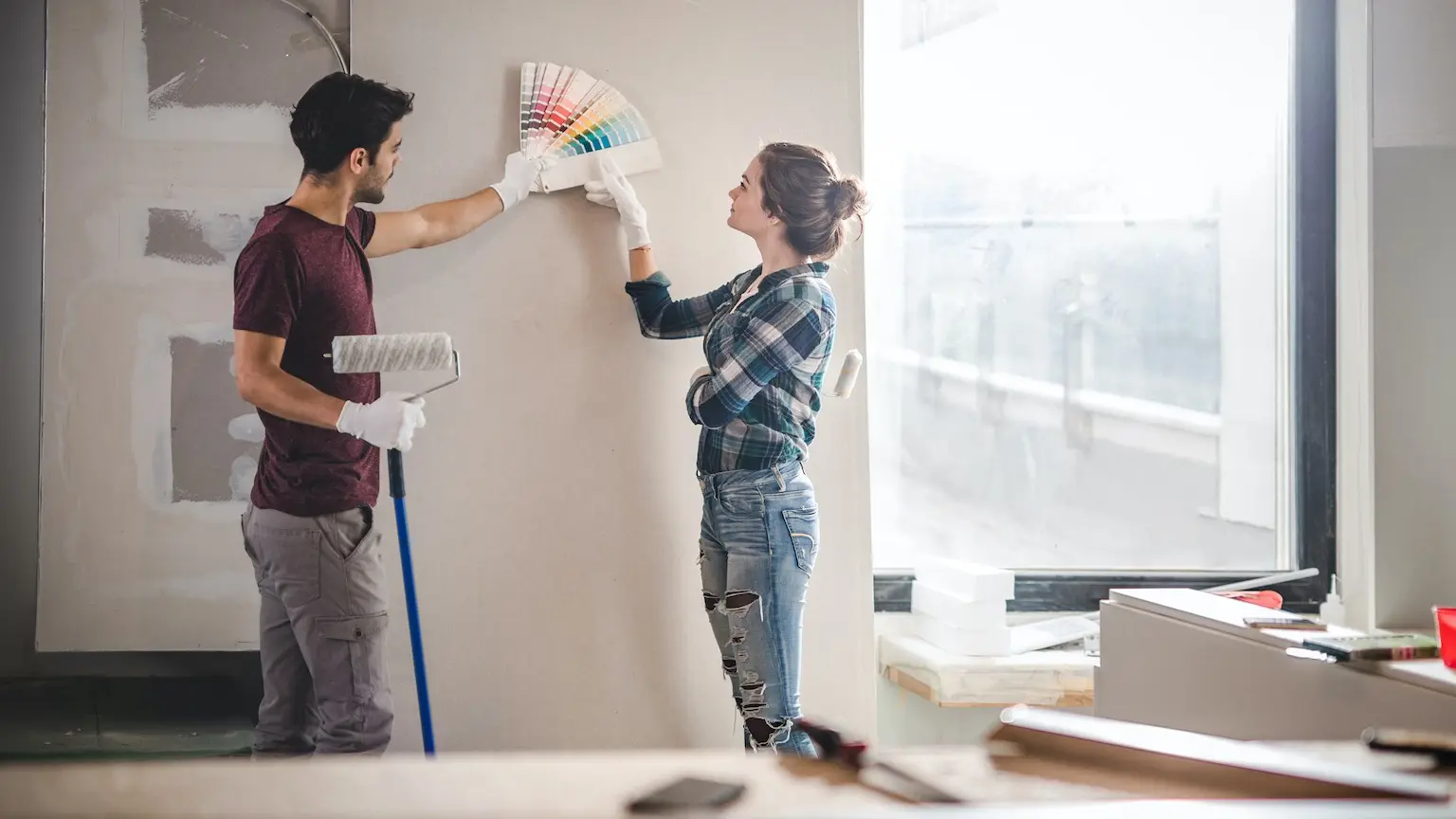 We're reader-supported and may be paid when you visit links to partner sites. We don't compare all products in the market, but we're working on it!
Best Rated Paint Brand: Haymes Paint
Move over Dulux, there's a new paint king in town. Haymes Paint took out the Finder Award for best paint brand this year, with the highest rating for quality of finish and great scores for durability, ease of application and value for money.
Quick facts about interior paint:
When choosing paint, you'll need to consider the colour and type of sheen you want.
Prices can range greatly depending on the brands, but a 4L can of paint generally costs between $40 and $110.
When calculating the overall costs, remember to consider the spreading rate and the number of coats required.
Types of interior paint
One of the most important decisions you'll need to make when buying interior paint is choosing a sheen. The sheen refers to the amount of light that reflects off the paint's surface, and the right sheen for you will depend on the area of the home you're painting and how you want it to look.
How to compare interior paint
To find the best interior paint for your project, consider the room you're painting, the type of finish you want and your budget. It's essential that you choose a paint that suits the area you're painting. While your bathroom will need a moisture-resistant paint, kids' bedrooms and hallways need hard-wearing paint that's easy to clean. Kitchen paint should be moisture-resistant but also capable of withstanding grease and other stains.
Make sure you take the following factors into account:
Sheen
Generally speaking, the higher the gloss level, the more durable and hard-wearing a paint is. However, high-gloss paints are also shiny, so they're not suitable if you're painting a large area.
Take note that sheens can vary between brands, so an eggshell finish from one manufacturer may be different to that from the next.
Water-based or oil-based
Water-based paints are generally more user-friendly. While not as durable as oil-based paints, they're quicker to dry, have less of an odour and usually offer more colour choices.
Durability
Aside from the sheen, the best way to assess durability is to check out independent customer reviews to find out whether other users recommend a particular brand.
Spreading rate
Most paints specify a coverage rate between 8 and 16 square metres per litre.
Odour
That distinctive and sometimes overpowering "fresh-paint smell" is the result of volatile organic compounds (VOCs), which are solvents designed to make the paint easier to spread and more durable. However, VOCs not only have a strong odour but can cause dizziness and nausea. In cases of prolonged exposure, more serious health effects like lung disease, kidney problems and even cancer can result.
While there's little worry of VOCs causing long-lasting problems when giving a room at home a fresh coat of paint, it's still essential that you only paint in a well-ventilated room and that you continue to air it for a few days after painting. And if you suffer from asthma or other respiratory issues, there are low-VOC and low-odour paints available.
Mould
If you live in a humid climate or you're painting a room where water and moisture could pose problems, such as a bathroom or kitchen, look for a paint designed to be mould resistant. These products contain an additive designed to stop mould and mildew from growing.
Additional features
Size. Paint tin sizes tend to range from 1-15 litres, and most manufacturers will also offer 2L, 4L and 10L options (and possibly others) in between. Consider the size of the area you're painting, the spreading rate and the number of coats needed to ensure you buy enough paint for your job.
Drying time. If you need to get your job done quickly, choose a paint with quick drying time. Some can dry in as little as 20-30 minutes while others take hours.< li>
Primer or undercoat? Check what sort of primer and/or undercoat is needed for any paint you plan on choosing. This will help remove imperfections, ensure that the paint adheres to the surface and provide more even coverage. Some interior paints are self-priming, which means you won't have to apply a separate product first.
Price. High-quality paints can be double or even triple the price of budget offerings, but you generally get what you pay for. The price of a 4L can will generally range from $40 to $110, but remember to consider the spreading rate and the number of coats required when calculating value for money.High-quality paints typically require fewer coats and will last longer. Of course, a high price tag doesn't necessarily mean quality paint, so shop around to find something suitable.
How to choose a paint colour
Finding the right interior paint colour is a time-consuming process and is often the source of many marital disagreements. These tips should help you find a shade that's just right:
Use tester pots. Don't just splash out on a 15L can without first checking whether it's what you want, as a colour will never look the same in the tin as it does on your wall. Buying a small can will let you try out paint to see how it looks before making a long-term commitment.
Look at things in a new light. Lighting can affect how a colour looks, so step outside the store into natural light to get a different view. When using a sample pot, paint a swatch on a large sheet of heavy paper so you can move it around and see how it looks against your decor at different times of day.
The colour sets the mood. Make sure you're aware of the effects colour has on the atmosphere of a room. For example, while a bold and vibrant colour might give your living room the punch you want, it may not be the best choice in your bedroom if you're trying to create a relaxing retreat.
Work with what you've got. Consider the interior decor and furniture that will need to complement your colour scheme, as well as how the colour you choose will fit in with the rest of your home.
While choosing the right interior paint for your project can be a challenge, researching the available options and then shopping around will help you make the right decision. If you want to buy interior paint to freshen up your home, start comparing your options today.
Best rated paint brand award breakdown
| | Total Score | Overall rating | Value for Money | Durability | Ease of application | Quality of finish |
| --- | --- | --- | --- | --- | --- | --- |
| Haymes Paint | 8.26 | 4.60 | 3.95 | 4.40 | 4.35 | 4.50 |
| Dulux | 8.14 | 4.48 | 3.90 | 4.35 | 4.29 | 4.50 |
| Wattyl | 8.01 | 4.38 | 3.90 | 4.40 | 4.32 | 4.36 |
| British Paints | 7.81 | 4.25 | 3.84 | 4.25 | 4.18 | 4.33 |
| Intergrain | 7.72 | 4.30 | 3.90 | 4.20 | 4.60 | 4.30 |
| Taubmans | 7.70 | 4.20 | 3.98 | 4.14 | 4.22 | 4.16 |
| Feast Watson | 7.69 | 4.21 | 3.64 | 4.21 | 4.07 | 4.29 |
| Other | 7.61 | 4.14 | 4.05 | 4.00 | 4.32 | 4.18 |
| Berger | 7.53 | 4.07 | 3.71 | 4.43 | 4.00 | 4.36 |
Data: Finder Retail Brand Survey, 2020, Kantar. Metric out of 5 stars unless indicated. Methodology and more info.
More guides on Finder