INSIDE PS4 review: Short, sharp, creepy and brilliant
INSIDE won't take you long to finish, but it's an extraordinarily emotional ride while it lasts.
We're reader-supported and may be paid when you visit links to partner sites. We don't compare all products in the market, but we're working on it!
While we've made leaps and strides in video game technology over the decades, most video game narratives are rubbish. It doesn't stop folks building complex mythologies, but it's largely true.
In recent years we've seen a number of games that eschew delivering a narrative to supply motivation to your character, instead dropping you into scenarios and leaving the player to sort out what they're doing and why.
Journey (which is free this month on PlayStation Plus is the best known example of this. This isn't an entirely new phenomenon of course; titles like Delphine's Another World made strong use of limited narratives decades ago.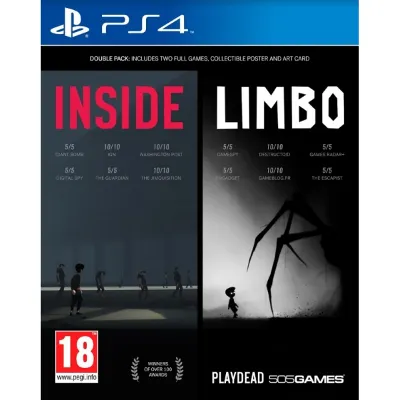 INSIDE & LIMBO Bundle - $38.19
from ozgameshop.com
View details
Developer PlayDead is best known for monochromatic and highly affecting LIMBO, which you can get for just about any gaming system you'd care to mention, including smartphones. INSIDE is effectively LIMBO in colour, with many of the same gaming devices used to elicit emotion from the player.
You play as a young, faceless boy desperately trying to make his way inside some kind of research facility. Everything wants to stop you, from ravenous guard dogs to strange sci-fi robots, and little is actually explained as you go, quite deliberately.
INSIDE's art style deserves calling out, because, like the narrative, the designers clearly and decisively went down the "less is more" path. While it is in colour compared to LIMBO's monochrome, the same kinds of decisions in relation to the use of light create some really gripping areas, whether you're diving the depths in a stolen sub or running through forests with a pack of attack dogs on your heels.
You slip in and out of areas that have the delicate art touch of masterpiece paintings, all the while wondering what is actually driving you on. Well, besides the fact that anything you come across is either a rock or it's trying to kill you. INSIDE is creepy enough that you probably shouldn't trust the rocks either.
Just as LIMBO did, INSIDE manages a great job of creating empathy with your hero. I really shouldn't gasp in pain when any video game character dies, but it's hard not to when playing INSIDE, simply because you're playing as a young child.
I must have watched Mario plunge to his death a million times, shot thousands of space marines and aliens and slain thousands of slimes, but the sight of a small boy being cruelly taken down by a uniformed guard is always going to be genuinely shocking. That's a tricky line to balance without coming off as exploitative. INSIDE manages it via that same lack of narrative, because you're always trying to write or discern the story in your head as you go. A faceless protagonist helps in forcing you to project your own thoughts and experiences
That being said, INSIDE isn't a terribly long game. You'll most likely knock it off within a couple of hours or so. It's also not all that complex, with a simple action button and jump command all that you can do. Puzzles gain a little complexity, but not all that much over the course of the game. You'll probably be a little too bewildered or shocked to care.
INSIDE has a lot of LIMBO's DNA in it, and this also means that LIMBO's rather unfair trick of surprise traps is also very much in play. Simply put, there's no way whatsoever that anyone could possibly complete this game sight unseen without losing many lives, because some traps are there more to make you empathise with the hero rather than succeed first time out.
INSIDE is short and very sharp. It's one of those rollercoaster games that sucks you into its world without properly explaining anything, and here its brevity is also a boon. The core simplicity of the game would wear thin after a long game session, but in short bites it's incredibly affecting. Like Journey, and indeed LIMBO, INSIDE is a game you really shouldn't miss.
We reviewed INSIDE on PlayStation 4 with a copy provided by the publisher.
---
Inside currently sits at second place on finder's top 10 games of 2016 so far.
---
More guides on Finder