Free infographic resume template (Australia)
Make it easier for employers to scan your resume and grasp the essential data quickly.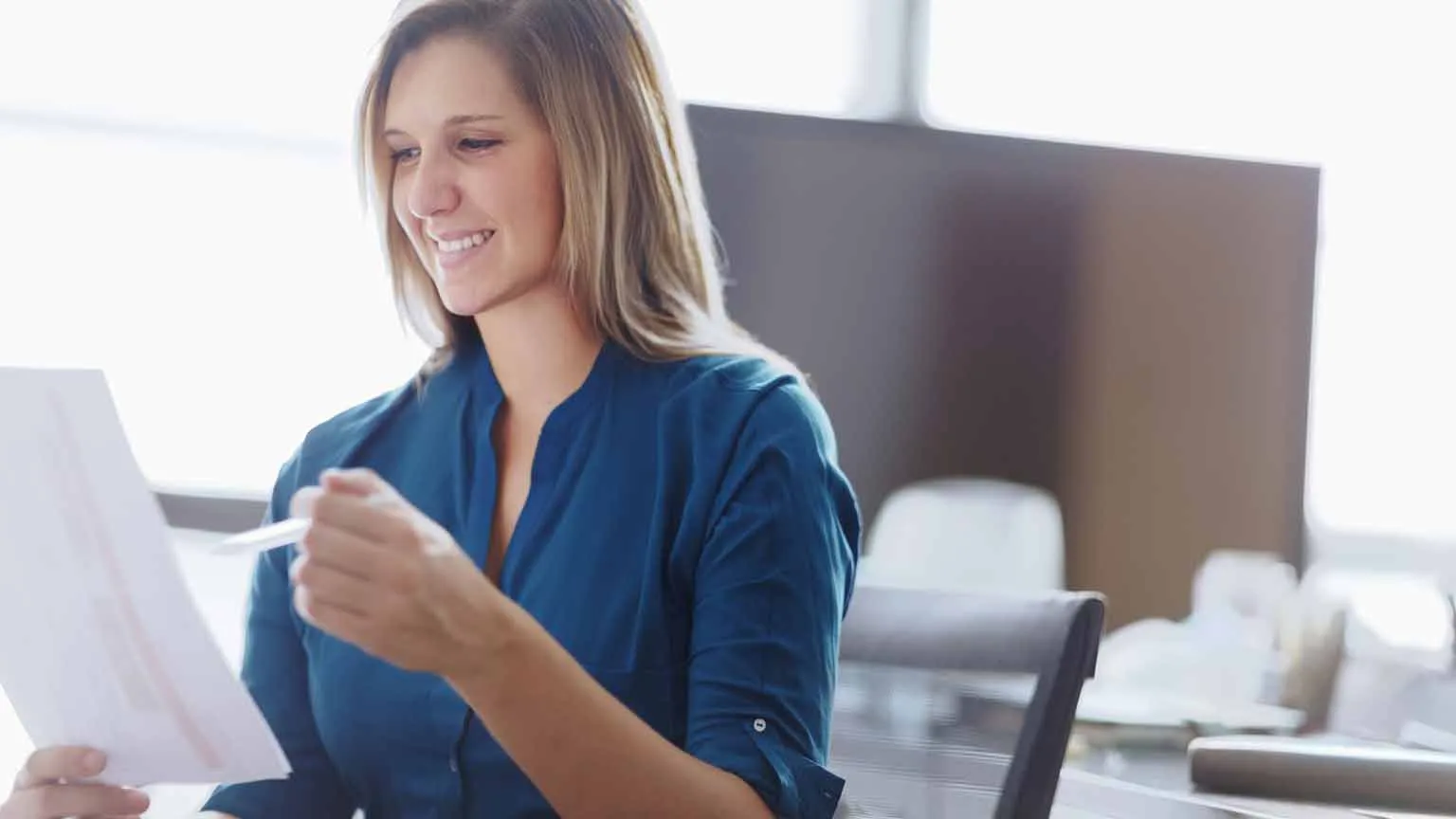 We're reader-supported and may be paid when you visit links to partner sites. We don't compare all products in the market, but we're working on it!
When you're looking for a job, the biggest challenge you might face is how to stand out from the crowd. One way to achieve this is by making your resume stand out with infographics.
Infographics are visual representations of information, and are usually used by brands, companies, or managers who want to quickly capture their audience's attention with exciting visuals. Today many websites offer free infographic resume templates to make it easy for the average person to use.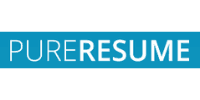 Pure Resume Offer
Get a professionally designed resume starting from $24.99.
What is an infographic resume?
An infographic resume uses graphics and graphical design elements rather than just text and basic styling. Infographic resumes might use colour, icons, images, charts, different fonts, creative layouts, and other features like word clouds or graphics.
An infographic resume allows people to present their qualifications in a visually engaging way. Dates, statistics, and key points in the resume can be made into graphics, word clouds and charts to help visualise them.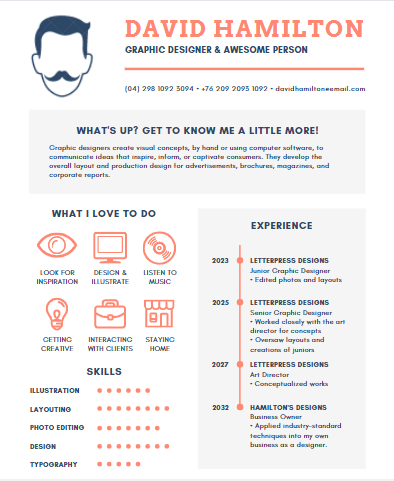 Download this infographic resume template at Canva
What are the features of an infographic resume template?
Infographic resumes can include some or many of the following elements:
Headline. A short headline which encapsulates your career goals or skills.
Visual timeline. A visual timeline showing your previous jobs or achievements.
References. You can incorporate testimonials and quotes from current or previous managers, colleagues or clients.
Photos. Photos can grab the attention of recruiters. If you've got a professional photo of yourself you might want to include it.
Charts. You can use bar charts and pie graphs to show your proficiency with skills or your skills mix.
Statistics. Statistics are a great way to represent years of experience, number of projects or sales made whilst still being engaging.
Icons. Sleek icons can be used to illustrate key points or skills.
Word cloud. A word cloud can be a useful way to visualise your skills, qualities and experience.
Compare online resume services
What should I include in an infographic resume?
Identification
Include your name, address, telephone number, and email address at the top of your infographic resume.
Always try to use an email address which looks professional.
Personal summary
Let your employers know who you are, why you would be good for the job you're applying for and what your career aspirations are.
Always tailor the personal summary to the role and limit it to three to four short sentences.
Education
Include the degrees you have received in reverse chronological order (start with the most recent).
Include the name of each institution, its location, and your date of graduation.
When relevant, include your major/minor fields, as well as your GPA and any honours, publications, and projects.
Experience
Include your work experience in reverse chronological order (starting with the most recent first).
Include all jobs, internships, and volunteer work.
Include the full name of the company, the role, and dates of employment.
List roughly three important tasks, accomplishments, or skills gained for each role.
Skills
Include any relevant skills which haven't been mentioned in the experience section
Include foreign languages and your proficiency level
Include any computer systems with which you are proficient, especially if they are relevant to the role you are applying for.
How much does an infographic resume cost?
Getting a designer to create an infographic resume from scratch can cost anywhere from a few hundred to a few thousand dollars. Agencies may charge clients around $2,000 from start to finish for a professional infographic.
Alternatively, there are many free infographic template resumes on the internet you can simply input your details into. Many of these free templates can be upgraded for an extra fee with additional features or premium styling.
Pros and cons of an infographic resume
Pros
Grabs the recruiter's attention.
Shows creativity and imagination.
Showcases your marketing, social media and branding expertise.
Proves you know how to present to others.
Gives you freedom to be creative.
Could be a great networking tool.
Cons
It's not right for every industry. Infographic resumes might be better suited to creative industries like marketing and communications.
A badly designed infographic resume can do more harm than good. If you can't do it well yourself, get some help or use a template.
Can cost more than writing a regular resume.
Bottom line
An infographic resume is a fantastic way to stand out from the crowd. Recruiters generally review hundreds of resumes every day, and if you can find a way to differentiate yourself, you should.
Frequently asked questions about infographic resumes
What industries will an infographic resume help me in?
Creative industries respond well to infographic resumes. Sectors like communications, marketing, social media and PR use infographics frequently to get their point across.
By applying for a job with an infographic CV, you are showing that you are already an expert in visual communications. Sectors like finance, medicine and law have a strict standard for what a resume should look like.
Will an infographic resume replace a traditional one?
An infographic resume can't and won't completely replace your traditional resume. Some employers will specifically ask for a traditional infographic, or will ask you to fill in a form online, and in these situations, you should have an up-to-date CV on hand.
How creative can I make my infographic resume?
Remember, it's a professional document, and readability is your priority. Avoid cutesy and cartoonish graphics and pictures. It's especially important to use a common and readable font in your template. Keep it simple and include essential information about yourself and your experience.
More guides on Finder