INEOS Grenadier 4×4: Everything you need to know
Described as a spiritual successor to the Land Rover Defender, the INEOS Grenadier is a utilitarian 4x4 due in Australia and New Zealand by 2022.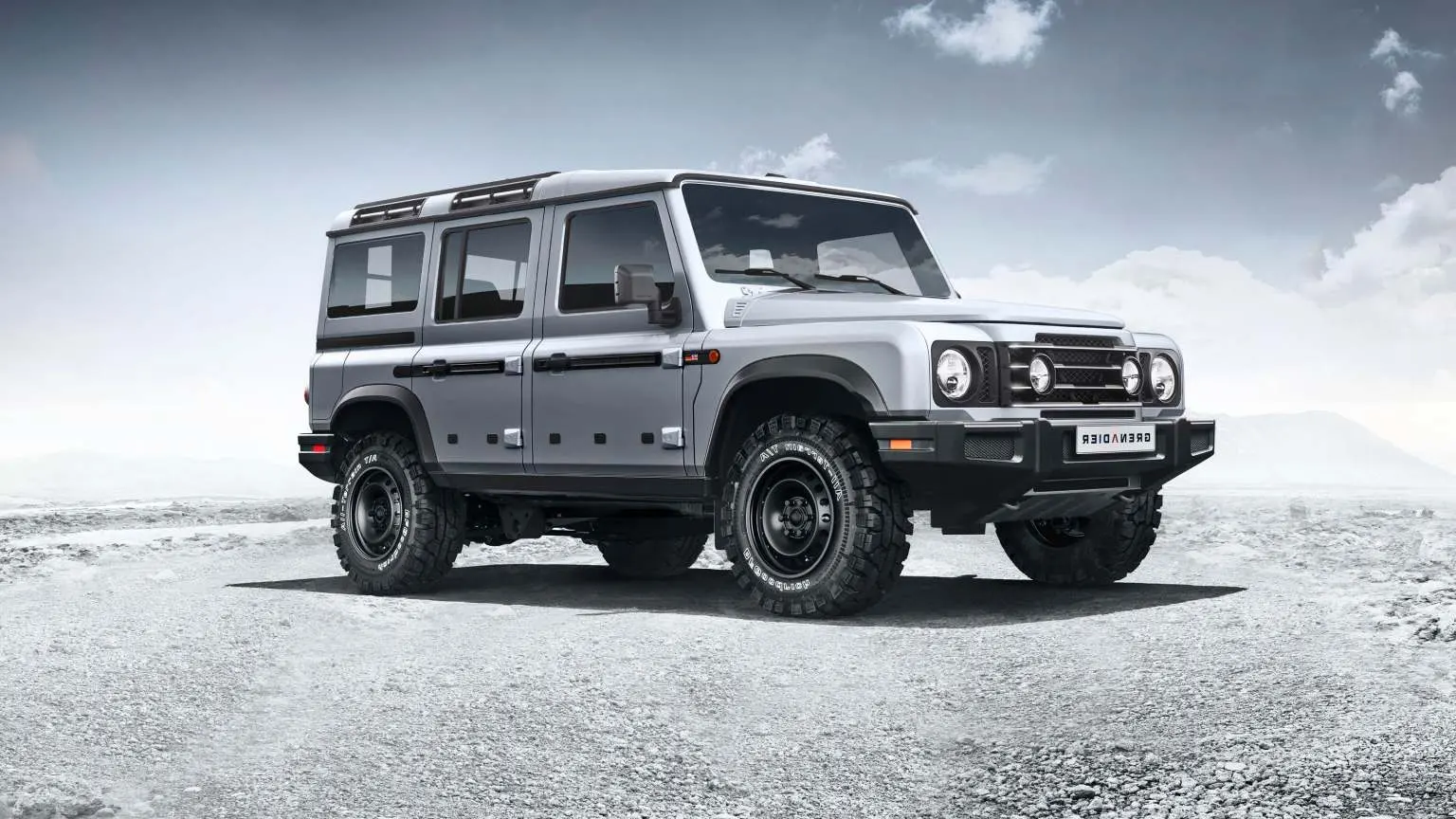 We're reader-supported and may be paid when you visit links to partner sites. We don't compare all products in the market, but we're working on it!
If you haven't heard of automobile manufacturer INEOS before, you're not alone. INEOS Automotive was only formed in 2017 as a subsidiary of British chemicals manufacturing company INEOS. Sir Jim Ratcliffe, the founder of INEOS, saw a hole in the market for an old-school, get it done, utilitarian 4x4 vehicle and here we are.
The company's first vehicle is the INEOS Grenadier, which is due to go into production in 2021 with an anticipated European launch in late 2021.
On 1 July 2020, it was revealed that Australia and New Zealand, two territories renowned for their testing 4x4 conditions, will be included in the vehicle's circulation. The announcement coincided with a first look at the INEOS Grenadier's design.
We are delighted to be able to share the design of the Grenadier so early in the process. Most manufacturers would hold back, but we are a new business, building a new brand, and we want to take people with us on this exciting journey."
What is the INEOS Grenadier 4x4?
The INEOS Grenadier can be thought of as a spiritual successor to the classic Land Rover Defender. Sir Jim Ratcliffe is both a car enthusiast and an avid adventurer, and he has a clear opinion on the 4x4 market. He believes they've become more about form than function.
When you look around, it's not hard to see 4x4s becoming increasingly optimised for city drivers and big families. How many 4x4s do you see on the street without so much a speck of dust on them, let alone the scratches and dings that one associates with off-road adventures?
The INEOS Grenadier is intended to be a "go-anywhere" 4x4 that's ripe for city driving as much as off-road experiences. But its intent is to strip back the flair and features that make many people too scared to take their vehicles anywhere that they might get hurt.
This is a vehicle that weekend warriors can take on a bush bash, then come home proud of the state of it. But the INEOS Grenadier is also a work vehicle for the likes of "farmers, foresters, explorers and aid workers."
Design: What does the INEOS Grenadier look like?
The old-school stripped-back 4x4 mentality is clear in the initial design reveal. The tall, boxy shape and sheer profile is one that we associate with cars from decades ago. Even the frame's 4mm thickness echoes that era.
It looks like a beast and we love it! It's certainly a world away from the Tesla Cybertruck.
The square front and imposing grill, with circular high beams ready to seek out kangaroos, greets you like a no-nonsense slap in the face. An imposing bonnet rises over the engine block, although details of what lies beneath are currently being kept under wraps. There's no snorkel, however, which feels like a swing and a miss.
Other standout features include a 70/30 split on the backdoors, with the smaller of the two donning a ladder going… well, we're hoping it will go to a bespoke roof rack. The tyres and mirrors are both kept tight to the chassis, too, which should aid adventures along svelte dirt roads, while exit points for exterior wiring are built into the front and rear of the roof.
The base ride height also looks suitably functional, helped along by the deposit of the spare tyre on the bigger of the back two doors, rather than underneath the 4x4. While up top, roof bars ensure you don't necessarily need a roof rack to tie-down or attach items up high.
It's a shame, though, that the initial reveal didn't show off a bulbar or towbar, or talk to the ease of fixing off-road desirables like rooftop tents, awnings and a winch. INEOS has made a point of saying that the Grenadier will be threadbare but highly customisable, allowing you to personalise it to best fit your needs.
Showing the design now allows us to focus on the critical next phase of the vehicle's development, testing its capability and durability. We have a very challenging program ahead, as we put prototypes through their paces in all conditions, on the way to accumulating some 1.8 million test kilometres over the coming year."
Performance: What can we expect from the INEOS Grenadier?
At the time of writing, nothing has been shown off outside of the design. However, INEOS has made its intent clear. It wants this vehicle to be durable, functional and capable. A 4x4 you can use for both work and play.
This talks to a vehicle with plenty of low torque power. We know that BMW is working on the powertrains, so we might be able to look towards the BMW X5 or even X6 for an indication of how the Grenadier engine may be engineered.
INEOS has indicated that the Grenadier's suspensions use a "multi-link set-up with separate coils and dampers" and that Carraro will be building the rugged front and rear beam axles.
A manual, diesel-powered 4x4 will likely be the premium option, but a petrol-powered model is also anticipated. There will be no hybrid or electric model.
What's the interior of the INEOS Grenadier like?
As with the engine, the interior design of the Grenadier is currently unknown. We know that the 4x4 is built with function front of mind, but while consumers will settle for an old-school visage, they'll expect the latest in modern conveniences on the inside.
In this regard, all that INEOS has stated is that the drive will be comfortable. It's also said that it will "meet the expectations of the 21st-century consumer for equipment levels and safety systems", yet it will be taking an "open source" approach, encouraging owners to easily bring across their existing equipment and even allowing third-party accessory manufactures to get involved.
Ultimately, if the expected use-case is to crawl it over rocks, through rivers and along anything dusty, how fancy do you want it? Features that are easily knocked out of place, or that don't handle dirt well, may be avoided.
How much will the INEOS Grenadier cost in Australia?
The price of the INEOS Grenadier anywhere in the world is yet to be announced. However, INEOS is making a big song and dance about the Grenadier being stripped-back and utilitarian. A work and off-road 4x4 first and foremost. That sounds like a target demographic miles away from the luxury SUVs and fully featured 4x4s we currently see outside city schools. It sounds more like a ute with benefits.
With that in mind, we anticipate an RRP in the $35,000 to $55,000 range, depending on the model and extras. Extras will be key here, as INEOS wants consumers to be able to heavily customise and personalise their Grenadier. And in terms of models, we know there is a dual-cab ute variant.
All INEOS is saying is "the Grenadier will be priced competitively."
The Grenadier project started by identifying a gap in the market, abandoned by a number of manufacturers, for a utilitarian off-road vehicle. This gave us our engineering blueprint for a capable, durable and reliable 4x4 built to handle the world's harshest environments."
When will the INEOS Grenadier be available in Australia?
The 4x4 will go into production in 2021 and the company is, at this stage, optimistic of it driving into the garage of consumers that same year. However, it would be optimistic to think that the first cabs off the rank will find their way from Europe to Australia and New Zealand. For those who are interested, it's best to set your sights on 2022 until you hear an official announcement.
More guides on Finder