Everything you need to know to find the perfect cooktop for your kitchen.
Induction cooktops offer fast heating and are more energy-efficient than traditional gas and electric cooktops, but they don't come cheap. Most models are priced anywhere from $1,000 up to $6,000. That said, the increasing popularity of induction cooktops means that more affordable options are becoming available.
If you're searching for a new stovetop, our guide will examine the pros, cons and key features you need to look for when buying an induction cooktop.
Compare some of the best induction cooktops
Data obtained November 2018. Prices are subject to change and should be used only as a general guide.
What is an induction cooktop?
Induction cooktops use magnetic fields to heat cookware placed on their glass surface. These flat-surface cooktops produce an electromagnetic field to heat the base of the cookware rather than the stovetop itself, ensuring that the cooktop remains cool to the touch throughout the cooking process.
Why should I consider an induction cooktop?
An induction cooktop has a few key advantages over a gas or electric cooktop:
Who shouldn't consider an induction cooktop?
The major downside of an induction cooktop is the cost. You can buy gas and electric stoves for substantially less, so if you're on a tight budget then they will probably offer a better choice.
Another disadvantage is that you may need to replace your existing cookware if you choose an induction cooktop. These stoves are only compatible with cookware that has a ferrous base, so while cast iron, steel and some stainless-steel (with an iron base) pots and pans will work fine, your glass, aluminium and copper cookware won't. You can do a quick check by placing a magnet on the bottom of your pots and pans – if the magnet sticks firmly then they should be suitable.
Finally, when using the cooktop, you may notice a buzzing or humming noise that some users find annoying.
What are my main options?
There are dozens of products from major appliance manufacturers like Whirlpool, Samsung, Smeg, Bosch, Fisher & Paykel and Electrolux to choose from.
The two major factors you can use to distinguish between different models are the size and the number of cooking zones:
30cm models. The smallest cooktops start at a width of 30cm and feature up to two cooking zones.
60cm models. This is the most common size of induction cooktop and is suitable for three or four cooking zones. However, if four zones are included, you may find that using multiple zones at once can cause the stovetop to become cramped.
70-75cm models. The relatively minor increase in width allows for the more comfortable inclusion of four cooking zones.
90cm models. These generally feature five cooking zones and have enough space to accommodate larger pots and pans.
How to compare induction cooktops
When shopping for an induction cooktop, you'll need to compare the size, the number of cooking zones, power settings, safety features and cost. This will help you find a model that's the perfect fit for your kitchen.
Which induction cooktop is best for me?
There is no single induction cooktop that will be the right choice for everyone, simply due to the fact that everyone has their own unique requirements. You'll need to consider your budget, the amount of space you have for a cooktop and the type of cooking you do before deciding on the right model for your needs.
To help make the shopping process easier, we've compared five popular induction cooktops below:
The good
The bad
Samsung NZ36K7880UG

Great cooking performance
Wi-Fi and Bluetooth connected

KitchenAid KICU509XSS

Powerful
Good safety features

Not the cheapest
Lacks some advanced features

Frigidaire FGIC3067MB

Affordable price point
Easy to use

Not great for large cookware
Can't lock controls when in use

Kenmore 43800

Reasonably affordable
Works well

Complicated to use
Lacks the advanced features of some other models

Whirlpool GCI3061XB

Automatic pan detection
Simple to use

Some negative customer reviews
No advanced timer functions
Cleaning an induction cooktop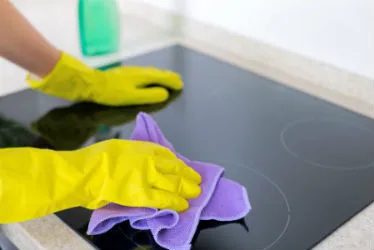 Induction cooktops are generally considered to be easy to clean because they offer a flat, smooth surface with no crevices for food and spills to get stuck in. The fact that the surface of the cooktop doesn't heat up also means that you don't have to worry about spilled food getting baked onto the surface and becoming extremely difficult to remove.
However, cleaning can be affected by whether you choose a framed or an edgeless model. Cooktops with a frame may provide crevices where dirt can gather, but going for an edgeless unit means there's no barrier to stop spills from spreading.
The ceramic glass surface can also be prone to scratching, so use a gentle cloth or sponge as well as a cleaning product specifically designed for use on these surfaces.