AMP income protection
Compare AMP's range of income protection insurance policies – receive a quote and begin your application.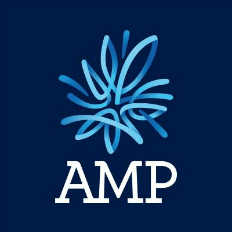 Income protection insurance can be a valuable asset for every working Australian, because unlike basic worker's compensation benefits, income protection insurance can be tailored specifically to your needs. This means you can avoid paying for any unnecessary features, while at the same time know that you have the right benefit amount for your financial position and future plans.
In the Australian insurance market AMP has emerged as one of the premiere personal insurance providers, offering a diverse range of income protection products which can be tailored to suit a range of policy holders.
Maximum monthly income benefit
$10,000 (Up to 75% of your monthly income)
Age of entry
19-59
What products are available?

Flexible Lifetime Protection
AMP Elevate

How much can I expect to pay per month?
For a $4000 monthly benefit:
How do I apply?
With an adviser over the phone
Based on Flexible Lifetime Protection plan. Information last updated April 2019. Always consult the Product Disclosure Statement (PDS)
| Pros | Cons |
| --- | --- |
| 2 types of cover to suit your personal circumstances. | Premium rates aren't guaranteed. |
| Transparent income protection claims history from AMP. | Premium loading may apply if you pay your premiums more frequently. |
| Optional business overheads cover. | |
Information last updated April 2019. Always consult the Product Disclosure Statement (PDS)
This cover might be suitable if:
You want tailored cover using an adviser
You are looking for income protection from a company that's been around for over 100 years
A choice of products for different levels of needs
Don't get this cover if:
You don't want to use an adviser
Information last updated April 2019. Always consult the Product Disclosure Statement (PDS)
Edit your details
Did you submit incorrect details? Not to worry, you can edit them below.
Why choose AMP Income Protection Insurance plans?
AMP has developed and fostered reliability and a strong reputation since it was founded as a not for profit life insurance company in 1849. Since that time, AMP has grown into one of the largest life insurance providers in Australia, growth which was recently facilitated by a merger with AXA in 2011, to strengthen both renowned brands and provide an even greater range of insurance products and services.
The AMP Flexible Lifetime Protection product has been awarded for outstanding value, which includes:
AMP Flexible Lifetime Protection - Death, TPD, Trauma.
AMP Flexible Lifetime Protection - Income Protection.
History of claims paid
To make an informed decision about your insurance provider, looking at business growth is a great place to start, but your comparison should also include looking at a company's customer service and claims history. In 2010 and 2011, AMP paid income protection insurance claims for:
| Year | Male | Female | Under 30 years | 30 to 39 years | 40 to 49 years | 50 to 59 years | Over 60 years | Total claims paid |
| --- | --- | --- | --- | --- | --- | --- | --- | --- |
| 2010 | 69% | 31% | 4% | 19% | 36% | 25% | 6% | AU$55.9 million |
| 2011 | 70% | 30% | 7% | 17% | 36% | 34% | 6% | AU$59.7 million |
Sources of Claims Made for AMP Flexible Lifetime Protection: Income Protection in 2011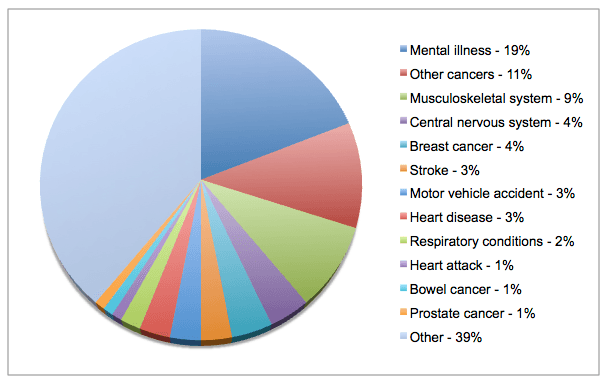 Source:
Claims Paid 2011, AMP Life Limited Claims.
It can be seen from the chart above that mental illness makes up 19% of the total claims paid by AMP for income protection insurance, with other cancers and musculoskeletal injuries not too far behind. With these in mind, AMP income protection plans are designed to provide a safety net for its customers, with the essential coverage for a wide range of illnesses and injuries.
Tailor your income protection policy with AMP
It is natural to look at insurance as just another bill to squeeze into an already stretched monthly budget, and even though you can deduct income protection premiums at tax time, you still have to pay for them now. This is why AMP offers three cover options – Basic, Standard or Advanced. These cover levels allow you to tailor your AMP income protection to your financial needs and situation based on your bills, debts and expenses, and any alternative income streams and savings.
Income protection policies available
| Plan Features | AMP Flexible Lifetime Income Protection – Advanced | AMP Flexible Lifetime Income Protection – Standard | AMP Flexible Lifetime Income Protection – Basic |
| --- | --- | --- | --- |
| Pays a benefit of 75% of your regular income | | | |
| Includes Interim Accident Cover for up to 12 months at no extra cost | | | |
| Your choice of monthly, six monthly or annual premiums | | | |
| Your premiums are waived while you're on a claim | | | |
| Transport benefits in case you are injured far from home | | | |
| Additional financial assistance for rehabilitation | | | |
| A 14 day cooling off period | | | |
| Guaranteed future insurability so you can increase your benefit amount as your income increases, without the need for another medical test | | | |
| An additional payment of up to $60,000 is made if you die while you are paying your premiums | | | |
| Your choice of stepped or level premiums | | | |
| A monthly benefit paid for six months, regardless of whether or not you are able to continue work, if you suffer one of the 22 trauma conditions on the policy | | | |
| Family support benefit to help ease the financial pressure if a family member needs to stop working to care for you | | | |
Source: AMP Flexible Lifetime - Protection Product Disclosure Statement, 2012.
You can choose to cover your income level now or at claim time
With AMP Flexible Lifetime Income Protection Advanced, Standard, or Basic plan, you can choose from Agreed value or Indemnity value cover:
Agreed value income protection cover. Your benefit payment is based on the income you stated at the time of your application with AMP, so you will be paid a benefit based on your agreed income, even if your current income is now lower. However, you won't receive a higher benefit if your income has increased since the time of your application.
Indemnity value income protection cover. An Indemnity value benefit is calculated as 75% of your income from the 12 months immediately before you became unable to work. This means if you are on your way up the corporate ladder, your salary increases will be automatically reflected at the time of a claim, however, if you are a contractor and have had a slow year, making a claim could see you being paid less than an Agreed value policy.
What occupations can AMP income protection cover?
While your occupation and the nature of your work may determine whether you choose an agreed value or indemnity value policy, some occupations may be excluded from income protection coverage all together, or be classified in a high risk category, which will attract higher premiums. With AMP, Flexible Lifetime Income Protection is available for a wide range of occupations, in the following risk categories:
| Occupation Type | Description |
| --- | --- |
| Professional occupations | Excludes medical practitioners and dentists, but includes surgeons, accountants and solicitors. |
| Medical professionals | Includes dentists and medical practitioners, not including surgeons. |
| White collar workers | Includes people working in an office environment, in a sedentary role such as a bank clerk or a management consultant. |
| Travelling white collar worker | Classified in a separate risk category are those white collar workers who travel or work outside of an office or are not primarily sedentary, for example sales representatives. |
| Light manual workers | Those people who supervise manual work, with up to 10% of their role comprising manual work, for example a building foreman or a café owner. |
| Qualified tradespeople | Includes skilled craftspeople or tradespeople in a non hazardous industry, where a technical or trade qualification is required, such as a builder or mechanic. |
| Owner of a business involving manual work | Where manual work is involved, but trade qualifications are not generally required. Light manual work is required and limited skills are needed, for example a greengrocer or an awning installer. |
| Heavy manual workers | These include blue collar occupations which do not require a trade qualification, but do require a level of skills such as a bricklayer or truck driver. |
| Hazardous or heavy manual workers | Includes those in unskilled or unqualified roles, yet who have a minimum of three years experience, such as bulldozer operator, open coal miner or roof plumber. |
Benefit and Waiting Periods Options for AMP Income Protection Insurance Policy in Australia
While there are some variables which will affect your premiums that you can't control, such as your occupation, you can choose a shorter benefit period or a longer waiting period to make your income protection premiums more affordable.
The benefit and waiting periods you can choose from depend on whether you have chosen the Basic, Standard or Advanced plan in your AMP Flexible Lifetime Income Protection policy:
Plan Type

Benefit Periods

1 year
2 years
5 years
To age 60
To age 65

Waiting Periods

Advanced, Standard and SMSF

4 weeks
2, 4 weeks
2, 4, 8 weeks
2, 4, 8, 13, 26, 52, 104 weeks
2, 4, 8, 13, 26, 52, 104 weeks

Basic

2, 4 weeks
2, 4 weeks
2, 4, 8 weeks
What features and benefits are offered under AMP Income protection policies
AMP Flexible Lifetime Income Protection policies offer many in-built features and additional benefits that can provide vital assistance for when you are sick or injured:
Total Disability Benefit. The total disability benefit will be paid as a monthly amount when you make a successful claim according to the definitions in your Basic, Standard or Advanced plan.
A choice between 'duties' or ' hours' based definition of disability. This gives you the flexibility to cover you in a way that's most effective to you.
Partial disability. You can make a claim if you work in paid employment but are unable to earn your normal income because of a partial disablement, and you are under the ongoing care of a doctor for this partial disablement.
Trauma benefit. A trauma benefit can be paid by AMP if you suffer from an eligible medical condition, even if you don't stop work. You can claim once for each trauma condition or medical procedure, and you can make multiple trauma claims, where each claim is for a different condition. There is no waiting period to receive the trauma benefit, which continues for your chosen benefit period.
Major fracture or loss benefit. You can claim a benefit each time you suffer an eligible major fracture or loss as defined by your AMP policy. You can receive the benefit even if you don't stop working, and if you experience more than one fracture or loss from the same incident, you will receive the benefit which offers the longest benefit period. If you make a claim for both the major fracture or loss benefit and the trauma benefit at the same time, only the highest amount will be paid.
24 hour worldwide cover. This feature means that your AMP Flexible Lifetime Income Protection policy is valid no matter where you travel in the world, and you can make a claim at any time. However, your benefit payments may cease after three months unless you return to Australia or New Zealand.
Coverage for disability away from home. You may be eligible for an accommodation benefit, a domestic transport benefit or an overseas transport benefit payment if you suffer a disability while away from home. These benefits are paid in addition to your normal income protection benefit amount if you become totally disabled while you're more than 100 kilometres from home.
Family support benefit. After you have been receiving an income protection benefit payment for more than a month, you can claim for the family support benefit to pay for the full time assistance of a family member who has to leave paid employment to help care for you.
Relapse feature. If you have made a claim for an illness or injury and then experience the same illness or injury, or one which is related to the original illness or injury, you are able to begin receiving a benefit payment again. For example, if you have chosen a benefit period to 60 or 65 years, and you experience a relapse within 12 months of the end of the benefit period, you can start receiving your benefit again without serving another waiting period.
Employment event features. If you leave paid work you are able to put your AMP income protection policy on hold within the first 12 months. Having your policy on hold means you are not covered or able to make a claim, yet you can make reduced premiums so your policy waits for you indefinitely. Alternatively if you change employers, you can also change your waiting period in line with different employment benefits.
Day 1 accident option. This is an option you can add to your AMP income protection policy, which will allow you to receive your benefit payment as soon as you are totally disabled for three consecutive days during your waiting period as the result of an accident.
Superannuation contribution option. For added security for the future you can choose to add the super contribution option to your AMP income protection policy. This feature will pay 15% of the maximum benefit you have insured for claims under the total disability benefit, partial disability benefit, major fracture or loss benefit, trauma feature, bed care benefit or day 1 accident option. The superannuation benefit is paid to the trustee of your super fund, or directly to the fund itself.
Until you are suddenly left without a regular income, it can be difficult to imagine just how quickly the costs can build up. Think about the everyday costs such as groceries, mortgage, rent and education expenses, and add to that the cost of rehabilitation and nursing care – all of which have to be paid now. With an AMP Flexible Lifetime Protection plan, you can help ensure that any illness or injury which stops you from working doesn't put your family under additional financial pressure.
Get in touch with AMP Australia for an income protection quote