Should renters get income protection?
If you work to pay your rent, yes, you probably should consider income protection.
We're reader-supported and may be paid when you visit links to partner sites. We don't compare all products in the market, but we're working on it!
It's not just people with mortgages who should think about getting income protection insurance; renters should too. Income protection can pay you up to 75% of your monthly income if you're forced to take some time off work due to an illness or injury. It means you can continue to pay your rent, plus all your other expenses, giving you time to focus on getting better.
Why should renters think about income protection?
If you rely on your income to pay bills and don't yet have income protection insurance, it's worth asking yourself these questions.
How would you pay the bills if you were unable to work? Income protection provides you with 75% of your monthly income, so unlike government benefits, it's in line with your current salary.
Are you saving to buy? If you are, the last thing you want to be doing is dipping into your savings if you need to take some time off work because of illness or injury.
Are you locked into a lease contract? If so, how could you afford to pay the rent if you were forced to stop working? Not only can income protection cover you, it can make sure you're able to get to the end of your lease without losing your bond or forcing you to move out.
What's your financial safety net? If you need to work to pay bills, like almost everyone, then it's smart to have a safety net if things were to go wrong. Income insurance can ensure you're not having to rely on handouts if the unexpected happens and can help get you back on your feet quickly.
Compare income protection options
An adviser can help you find cover from trusted life insurance brands.
Get competitive quotes from multiple brands

Lower rate of declined claims (according to ASIC)

Save time and effort
---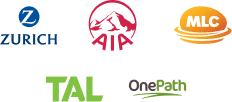 Pros and cons of income protection for renters
If you're still trying to wrap your head around income protection, it can be helpful to weigh up some of the pros and cons.
Pros
You can still afford to pay rent and all your other bills
Peace of mind knowing you won't be evicted
It won't eat into any savings you've worked hard to put away
It lets you focus on getting better, not how you're going to pay the next bill
It can pay you up to 75% of your current monthly income
Claiming is easy and straightforward
Cons
Waiting periods mean you'll have to wait at least 30 days before you can start receiving payments
You may already have money saved you're happy to dip into
You might not need it
Are there cheap income protection options for renters?
Yes. It's relatively easy to find cheap income protection insurance for renters. Renters are often younger, which generally means healthier. Both of those things equal cheaper premiums and more affordable income protection.
If you're young, you can take advantage of cheap level premiums (premiums that stay the same) and avoid stepped premiums (premiums which increase each year). Basically, the earlier you get income protection insurance, the more affordable it will be in the future. Even if you develop medical conditions as you get older, it won't affect the cost of your insurance. Just make sure you keep an eye out for level premiums and benefit from getting in now.
Aside from factors outside of your control – like your age, gender and occupation – which can affect the price of your premium, there are a few things you can do to get cheap income protection insurance.
You can choose a longer waiting period before your benefit will start to be paid. 90 days is usually much cheaper than 30 days.
You can select a shorter benefit period (the length of time you will be paid for).
You can choose to be paid only up to the age of 60, instead of 65.
You may be able to take out a joint policy with your flatmates or partner and receive a multi-policy discount.
You can pre-pay your benefits for up to 12 months to receive a tax deduction for the current financial year, while receiving the benefit for the next financial year.
Bottom line
Income insurance isn't just for people with mortgages; it's for anyone who relies on their income to pay the bills. Considering that more and more Australians are renting, you need to consider buying a policy to safeguard your financial future. Compare policies here.
Frequently asked questions
Picture: GettyImages
More guides on Finder