Income protection insurance for gas and oil workers
Whether you work off-shore or on-shore, you can get income protection insurance. Here's what you need to know.
We're reader-supported and may be paid when you visit links to partner sites. We don't compare all products in the market, but we're working on it!
Income protection insurance for offshore workers can help pay for the bills if you're sick or injured and can't work. Due to the risks involved in the job, you may be considered special or high risk. This basically means your premiums are likely to be higher so comparing and shopping around is vital.
Regardless of whether you work offshore or not, we've made it easy to compare cover for gas and oil workers. Simply go to the provider site and put your details and occupation in to get a quote.
Compare income protection quotes from these direct brands
An adviser can help you find cover from trusted life insurance brands.
Get competitive quotes from multiple brands

Lower rate of declined claims (according to ASIC)

Save time and effort
---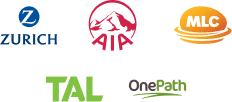 What risks and hazards do oil and gas workers face?
The nature and location of oil and gas work means that it has a higher degree of risk than most ordinary jobs. These risks include:
Repetitive strain injuries. Technical positions in the industry may require heavy manual work with hand tools or small plant. This exposes the workers to repetitive strain injuries.
Explosion, fire or exposure to harmful substances. While there is a low chance of explosion, fire or leaks, the consequences can be severe. Many substances used within the industry can be harmful to humans and workers may be exposed to them every day.
Falls. Many oil and gas workers face the risk of falling from platforms or work equipment.
Stress. Many frontline oil and gas positions are offshore or in remote locations. Living conditions may be cramped and with no or limited access to leisure and recreation activities. Moreover, oil and gas workers may spend long periods of time away from their home and families. All of these contribute to a stressful and mentally challenging lifestyle.
According to SafeWork Australia's Work-related Traumatic Injury Fatalities, Australia 2015, four percent of all worker deaths in Australia occur in the mining industry, which employs many gas and oil workers. A further two percent of fatalities occur in electricity, gas, water and waste services.
What types of insurance should gas and oil workers look at?
Oil and gas workers can take out different types of insurance to help protect their income. Income protection policies pay a benefit similar to your income if you are unable to work. It is usually offered in a couple of forms. Here are the general differences:
Accident-only cover. An accident-only policy will cover your income if you are unable to work due to an accident. You will not receive a benefit if you become sick and can not work.
Income protection insurance. Basic income protection policies cover your income for both injuries and illnesses. You can select a waiting period, benefit period and cover value that suits your income and lifestyle.
Comprehensive income protection insurance. Premium income protection policies are the same as the basic policies; however, they also include additional benefits. The additional benefits are for things such as rehabilitation costs, loan repayments or a death benefit.
Oil and gas workers could also look at getting life insurance or a disability policy. Life insurance will pay a lump sum benefit to your family if you die or are declared terminally ill. A disability policy or 'living' insurance, pays a benefit to you if you become permanently disabled. Most insurers will offer all three forms of insurance, and you can typically buy them as a package.
What types of gas and oil workers need income protection insurance?
Both manual workers doing physical tasks and technical staff doing administrative tasks can get income protection insurance. The premiums will be higher for those whose work is more physical in nature. Here are some different occupations within the oil and gas industry that can get income protection insurance:
Other oil and gas workers
How do insurers classify oil and gas workers?
Oil and gas workers will generally be considered higher risk than typical construction and engineering positions. However, the specific classification will depend on your occupation and tasks. General oil and gas workers will be classified as 'special risk', which means that further information will be required for the insurance company to determine a premium. Some occupations in oil and gas industry, such as firefighters, are uninsurable.
How much does an oil or gas worker typically pay for an income protection policy?
It's hard to give exact figures given that every worker's needs and income are different. The price you pay for income protection insurance depends on:
Your lifestyle (are you a smoker?)
The exact nature of your work within the industry
The following graph shows some examples of cheap and expensive income protection policies for a gasfitter. They are examples only but can give you a rough idea of what someone in the oil and gas industry might pay.
*These are example quotes only based on a 35-year-old non-smoking male gasfitter living in NSW. These quotes are accurate as of June 2017 and may vary for each individual.
How can I compare income protection policies to get one that's right for me?
Here are some features everyone needs to consider when looking for income protection insurance:
Agreed value versus indemnity value cover. Agreed value policies pay a fixed benefit which you set at the start of the policy. Regardless of how your income changes you will receive the same benefit if you make a claim. Indemnity value cover pays a benefit based on your income at the time of the claim. This can be good or bad depending on your job security and pay increases.
Benefit Periods. The benefit period is the length of time you will receive a benefit. Most policies have benefit periods of one or two years. Some insurers will let you select various periods up to five years. Oil and gas works should consider longer benefit periods due to the types of hazards they are exposed to.
Waiting period. Like most insurance products, income protection policies have waiting periods before you can make a claim. They usually range from 30 to 90 days and will affect how much your premium is.
Stepped versus level premiums. Stepped premiums increase each year you hold your policy, whereas level premiums stay the same over the entire period of insurance. Level premiums will be more expensive, to begin with, but after some years stepped, premiums will be more than the level premium amount.
Oil and gas workers should specifically consider:
Fluctuating salaries. If they have a cyclic or irregular income an agreed value benefit may be more suitable as indemnity value policies might leave them with little income if they have a low earning year.
Your work arrangements. Most income protection policy will not cover seasonal or contract workers.. You need to have a full time or part time position to be considered for income protection insurance.
You won't be covered for you whole income. Many insurers will only pay up to 75% of your income to a maximum of $10,000 per month. If you are earning a higher salary, you might need to look for a specialist provider who can cover your entire income.
Mental illness. Some providers will not pay a benefit if your claim is related to stress, anxiety or mental conditions. If this is important to you, then check the product disclosure statement for general exclusions before purchasing.
---
Income Protection versus WorkCover
As an employee in the gas and oil industry you'll have certain income protection benefits through WorkCover, the nationwide workers compensation scheme that's administered by the various state and territory governments. Some self employed contractors in the industry may also enjoy the same protection but at its best WorkCover is quite limited in its scope with benefits being tightly controlled.
It is this insecurity that has many workers in the industry taking out their own income protection insurance. This type of insurance also offers far broader cover, protecting you 24 hours a day, seven days a week, anywhere you travel throughout the world.
More guides on Finder