Income protection for teachers
Teachers, don't go without insurance. Get an income protection policy that covers you when you need it most.
We're committed to our readers and editorial independence. We don't compare all products in the market and may receive compensation when we refer you to our partners, but this does not influence our opinions or reviews. Learn more about Finder .
The teaching profession is a safe and stable one, but injury and illness can affect anyone. Income protection insurance is an option teachers should consider because it:
Provides monthly payments if you're sick or injured and unable to work
Lets you pay rent, debts and living costs while you recover
Compare income protection quotes from these direct brands
An adviser can help you find cover from trusted life insurance brands.
Get competitive quotes from multiple brands

Lower rate of declined claims (according to ASIC)

Save time and effort
---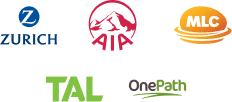 What risks do teachers need to worry about at work?
Teaching might not be the world's most dangerous job but it does have plenty of challenges. According to Safe Work's Incidence of Accepted Workers' Compensation Claims for Mental Stress in Australia report, 16% of mental stress claims came from the education industry, the second highest industry.
Teachers face the following pressures:
Overwork. Principals and teachers often report feeling overwhelmed by their workloads.
Lack of support. Many teachers feel isolated and underappreciated due to lack of administrative support.
Aggression. Many principals and teachers report threats and actual assaults by students, fellow teachers and parents.
Loss of self-esteem. Disrespect and lack of effort by students can result in low motivation and a disincentive to remain in the profession.
Accidents do happen
Teachers aren't in much physical danger at work, but income protection covers you for accidents and sickness in and outside of work. These policies, unlike WorkCover, pay out even if you're injured on vacation, hurt in a car crash or diagnosed with a serious illness.
How does income protection cover mental health and stress?
In order to make a successful claim, your stress-related illness must:
Have an identifiable cause, such as workplace harassment or bullying
Not be related to any undeclared mental health condition
While some income protection policies exclude mental illness (including stress-related illness) from cover, new guidelines relating to mental health conditions have now been adopted industry-wide and there has been a general decline in the refusal rate of income protection claims due to mental illness.
If you are a regular teacher employed by the education department you can often make a stress-related claim through workers' compensation. But if you are self-employed, such as a casual teacher or private tutor, you will need an income protection policy.
What types of income protection insurance should teachers look at?
Income protection policies generally come in three levels:
Accident only cover. You will only be covered for physical accidents, not illness or stress claims. This option isn't as useful for teachers who face higher incidences of stress claims.

Basic income protection. A basic income protection policy only covers up to 75% of your income. They generally cover injuries or illnesses that aren't work related.
Premium income protection. Premium income protection policies cover your income like a basic policy. They also have a number of additional benefits that you can claim, such as a lump sum death benefit, rehabilitation benefit and an expenses benefit.
How do insurers classify teachers?
Insurers give different insurability ratings to different occupations based on the relative danger of the profession. Being a physically safe professional, insurers typically classify teachers as white collar. This means:
The job is low risk
There are no extra costs or exclusions
Principals and head teachers on higher salaries may be classed as high-earning white collar, which lets you insure higher incomes.
How much do teachers have to pay for income protection?
Your income protection costs depend on several factors, including your age, salary and job description. Here are some examples to give you a rough idea.
*These are example quotes only based on a 35-year-old female teacher living in NSW who doesn't smoke. Your actual quotes may vary. Quotes are accurate for June 2017.
How can teachers shop around for better income protection insurance?
When comparing income protection policies there are several specific features to look for as a teacher:
Own occupation cover. This covers you if you are unable to work in your current occupation due to illness or injury. This is preferable (although more expensive and harder to obtain) than any occupation cover, which may deny your claim on the grounds you are eligible to work in some other occupation, which could see you working in a different occupation at a lower salary.
Rehabilitation benefits. Look for a policy that includes an amount for rehabilitation services to help you return to work. This can be up to 12 times your monthly benefit and can include special equipment or the cost of an approved rehabilitation course.
Mental health inclusions. Due to the extent of stress-related illness in teaching, the most important feature of your income protection policy should be inclusions covering inability to work due to mental illness. Be sure to read the product disclosure statement (PDS) carefully to ensure you are covered in such instances.
Agreed Value or Indemnity Value Cover?
Self-employed or casual teachers with fluctuating incomes should consider getting a policy with agreed value cover. This lets you set your monthly benefit payments at a fixed amount.
If you opt for a policy with indemnity value cover your benefit payments are tied to your income level at the time you make a claim. If you suffer an illness or injury while you're out of work (or during school holidays) your benefit payments will be too small.
Teachers with stable, permanent employment can benefit from indemnity value cover because these policies are generally cheaper.
What other income protection policy features should I consider?
Whatever your occupation, there are some general features everyone should look at when shopping for income protection. These include:
Stepped or level premiums. If you are just starting out as a graduate teacher, stepped premiums are more affordable. Stepped premiums start off low and increase over time. If you're planning to teach for a long time, level premiums are probably a better option. Level premiums start at a higher cost but don't increase over time. Find out more about the differences here.
Guaranteed future insurability. This option is not included in every policy. Guaranteed future insurability lets you renew a policy or increase your cover level without providing further health checks. It's a good option for older teachers and anyone who anticipates future changes in their health and fitness. Learn more about guaranteed future insurability.
Length of waiting period. You can choose a longer waiting period before receiving a benefit to reduce the cost of your premiums, but the length you choose will depend on your other sources of income such as savings, holiday pay and other assets as well as your ability to survive without an income until you receive a benefit.
Length of benefit period. You can choose a shorter benefit period to reduce the cost of your premiums, but the length you opt for will need to take into consideration how long you are likely to need to recover and fully rehabilitate before you can return to work.
Get income protection insurance
Picture: Shutterstock
More guides on Finder