Income protection for musculoskeletal injuries
How can income protection insurance cover you for musculoskeletal injuries?
We're reader-supported and may be paid when you visit links to partner sites. We don't compare all products in the market, but we're working on it!
Musculoskeletal injuries can affect anyone at any time. In 2013-14 there were 95,605 claims for injury and musculoskeletal disorders, which made up 90% of all workers compensation claims.
Make sure you're protected with income protection. Income protection can provide you with an ongoing benefit of generally up to 75% of your normal monthly salary if you're forced to miss work due to illness or injury.
Get an affordable quote for income protection insurance
An adviser can help you find cover from trusted life insurance brands.
Get competitive quotes from multiple brands

Lower rate of declined claims (according to ASIC)

Save time and effort
---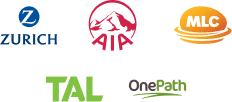 *'New cover' refers to when you start a policy, reinstate cancelled cover or increase cover. The conditions in the above form are a general guide. Always consult the insurer's product disclosure statement (PDS) for further information.
What are musculoskeletal injuries?
Musculoskeletal injuries is the term given to a wide range of disorders that involve damage to soft tissue such as nerves, blood vessels, tendons, bones and muscles in general.
One of the most common categories of musculoskeletal injuries is back injury, which can include anything from a pulled back muscle to a sprained ligament in the tailbone to a bulging disc leading to nerve pain.
Repetitive strain injuries (RSI) like bursitis, tendinitis and carpel tunnel syndrome are also musculoskeletal injuries. These are the types of injury carpenters, doctors and professional sports players are particularly prone to experience, making income protection insurance all the more important for them so that they can keep earning while incapacitated.
Pre-existing musculoskeletal injuries
If your condition is pre-existing then you'll need to declare it. Depending on the insurer and the severity of the condition you'll either be covered fully, with certain limitations on your policy, or you won't be covered at all.
Can you get covered if you have pre-existing back pain?
Better Health Victoria reports that back pain currently afflicts 1 in 6 people in Australia. Since it affects so many Australians and can quickly become debilitating, it can be challenging to find an insurer that will offer you income protection (IP) or total and permanent disability (TPD) insurance for that condition. However, there are some cases where you may be accepted:
Your back pain isn't spine-related. Many insurers will exclude spine-related back pain from cover since spinal injuries take much longer to heal than muscular injuries to the back. If your injury is muscle-related, the insurer is much more likely to insure your condition.
You've been without pain for a while. You may be able to have your condition underwritten again if you've been without pain for a while, usually around 2 years.
Questions you could be asked
Rank your pain on a scale of 0 to 5.
Do you know what caused the pain? Was it work or sports related?
Have you ever had to take time off work because of the pain or been advised to reduce the number of hours you can work? How many days did you take off and what was the specific reason?
Are you unable to carry out daily activities including washing, getting dressed, driving, reading, lifting or doing housework?
Have you had testing done including X-ray, CT scan or MRI? Where and when was the testing performed and what were the results?
Have you been treated by a general practice doctor, chiropractor, osteopath or physical therapist? Have you received medication or injections for the pain? Where and when were these treatments received?
What are the names of and contact information for the medical professionals you are seeing and when was your last visit?
Are any further tests or surgeries scheduled?
Income protection guide for pre-existing conditions
How does insurance cover you if you develop back pain or another musculoskeletal injury?
Income protection (IP) insurance is best suited to incidents of back pain, since most types of back pain will be temporary rather than permanently debilitating. According to life insurer TAL, 64% of claims related to back pain went toward IP claims in 2017. Successful IP claims offer a monthly payout usually equal to 75% of your regular income until you're able to get back on your feet.
Total and permanent disability (TPD) insurance can also help with more severe cases of back pain. The additional 34% of back pain claims TAL paid in 2017 went toward this type of insurance. If you throw out your back and can't work again (either in your own field or at all, depending on your cover), TPD will give you a lump sum payment to help with your household bills, medical costs, home modifications and anything else you need to use it on.
How long do you want your benefit to be paid?
You also have a choice on how long you want income protection benefits paid. You can have them continue until retirement if you feel any sickness or injury might be prolonged to such an extent that you will be able to return to work again. You can also limit the benefit payments to two or five years, depending on your financial position and whether you'll be able to readjust financially should your benefit cease and you remain unable to work. These choices determine the amount of premium you will have to pay as does your age when applying for the cover.
In order to put the level of risk in its proper perspective, Australian insurance companies paid out a total of $14.3 million to 245 policyholders every working day in 2010. The highest number of claims paid out on was for life insurance but income protection claims came in second. Musculoskeletal injuries represented the most claims made by holders of income protection insurance policies.
Musculoskeletal injuries, like any other ailment that stops you from attending to your usual occupation to continue earning an income, are a constant threat to all people who have to rely on a regular income to pay their way through life. There are many threats to your ability to keep earning but income protection insurance is the best way to guarantee that no matter what happens you will always be able to pay the rent or mortgage, keep food on the family table, keep your loved ones in clothes as required and pay all the other day-to-day debts that are all part of general living.
Diverse work patterns result in injuries
Although the work carried out by a carpenter is very different to that practised by a doctor as well as that of professional sports players, all have one thing in common and that is their level of income protection insurance claims for musculoskeletal injuries. Professional sports players practise forceful movements at great speed involving many repetitions. Carpenters often overload particular muscle groups and doctors maintain a fixed position, often for prolonged periods; all are activities that can cause pain in their hands, legs, feet, back, neck, shoulders or arms. These ailments are often noticed in conjunction with swelling, tiredness in the area affected, tingling and numbness.
How do musculoskeletal injuries happen?
Repetitive strain injuries account for 18% of all income protection insurance claims
The first symptoms involving musculoskeletal injury can be as simple as a dull ache that disappears with rest. It then develops further until it continues after work has ceased and a feeling of tiredness and heaviness takes over. The pain often returns at night and your ability to perform your daily tasks becomes diminished. The injury is particularly problematic when you become unable to carry out your work and you are forced to rest as the pain persists, even when there is no repetitive movement taking place. It is now that you are forced to stop work and it is now when your income protection insurance becomes vitally important to your financial welfare.
Repetitive strain injuries are commonplace in the community and account for 18% of all income protection insurance claims. They are often unavoidable as their cause is often the result of the nature of the work being undertaken and not all people are prone to the same experience.
Income protection insurance will at least guarantee you will receive up to 75% of your gross salary after you have completed the mandatory waiting period. This can be anything from two weeks to several months, depending on what you have in reserve when such an event happens that prevents you from attending work. If you are self-employed you may wish to avail yourself of income protection benefits at the earliest date possible, but if employed you might choose to use up all your employer's sick pay before having any benefits paid.
More guides on Finder