Income Protection for Company Directors
Even the boss needs insurance. Here's how company directors, executives and managers can compare income protection policies and stay protected.
We're reader-supported and may be paid when you visit links to partner sites. We don't compare all products in the market, but we're working on it!
Are you a high-level manager or company director? You need insurance just like anyone else. Depending on the severity of an illness or accident, you could risk losing your salary from a few months to a few years. This why income protection insurance exists. This guide explains how managers and executives can compare income protection policies and some other insurance options.
Compare income protection quotes and cover up to $30,000 per month in salary*
*To a maximum of 75% of your income
An adviser can help you find cover from trusted life insurance brands.
Get competitive quotes from multiple brands

Lower rate of declined claims (according to ASIC)

Save time and effort
---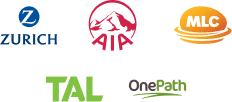 What risks do company directors face?
Company directors face little risk of physical injury but there are other risks to consider. Apart from injuries, income protection policies cover common illnesses like cancer, heart disease and stroke. Many health conditions become more prevalent as people age. This is an important consideration for executives and managers who are often in their 40s or older. Company directors also need to think about insurance cover risks such as:
Stress. Company directors are often prone to stress and anxiety due to the pressures of their work. While income protection policies generally won't cover mental illness, stress can contribute to a number of physical health conditions that might require time off work.
Liability. Aside from physical risks, managers and executives who have significant responsibilities can be liable when things go wrong. For this reason many senior company managers and directors various forms of professional liability insurance.
How much should a high-earning executive pay for income protection cover?
The cost of an income protection policy varies widely depending on your income and the type of job you do. The following premiums on this chart are examples only but can give you a rough idea.
*These are example quotes only for a 45-year-old male managing director who lives in NSW and doesn't smoke. Your actual quotes may vary.
What types of insurance are suitable?
Company directors face slightly different risks to the average worker, but some of their insurance needs are exactly the same. Here are some of the income insurance policies senior company leaders should consider:
Policy
Details
Income protection policies

Pays a monthly benefit if you are unable to work due to illness or disability
Pays a fixed percentage of your income for a predetermined period
Covers injuries and illnesses

Key person insurance

Protects businesses against the sudden loss of an owner or employee who is essential to the business.
Good for executives who are essential to the operation of a business

Directors and officers liability insurance

Liability insurance for directors and officers to cover their financial and legal obligations if they are liable for damages
Protects an individual director's assets even if they are acting on behalf of the company

Professional liability insurance

Protects small businesses and consultants from liability claims
Good for executives and managers working as contractors or as the head of a small business
In some instances, you may be able to combine income protection policies with other types of personal insurance, like life and trauma insurance.
How do insurers classify high level employees?
Company directors are usually classified in a lower risk category such as "white collar" or "professional collar". This means they will pay a lower premium and can insure a higher amount of income. The following roles are typical examples of professional collar jobs:
Senior managers
General managers
Junior and senior executives
Directors
Board members
C-level executives
Why do insurers consider managers and executives white collar?
Company directors will typically fall into the white collar job category, which tends to have lower premiums than more physically intensive occupations for two reasons:
The "unable to work" barrier is higher than with more physical occupations. This means you are often able to return to work even after suffering injuries or illnesses that would be disabling for someone in a more physical job.
You are less likely to become injured, or suffer from certain chronic health issues, that are more common for people in physically intensive jobs.
What should I look for in an income protection policy?
There are some specific important features of income protection insurance which are generally included automatically. While shopping around for income protection insurance policies look for the following features:
Indexation for inflation. With this feature your sum insured will automatically increase to keep up with inflation. This may not be necessary if your sum insured is naturally based on a percentage of your previous year's income.
Worldwide protection. This covers you even if you suffer a disabling injury or illness while overseas. For executives who need to travel internationally for their work this is an important consideration.
Recurrent benefits. If you return to work after claiming income protection benefits, but are re-disabled as a result of the original injury or illness the waiving periods will be waived.
Family care benefit. Additional benefits may be paid to compensate for a family member's loss of income if they need to take time off work to care for you while disabled.
Other non-standard options to consider
There are also some potentially important benefits which are not typically included by default, but can be selected as optional extras at increased cost. You may want to include:
Rehabilitation benefits. Pays benefits to help cover the cost of approved rehabilitation procedures, such as physical therapy or modifications to your workplace.
Increasing claims option. Income protection benefits paid will increase over time in line with the CPI, to make sure the payout remains adequate. This can be important if you've selected a longer benefit period, such as 5 years, with your policy.
Business expenses. This option can cover specific business expenses if you are self-employed or a business owner. If you are also taking advantage of specific business insurance options it may not be necessary.
How much does income protection insurance typically cost?
The cost of an income protection insurance policy varies considerably from person to person. This is especially true when considering the broad salary range for managers and executives, who could be earning six or even seven figures a year. Here are some examples of income protection quotes for senior professionals taken from finder's comparison engine.
*These are example quotes only based on a 35-year-old male managing director living in NSW who doesn't smoke. These quotes are accurate as of June 2017 and may not be the same for you.
Personal income protection and tax
Premiums paid for income protection insurance policies (when held outside of superannuation funds) are generally tax deductible. However, income protection payments will generally be taxable.
How can I find an income protection insurance policy that gives me the cover I need?
To get the most out of your income protection insurance you need to consider your personal and professional situation. This includes:
Your family circumstances. The level and type of cover you need depends on your family. Are you the main source of financial support for your family? Does your partner also work full-time? Do you have dependent children?
Your career and finances. If your management position involves serious responsibility you might need to consider some form of liability insurance. If your salary is high enough then you need to consider the fact that many insurance policies have an upper limit on benefit payments. Think about your current lifestyle and how willing you are to cut back if you lost your job or were unable to work.
When shopping for income protection insurance you also need to think about the following features and benefits:
Maximum benefit amount. Most policies have a benefit of 75% of your income, but there will be an upper limit to the amount you can insure each month. For some providers this will be $10,000 per month and other insurers will cover up to $30,000 per month. Executives on high incomes may need to look for speciality providers who can insure high-income earners if you want to match your regular salary.
Stepped versus level premiums. There are two types of premiums for income protection insurance: stepped premiums and level premiums. Stepped premiums increase each year as you age. They will start off lower and rise gradually. Level premiums will be more to start with but stay constant for the life of the policy.
Benefit period. Income protection policies usually have a benefit period of one to five years depending on your provider and premium. You can also generally only receive a benefit until retirement age. If you are nearing retirement age, you might need to look for a provider who will offer income protection beyond the age of 65.
Waiting period. Most income protection policies have a waiting period of 14 to 90 days. This means you will not receive a benefit until you have been off work for the entire waiting period. Consider selecting a policy with a waiting period that matches the amount of leave you have available to use before you start receiving the benefit.
Non-cancellation policy. Some providers have a guarantee to not end your policy in the future as long as you continue to pay your premium on time. Non-cancellation policies are useful to ensure you won't be left uninsured in the future as your circumstance change.
Agreed value versus indemnity value cover
There are two ways in which an income protection policy can be paid out: agreed value or indemnity value.
Agreed value. If you make a claim your benefit will be based on what your salary was when you started the policy.
Indemnity policy. This will pay a fixed percentage of your income at the time of a claim.
While indemnity policies are cheaper, your actual benefit payout is affected by changes in your income. If you are demoted, reduced to part-time hours or are on a fluctuating income (such as a freelancer or sole trader) your income protection payout will be smaller. An agreed benefit policy will be more expensive but gives you greater peace of mind.
For executives and managers with stable, reliable incomes an indemnity value policy isn't such a risk. But if your salary increases, an agreed value policy won't reflect your increased salary.
How can dividends affect my insurance benefits?
The maximum amount of cover you are allowed is generally based on your income, and this may or may not include income from dividends. When you involve dividend payments you may have the additional flexibility of being able to insure your earnings between 50 and 65 percent of your gross earnings. This includes both your salary and the amount of dividends paid.
Any dividend paid will have to be separate to your salary and you must be actively involved in the success of the business either as the sole employee or part of a team.
Group income protection insurance
Another insurance option is group income protection insurance. In this case a company takes out a policy that covers its top managers and working executives. It works like this:
The company pays for the group premium
Any payouts or benefits will go to the company, not an individual employee.
The benefit is then paid to the ill person by the company until he or she is able to return to work.
More guides on Finder