Iconoclasts review: From development hell to heavenly results
Ten years of monkey-wrenching paid off.
We're reader-supported and may be paid when you visit links to partner sites. We don't compare all products in the market, but we're working on it!
You've gotta love a game where the core mechanic is being a mechanic. Robin, reluctant heroine and handywoman, is on the run (and gun) because her local authorities regard wrench-use as heresy. Couldn't tell you why exactly – the tools running the show are just a bunch of nuts, I guess. To escape this fascist regime that's in dire need of fixing, you'll need to leap, blast and clobber your way across one of the most detailed 2D worlds in recent memory. And it ought to be – Iconoclasts (PlayStation 4, Xbox One, PC) was tweaked into being over the course of a decade.
From the get-go, it's pretty obvious that this indie game wears a big "Metroid-Vania" heart tank upon its sleeve. With little direction you're dropped into a pixelated wonderland that's so bright and idyllic it makes Sonic the Hedgehog's Green Hill Zone look like a London ghetto. Exploration is an all-points-of the-compass affair and the cliffs you'll mantle up are honeycombed with invisible caverns containing chests filled with crafting goodies. In next to no time they'll start to appear in a locked state, at which point some light-puzzling for keys, plus a few nifty wrench moves, get layered in. It's fun stuff, but you're never going to have your noodle baked by Braid-level problems.
Combat is just as satisfying as the tightly-tuned platforming on offer. Robin packs a mean whack with her wrench, but the bulk of the violence gets dished out with projectile weapons and her butt. Gunplay is highly reminiscent of both Metal Slug and Metroid Fusion, with a number of techniques – like charged blasts and leaping downward shots – becoming used in challenging boss fights. Better yet, there's some creature comfort auto-aiming going on here that I really fell in love with.
---
---
Rather than ask you to awkwardly try to line up shots of exactly 45 degrees, Iconoclasts will subtly massage your fire to target if you're within range of a beastie. It's the same deal when trying to slam downwards with your derriere – get within a few pixels of where you need to be and you'll suddenly have homing cheeks. That might sound cheap to the purists among you, who have been connecting arse to face since the NES days, but I personally thought my sweet, sweet can was tuned to perfection.
Basically, I found that my journey through Iconoclasts continued to evolve nicely. I was kept on the hook by an ever-expanding roster of AI party members (each with their own skills and personality quirks) and the simple tools you start with continue to unlock unexpected functionalities. Likewise, there were a number of difficulty spikes in the puzzles which required pinpoint pixel accuracy – for example, linking shrewd leaps and quick kills under the pressure of a timer.
Having a wide bestiary of baddies which may only be killed a certain way is also appreciated, as is the rudimentary "tweaks" system that lets you combine materials for equipable perks. The only downside to tailoring Robin to your gameplay preferences is you'll have to backtrack to save points to switch-out tweaks, and you may only have three on you at a time. There are agonising decisions to make, because who knows what's in the next screen? Will you need better exploration perks to thwart the environment, or will you need combat buffs to survive some weird and wonderful multi-phase boss fight?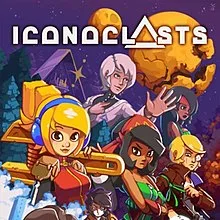 Iconoclasts
from Green Man Gaming
Enjoy hours of intricate puzzles, interesting characters and menacing bosses in a beautiful platform adventure.
View details
Where Iconoclasts doesn't shine is in its story-telling, which is laid on much thicker than most action platformers you've ever played. Go in expecting copious amounts of text box exchanges and cutscenes. There's some solid world-building going on here, and unravelling why this religious order hates progress so much is a fascinating mystery. However, the melodrama can get a little too much at times and the clangy, somewhat childish humour can get lost in translation (I suspect English isn't the first language of creator Joakim "Konjack" Sandberg). This clunkiness is at its most frustrating when your sidekick is desperately trying to offer you semi-understandable tips in a boss fight. Some of the darker, heavier moments of this deep story can lose their impact to clunky dialogue as well.
That said, you should definitely leap into Iconoclasts for the top-notch blasting and the on-point jumpy-jumpy puzzling. After entering this with relatively low expectations, I've come out the other end salivating for a sequel. Here's hoping Sandberg meets with the success and sales needed to fund another, and that the follow-up won't be as long in the making.
We reviewed Iconoclasts on PlayStation 4 with a copy provided by the publisher.
Iconoclasts
8.0 EXCEPTIONAL
What we liked...
Razor-sharp combat and platforming
Smart puzzles and ever-expanding skillset
Gorgeous art direction, levels with a lot of visual variety
What we didn't like...
Plot is hamstrung by iffy language
Tweaks system could be much deeper
Checkpointing system is a bit odd
VERDICT
Iconoclasts is well-tuned where it matters – in the action. It's abundantly clear that Sandberg is a great connoisseur of the greats of 2D platforming, and those influences have helped fashion a slick-handling, eye-catching love-letter to the best of two-dimensional gaming.
Latest streaming headlines