Hyrule Warriors: Definitive Edition review: Polished to a Mirror Shield shine
Master swording out a few hundred problems.
We're reader-supported and may be paid when you visit links to partner sites. We don't compare all products in the market, but we're working on it!
Weirdly, some of my "Nintendo-obsessed" mates skipped playing Hyrule Warriors. It was odd because I knew they were Dynasty Warriors diehards who, like me, had also completed every Link adventure under the sun (or freaky incoming moon). Their preconception: these two things together can't end in a peanut butter and chocolate marriage.
You know what? They were absolutely nuts to look down on this non-canon romp. Hyrule Warriors is indeed a delicious mix of Koei Tecmo's brand of hack-and-slash action meeting our fan favourite Legend of Zelda characters. The 3DS "Legend" spin-off that followed was also a delight, what with its extra story content and mechanical tightening.
After slipping into the tight green tights of Link (and a heap of other characters), the basic idea is to hew through an army of clone enemies, all the while leveraging a bunch of character-specific sub-weapons. Expect the usual stuff here – bows, bombs, boomerangs, the hook shot and potions.
Link himself can earn a half a dozen swords, elementally charged magic rods, gauntlets and a number of Great Fairies (who hilariously pop our hero into a bottle while they stomp heads). Meanwhile, Impa is more about giant knives and naginata, Sheik uses magic harps, Lana is wholly concerned with spears and sorcery, Darunia is stuck in a perpetual hammer time, Zelda wakes winds and Midna rides a wolf while slaying with her lethal hair.
Those characters are joined by a goddess-sword user named Fi, the dual-wielder Ganondorf, parasol expert Agitha, plus a bunch of others (the zenith unlock being a pissed off Cucco). Basically, the main lure here is the fact that you're getting all of the 3DS-exclusive characters – a fairly even mix of legacy characters and some guests dreamed up by Koei. Having them all in one experience is pretty cool, even if most of the original creations are a tad generic and lacking in charm.
From the outside looking in, combat can seem simple and repetitive, but it's pretty addictive in practice thanks to the steady earning of murder-tastic special moves. Belting a dozen foes away to the horizon, like Sauron minus his morning coffee, never gets old. More depth is layered in with a crafting system that has you replaying stages to farm materials required for gear that can better augment your combos. Honestly, before you know it, you'll be checking your save file and "hours played" will have gone well beyond a hundred. This game slays daily commutes.
Levelling your dozen or so characters becomes a hook, too, especially when the game starts to throw large-scale, fan fave bosses your way. I'd like to say the latter require some smarts or unique strategies to defeat – a beloved feature of every Zelda game ever – but it's just not the case. Bosses are more or less family-sized damage sponges, a minor footnote in your average 20-minute level of genocide.
That's just how Legends mode rolls. Don't expect much of a challenge because it's mostly just a grind to unlock gear and some more of the 30-odd characters (half of which are now available from the get-go). Adventure mode is where it's really at. Think: a novel item hunt through an endearing 8-bit map that's full of secrets, old-school callbacks and random encounters that trigger more Hyrule Warriors battling.
The good news is that this Definitive Edition includes all of the DLC from the Wii U original, not to mention some stuff from the 3DS version. This means the Adventure Mode is super-sized with maps influenced by Majora's Mask and Wind Waker, plus there's a Tamagotchi-style My Fairy function which lets you raise little companions. Adorable.
The extra power of the Switch has eradicated all the old choppiness
Ducking back to the older versions for a comparison, I noticed some work has been done to make character cycling more user-friendly, plus commanding AI allies has been tightened up as well. What's less impressive is the shoehorning of the Wii U's co-op offerings (which, incidentally, had performance issues back then). The extra power of the Switch has eradicated all the old choppiness but having to play this split-screen, instead of the "each player has a screen" solution on the Wii U gamepad, is a step-down.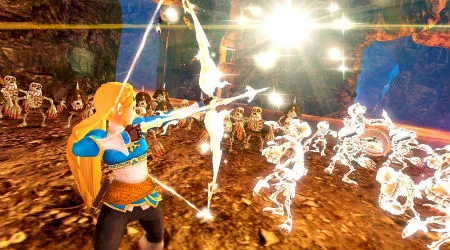 Click to buy Hyrule Warriors: Definitive Edition
from Amazon
View details
We reviewed Hyrule Warriors: Definitive Edition on Nintendo Switch with a copy provided by the publisher.
Hyrule Warriors: Definitive Edition
7.5 VERY GOOD
What we liked...
Much more stable performance
Hundreds of hours of murder
Expanded adventure mode rocks
Quality of life upgrades
What we didn't like...
Wants for new content over previous versions
Split-screen co-op works but is a step-down
Legends mode is a bit grindy
VERDICT
Another great destroyer of morning commutes, Hyrule Warriors: Definitive Edition has been polished to a Mirror Shield shine. But a dearth of new content makes this a tough ask for 3DS and Wii U veterans.
For more information on how finder scores games, check our review guidelines.
---
---