HyperX Alloy FPS Pro mechanical keyboard review
The HyperX Alloy FPS Pro's smaller and lighter design makes it a great mechanical keyboard for those on-the-go.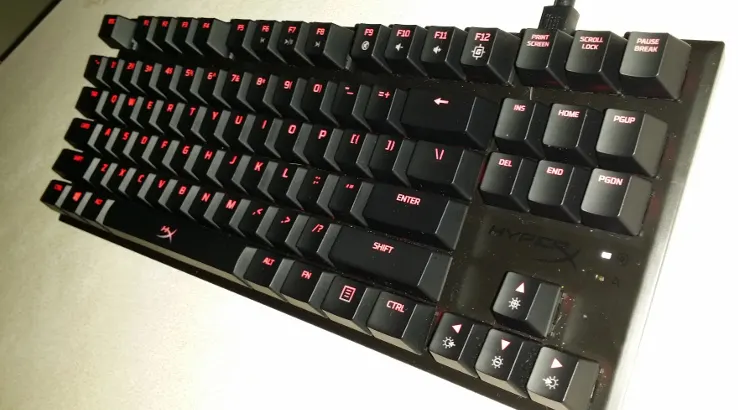 We're reader-supported and may be paid when you visit links to partner sites. We don't compare all products in the market, but we're working on it!
The resounding clack of a mechanical keyboard is typically a testament to its hefty bulk, with few such keyboards weighing in under 1kg. While this is often a necessary trade-off for the resistance and resilience that mechanical keyboards provide, it can prove frustrating if you want to take your keyboard with you for use with a laptop or when attending gaming competitions.
HyperX has decided to address this issue with its latest mechanical keyboard, the Alloy FPS Pro. Taking the core design of last year's Alloy FPS, the Alloy FPS Pro shrinks it down to a tenkeyless model that does away with its bigger brother's numpad, shedding 150g of its weight and 84mm of its length and resulting in a compact board that still retains the performance and durability expected of a professional-quality mechanical keyboard.
Upsides: Why you'd want the HyperX Alloy FPS Pro
Smaller and lighter than most mechanical keyboards. At just 900g, the Alloy FPS Pro is light enough to carry around while you're working or gaming on-the-go. Its short profile also makes it easy to slip in your bag, while its fully spaced keys ensure you won't have to sacrifice comfort for portability.
Quieter than many of its competitors. The iconic clack of mechanical switches can be soothing in its own weird way, but there's no denying that it can be incredibly irritating too, especially for those around you. The Alloy FPS Pro is hardly silent, but it is significantly quieter than a lot of other mechanical keyboards, making it a more practical choice for use in public spaces.
Soft and responsive keys. The Alloy FPS Pro comes with Cherry MX Red switches, the softest and quietest of the Cherry MX line. This makes for highly-responsive keys that require only a light touch for activation, so you won't need fingers of steel to power through a multi-hour typing or gaming session.
Removable cable. Tangled cables are the enemy of portability, so being able to detach the Alloy FPS Pro's USB cable and stow it separately makes transportation a breeze. It should also help you to avoid any damage to the cable from it being bent this way and that.
Game mode is a handy addition. By using the Game Mode shortcut, the Alloy FPS Pro will deactivate the Windows key between the left-hand Ctrl and Alt keys. This is not only useful in Ctrl-heavy games, but it makes it easier to type at pace with far fewer mistakes.
LED backlight modes are a real trip. The Alloy FPS Pro comes with five pre-loaded LED backlight modes, plus a sixth custom mode where you can choose which keys you want to be lit up. Most of the pre-loaded modes are there more for sheer novelty than anything else – a keyboard that lights up in waves from left to right isn't going to help your gaming or typing one iota – but the custom mode can be useful for highlighting only the important keys in a particular game to make them easier to see.
Downsides: Why you might not want the HyperX Alloy FPS Pro
Only available with Cherry MX Red switches. If the soft activation and response of the Cherry MX Red switches isn't to your liking, you'd have to buy a full set of Cherry MX Brown or Blue switches and replace the Alloy FPS Pro's keys manually. Not a cheap process.
Cherry MX Red switches can be a little too sensitive sometimes. While I personally prefer the softer feel of Cherry MX Red switches, their high responsiveness can be a pain when you accidentally brush the Windows or Menu keys in the middle of a fast and furious gaming or typing session. Since activating Game Mode only disables the Windows key, this still leaves the right-hand Menu key as a potential threat to clean typing.
Red backlighting only. If you want to have the most colourful keyboard on the block, you'll need to seek your chromatic satisfaction elsewhere. The Alloy FPS Pro is backlit purely in red, with no way to easily swap the backlights out for a less sinister colour.

Where can I get it?
The HyperX Alloy FPS Pro mechanical keyboard is available from Australian retailers like MSY and Centrecom as well as online from Amazon. It retails for AUD$129.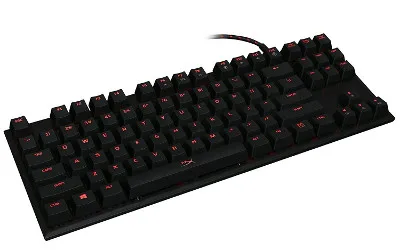 HyperX Alloy FPS Pro mechanical keyboard
from Amazon
The HyperX Alloy FPS Pro mechanical keyboard offers a compact, tenkeyless design with Cherry MX Red switches and red backlighting.
View details
HyperX Alloy FPS Pro specs
Size

359mm x 130mm x 34.5mm
Weight

900g
Cable length

1.8 metres
Backlighting

Red only
Switch type

Cherry MX Red
Connectivity

USB 2.0
Price
---
More guides on Finder