Huawei Y5 2017 Review: Inexpensive, but far too slow
Quick Verdict
You get what you pay for with the Huawei Y5, and while that means you don't pay much, what you get in return is a relatively slow processor, frustrating camera and unresponsive touchscreen. The Huawei Y5 isn't terrible value at its price point, but it won't take much shopping around to find a better phone, even in the budget space.
Could be better
Mediocre performance
Slow camera
Middle of the road battery life
---
Huawei's Y5 2017 won't worry your wallet much, but you'll spend a lot of time waiting for it to respond.
Of late, Huawei's been making a name for itself in the premium space, with excellent handsets such as the Huawei P10 and Huawei P10 Plus. Still, it's been a primary competitor in the local market more on the strength of its mid-range and budget handset offerings, and that's squarely where the Huawei Y5 sits. Available locally for under $200, it's a low-cost phone, and that nearly always means compromises.
Design
The Huawei Y5 does manage to avoid one of the classic traps of budget mobiles, in that it doesn't look hopelessly generic, or for that matter like a budget knock-off of a more premium model, as many iPhone-clone phones can tend to do. Instead, what you get is a simple plastic bodied handset that measures in at 143.8x72x8.4 mm with a carrying weight of just 150 grams.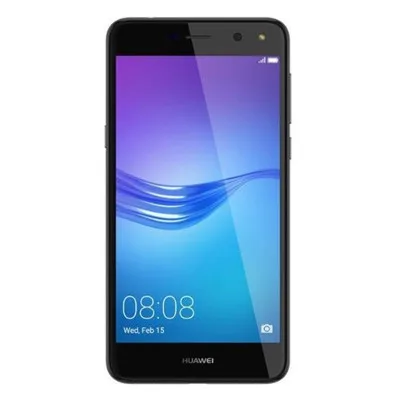 Buy the Huawei Y5 (2017)
from Amazon
The low-cost Huawei Y5 offers a simple, competent mobile experience that won't hurt your bank account.
View details
Plastic isn't the premium material of choice for handsets these days, but it no doubt keeps the cost down while also leading to a phone that really doesn't have that much heft in the hand. Controls on the phone are simple and essentially robust, with power underneath volume controls on the right hand side, a right hand side "easy key" for fast app launching and a top mounted 3.5mm headphone jack.
Charging is via microUSB, and there's no SIM card tray. Instead the entire rear of the phone pops off to reveal the nano SIM slot and microSD card slot. Nobody's going to mistake the Huawei Y5 for a high-end device, but it's equally not so badly designed as to look remarkably cheap per se. You might just fool folks that it's a mid-range device, which isn't common at this price point.
Camera
Every phone manufacturer, whether big or small, pitching at premium or budget makes a lot of noise about how excellent their smartphone cameras are, and Huawei is no exception, promising "great photos" from the rear 8MP camera and "your very best" selfies from the front 5MP sensor.
The reality of using the Huawei Y5 as a camera phone shows the real limitations of these claims, and they're considerable. Just launching the camera app is an exercise in patience, so forget fast snapping any nearby neat scenes, because the Y5 just isn't up to the task.
Likewise, focusing and capturing a decent image can be a real chore, thanks to the combination of the slow camera and the often under-responsive display screen. It is feasible to get passable shots out of the Huawei Y5, but you'll need plenty of patience to do so. Here's the best shots I was able to eke out of the Y5, but there were plenty more than were far worse.
Performance
Budget phones often suffer in terms of overall performance, but again you're not paying much for them. Huawei equips the Y5 with a quad-core MT6737T processor running Android 6.0 with its own EMUI 4.1 overlay, and that's not exactly a power play, although it is to be expected at this kind of price point in pure processing terms. The lack of Android 7.0 is regrettable, given that we've seen it in other budget handsets this year. In straight benchmark terms, the Huawei Y5 generally sits in the middle to bottom of the budget and midrange smartphone pack. Here's how it compared using Geekbench 4's CPU test:
| Handset | Geekbench 4 CPU Single Core (higher is better) | Geekbench 4 CPU Multi Core (higher is better) |
| --- | --- | --- |
| Moto G5 Plus | 842 | 4180 |
| Motorola Moto X Force | 1352 | 3581 |
| Huawei GR5 2017 | 814 | 3398 |
| Nokia 5 | 662 | 2833 |
| Nokia 6 | 664 | 2832 |
| Oppo A57 | 662 | 2810 |
| Motorola Moto Z Play | 799 | 2648 |
| Sony Xperia X | 1122 | 2626 |
| Moto G5 | 630 | 2605 |
| Huawei Y5 | 679 | 1909 |
| Nokia 3 | 552 | 1527 |
| LG X Power | 554 | 1482 |
| Motorola Moto G Play | 522 | 1334 |
Here's how it stacked up for 3D performance, using 3DMark's Ice Storm Unlimited benchmark:
| Handset | 3DMark Ice Storm Unlimited Result |
| --- | --- |
| Moto G5 Plus | 13753 |
| Huawei GR5 2017 | 11859 |
| Moto G5 | 9532 |
| Oppo A57 | 9516 |
| Nokia 5 | 9483 |
| Nokia 6 | 9435 |
| Huawei Y5 | 5921 |
| LG X Power | 4953 |
| Motorola Moto G Play | 4475 |
| Nokia 3 | 3676 |
While benchmarks can provide a useful comparative measure of performance, we often caution that they don't tell the whole story, and this is exceptionally true with the Huawei Y5. It may score in the rough middle of the budget pack, which isn't bad at its price point, but that's tempered by the actual experience of using the Huawei Y5.
Its processor may be capable at a budget level, but the responsiveness of its touch screen is another story entirely. It's slow, and intermittently completely unresponsive to touch, which meant that throughout the review process, I was constantly left fighting it to actually do what I wanted to do. Either that, or waiting for it to respond, and when you're not certain if it has in fact registered a touch point, it's even worse.
Battery life
Low power processors often allow for reasonable battery life because by definition they're not pulling much power down. Huawei throws a sealed 3000mAh battery into the Huawei Y5, which gives it some potential for decent battery life. We've certainly seen some very good performance out of other handsets with that kind of mix. Here's how the Huawei Y5 compared against other budget and mid-range handsets using Geekbench 3's older battery test:
| Handset | Geekbench 3 Battery Test Duration | Geekbench 3 Battery Score |
| --- | --- | --- |
| Huawei GR5 2017 | 11:33:50 | 6938 |
| Motorola Moto G5 Plus | 11:15:40 | 6756 |
| Motorola Moto G Play | 9:36:00 | 3840 |
| Nokia 5 | 8:42:30 | 5044 |
| Nokia 6 | 8:19:10 | 4833 |
| Huawei Y5 | 8:00:10 | 4659 |
| Nokia 3 | 7:34:10 | 3028 |
| Motorola Moto G5 | 6:32:50 | 3833 |
The Huawei Y5 once again sits in the middle of the pack. It's not terrible in terms of battery life, and it certainly should meet the day to day needs of most users with moderate usage, but it's equally not exceptional against direct competition.
Verdict
It's certainly not fair to judge a genuine budget handset in the same kind of frame used for premium handsets, because the entire point of buying a budget handset is to keep money in your pocket and weather the compromises that budget handsets bring with them. Given the rapid pace of mobile technology improvement, even the budget handsets of 2017 can have quite decent performance.
The problem for the Huawei Y5 is that up against a competitive field of similar devices it really doesn't do much to stand out from the pack, even against other Huawei handsets. Combine that with the frustrating display, and it's a phone that's tough to recommend unless you can score a real bargain on it. Even in the budget space if you're looking at a full price Huawei Y5, you can almost certainly do better.
Specifications
Product Name

Huawei Y5
Display

5.0in
Resolution

720 x 1280 pixels
ppi

294ppi
Software

Android 6.0
Storage

16GB
RAM

2GB
Battery

3000mAh
Front camera

5MP
Rear camera

8 MP, f/2.0, autofocus, dual-LED flash
Processor

Mediatek MT6737T
Size

143.8x72x8.4 mm
Weight

150g
Latest mobile phone reviews
---
Follow us for all the latest mobile phone news and deals
---