Huawei P30 Pro vs Samsung Galaxy S10+
How does Huawei's new P30 Pro stack up against Samsung's impressive Galaxy S10+?
We're reader-supported and may be paid when you visit links to partner sites. We don't compare all products in the market, but we're working on it!
Specifications
| | | |
| --- | --- | --- |
| Product Name | Huawei P30 Pro | Samsung Galaxy S10+ |
| Display size | 6.47 | 6.4 |
| Operating system | Android 9 | Android 9 |
| Height (mm) | 158 | 157.6 |
| Width (mm) | 73.4 | 74.1 |
| Depth (mm) | 8.41 | 7.8 |
| Weight (g) | 192 | 175 |
| Battery size (mAh) | 4,200 | 4,100 |
| Front camera (1) megapixels | 32 | 10 |
| Rear camera (1) megapixels | 40 | 12 |
| Rear camera (2) megapixels | 20 | 12 |
| Water Resistance | IP68 | IP68 |
| Wi-Fi connectivity | 802.11 a/b/g/n/ac | 802.11 a/b/g/n/ac |
| Network Category Speed | Category 21 | Category 20 |
| | | |
Huawei P30 Pro Samsung Galaxy S10+: What to look for
In the Australian market, Samsung's grip on the public consciousness when it comes to premium phones is very tight, but it's not absolute. In recent years, Huawei has very much challenged Samsung with a range of excellent value premium handsets, and the Huawei P30 Pro is the latest to take on the South Korean giant.
Cameras are of course the main game here, with Huawei pitching the Huawei P30 Pro as the camera phone, but that's not a battle that Samsung would easily concede. A smartphone is more than just its camera array, so what details should you weigh up?
Power
The Samsung Galaxy S10+ features either the Snapdragon 855 or Exynos 8920 processor, depending on which market it's intended for. Here in Australia, we get the Exynos 8920 variant, although some direct importers may end up selling you a Snapdragon 855 model. The Samsung Galaxy S10+ ships with 8GB of RAM typically, although the premium 1TB model ups the ante to an impressive 12GB of RAM. If you're looking at the lower cost options with either 128GB or 512GB of onboard storage, those phones are the 8GB models. Samsung supports storage expansion via standard MicroSD card, with the very standard dual SIM card tray arrangement where the secondary SIM card slot can alternately be used to pump up its internal storage.
The Huawei P30 Pro runs on Huawei's own Kirin 980 processor, first introduced in the Huawei Mate 20 and Huawei Mate 20 Pro. It's Huawei's own in-house processor, and it's a powerful contender in the Android space. Huawei pairs that up with a standard 8GB of RAM, and 128GB of storage only. Like the Galaxy S10+, it supports storage expansion via a dual SIM card slot, but Huawei uses its own nano memory (nm) card format. It's currently only available as a 128GB expansion card in Australia, and at a price point markedly higher than the same amount of MicroSD card storage would be.
So who wins this battle? In raw power terms it's a near dead heat, at least based on our testing of the Samsung Galaxy S10+ and the Kirin 980 as found in the Huawei Mate 20 Pro. They benchmark at near identical levels, which is to say that they very much are flagship devices with plenty of power.
The other aspect here is of course the interface. Both the Samsung Galaxy S10+ and Huawei P30 Pro are Android 9 based phones, but they differ markedly in their onboard launchers. The Samsung Galaxy S10+ uses Samsung's "One UI" launcher, while Huawei places its EMUI launcher on top of the Huawei P30 Pro. Of the two, the One UI launcher has a fair lead in overall usability. EMUI isn't dreadful, but it can be inconsistent and not always helpful if you're not keen on using absolutely all of Huawei's inbuilt apps and services. Samsung does include its Bixby assistant on the Samsung Galaxy S10+, including that annoying Bixby button, but the P30 Pro has all kinds of quirks thanks to EMUI. That's one factor we'd definitely award Samsung's way.
Camera
If you simply counted the cameras at the rear of the Samsung Galaxy S10+ or Huawei P30 Pro, you might declare it a dead heat, given that they both feature 3 rear lenses. They're even the same kind of arrangement, with a primary, wide and telephoto zoom lens too.
However, that wouldn't be telling the entire story, because it's not just a question of lens selection, even though it's great to have lots of flexibility. Either phone can provide crisp and fast visuals in standard lighting situations, but the Huawei P30 Pro has a distinct edge when it comes to low light situations, with support for ISO levels up to an astonishing 409,600. No, that's not a typo, although if you do push it to that level in Pro mode, you lose access to most other manual functions as a result.
The Huawei P30 Pro also pushes the telephoto lens a little further, with a periscope array that affords it a standard 5x optical zoom that can be used with that primary 40MP lens to afford it a 10x "hybrid" zoom. If you really want to push matters, it can handle 50x digital zoom, although our early impressions there are that it all too often washes out colour when shooting at that extreme, and you really do need a tripod to avoid insane levels of camera shake.
Battery

The Samsung Galaxy S10+ features a 4,100mAh battery, the largest battery that Samsung has placed in a smartphone to date. Our prior experience with Samsung's Exynos-based phones has been that while they slightly trail their Snapdragon counterparts in raw power, they often make up for it with improved battery performance.
Unfortunately, that hasn't entirely been our experience with the Samsung Galaxy S10+. Its essential battery performance is fine, but not great, and that's not good for a flagship phone, especially as prior Samsung phones such as the Galaxy Note9 offer better battery endurance overall.
It's particularly problematic when comparing against a Kirin 980-based phone like the Huawei P30 Pro. While we haven't yet had the opportunity to fully test the battery capabilities of the Huawei P30 Pro's 4,200mAh battery, the very similar Huawei Mate 20 Pro currently has the best battery capabilities of any smartphone we've tested to date.
Pricing
The Samsung Galaxy S10+ is available with either 128GB or 512GB of storage with 8GB of RAM for $1,499 and $1,849 respectively outright. There's also a premium model that ships with 1TB of onboard storage and 12GB of RAM, but you'll pay a premium of $2,399 for that handset.
There's only one variant of the Huawei P30 Pro officially on sale in Australia, with 128GB of storage and 8GB of RAM. It'll go on sale for $1,599 outright.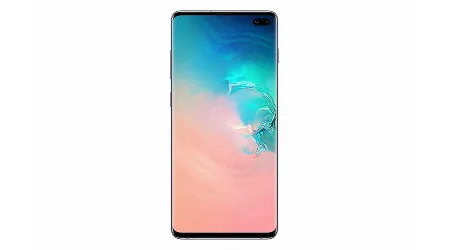 Buy the Samsung Galaxy S10+ 128GB
from Amazon
The Samsung Galaxy S10+ packs a massive 6.4-inch screen with support for HDR10+ and an ultrasonic fingerprint sensor concealed beneath the display. Grab yours now from Amazon Australia.
View details
The Samsung Galaxy S10+ is available on contract through Telstra, Vodafone and Optus, although only for the 128GB and 512GB variants. If you want the 1TB model, you'll have to buy it outright and match it up to a SIM-only plan.
The Huawei P30 Pro is available on contract terms through Telstra, Vodafone and Optus. There is a slight carrier difference here, with Optus providing a fully dual-SIM compatible version of the Huawei P30 Pro, while the Telstra and Vodafone versions will be single SIM compatible only.
You can compare plan pricing for the Huawei P30 Pro and Samsung Galaxy S10+ in the tables below:
Huawei P30 Pro plans
Samsung Galaxy S10+ plans
More guides on Finder