Huawei MediaPad T3 4G review: A simple budget Android tablet
Huawei's latest Android tablet isn't heavy on price, but it is rather heavy in your hand.
Quick Verdict
Huawei's low-cost MediaPad T3 is an acceptable but largely underwhelming Android tablet option best suited to those on a very tight budget.
The Good
Solid construction
Onboard 4G
Decent battery life for a budget tablet
The bad
Very basic performance
Heavy for such a small tablet
Limited onboard storage
Huawei has made quite a name for itself in recent years with an increasing range of premium products, such as the recently reviewed Huawei Mate 10 Pro and its fashion-forward P-series range of handsets. However, the bulk of its product range has always rested in the budget space, where you find phones such as the Huawei Y5 2017. It's in this budget space that the Vodafone-exclusive Huawei MediaPad T3 sits.
Design
Huawei's recent handsets, even in the budget range with devices like the Nova 2i,tend to have solid designs. That's an appellation that, in one very strict sense, does apply to the Huawei MediaPad T3. It's solid in the sense that the chassis is very robust aluminium. You don't quite expect it from a low-cost tablet where flimsy plastic tends to be the default option, but the flip side of that design choice is that the Huawei MediaPad T3 feels quite heavy in the hand for what is only an 8-inch tablet.
It measures in at 211x125x7.95mm with a carrying weight of 340 grams. To give that some perspective, that's around 40 grams more than an iPad Mini 4 or around 100 grams lighter than the 9.7-inch Samsung Galaxy Tab S3.
Aluminium gives the Huawei MediaPad T3 a certain level of shine, but it's otherwise a very bland looking tablet with noticeable bezels around its 8-inch 1280x800 pixel display. Again, for what's very clearly pitched as a budget tablet, this is very much par for the course because if you want fancier features, you're going to have to pay for them.
Performance
While Huawei touts the superiority of its own Kirin processors on its premium phone lines, the Huawei MediaPad T3 runs on a low-power Qualcomm Snapdragon 425 SoC with just 2GB of onboard RAM and 16GB of onboard storage. Thankfully, that's expandable via microSD, and realistically, you're going to want to budget for some extra storage if you plan to pick up the Huawei MediaPad T3.
Budget specifications often lead to somewhat compromised performance, and that's undeniably the case with the Huawei MediaPad T3. This is no blazing rocket of a tablet, but it's an entirely adequate one for light tablet users. While we've seen a strong focus on the idea that tablets must be productivity devices from the likes of Apple and Samsung, Huawei's dubbing of this tablet as a "MediaPad" isn't accidental.
As a straight reading, viewing and very light gaming device, it's entirely adequate. While I had issues with the low-cost Y5 2017's keyboard response, the Huawei MediaPad T3 never gave me grief when making onscreen selections, even if there were instances where heavier-use apps would make it chug a little.
The model as tested and sold in Australia is 4G ready, which means that with the insertion of a nano-SIM, it's possible to take the Huawei MediaPad T3 entirely wireless, or indeed use it as an ad-hoc wireless hotspot for additional devices. That's a feature rarely found in budget tablets, where Wi-Fi is usually your sole connection option.
Battery life
One advantage with using a low-cost processor, beyond keeping the price down, is that they're not often battery hogs. The Huawei MediaPad T3 features a 4800mAh battery, which is reasonably hefty for a budget device.
Depending on your media usage, it's always possible to drive any mobile device flat with enough pressure, but for the basic uses it's intended for, the Huawei MediaPad T3 performed quite well.
Using Geekbench 3's older battery test, it recorded an impressive ten hours and twenty-three minutes of direct battery life. By way of comparison, the Samsung Galaxy Tab S3 managed just under an hour less in the same test, although it was pushing a much better display screen while doing so.
Verdict
There are some genuinely low-cost tablets that you can pick up in the $100-$200 price range if all you need is a window into web browsing, but they're nearly always horribly compromised devices, often across both battery life and performance.
The Huawei MediaPad T3 isn't quite that low cost, but you're looking at better than usual battery life and a quite solid design. However, that has to be moderated against quite ordinary application performance, slightly heavier carrying weight and pretty limited onboard storage.
Alternatives
The tablet market in Australia is in an odd position because there are a number of higher-cost tablets that would run rings around the Huawei MediaPad T3, but relatively few low-cost competitors from brand names you've never heard of.
That doesn't mean that the budget cheapies are absolutely off the menu, but as we've had no opportunity to test them beyond small scale anecdotal observation, they're hard to recommend. The closest new competitor locally would be Samsung's new Galaxy Tab A 8.0, which sells for $329, but again we haven't reviewed that particular model.
If you're happy to switch OS camps from Android to iOS, you could also consider the $579 iPad Mini 4 or the regular $429 Apple iPad.
Pricing and availability
The Huawei MediaPad T3 is exclusive to Vodafone in Australia, and as per Vodafone's website, is only available on contract terms with a bundled data SIM. There's no stated associated additional cost for bundling the Huawei MediaPad T3 with a SIM card that costs $30 per month over a 24-month term with 3GB of data.
Now, over a 24-month term, that much data on just a SIM card (without the Huawei MediaPad T3) would cost you $15 per month. This means the MediaPad T3 is costing you $360 outright at a minimum.
However, Vodafone has advised us that customers who wish to purchase the MediaPad T3 outright can do so for an outright cost of $249 plus one month on a month-to-month SIM-only data contract.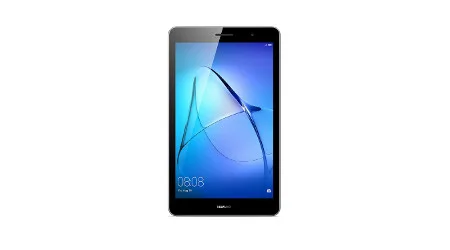 Buy the Huawei Mediapad T3 (import)
from Amazon US site
Impressive battery life and a wallet-friendly price tag make the Huawei Mediapad T3 a solid choice for those wanting a cheap alternative to the iPad.
View details
Specifications
Product Name

Huawei MediaPad T3
Display

8.0in
Resolution

800 x 1280 pixels
ppi

189ppi
Software

Android 7.0
Storage

16GB
RAM

2GB
Battery

4800mAh
Front camera

2MP
Rear camera

5MP
Processor

Qualcomm Snapdragon 425
Size

211 x 125 x 7.95 mm
Weight

340g
Latest mobile phone reviews
---
Follow us for all the latest mobile phone news and deals
---