Huawei launches P20 Pro with a triple camera array and notched display
Huawei's new flagship smartphone has more rear cameras than any other, along with a rather familiar looking notch.
At its Paris launch overnight, Huawei has announced its new P20 series handsets, with camera technology and the integration of AI features to aid that, photography pitched as the key selling points.
Many of the specifications of the new Huawei P20 and Huawei P20 Pro had leaked prior to the event, including the triple camera array on the P20 Pro device. As with previous generations, both the Huawei P20 and Huawei P20 Pro feature Leica-branded cameras.
As rumoured, the Huawei P20 Pro features three rear lenses, combining a 40MP RGB sensor, a 20MP monochrome sensor and an 8MP 3x optical zoom sensor. While you can take pictures directly with the 40MP sensor at full resolution if you so wish, the default for that sensor is to combine pixels for increased lower light sensitivity, taking 10MP photos with sensors that weigh in at 2µm each.
The 8MP optical zoom lens features optical image stabilisation, but the other two lenses skip out on that feature, instead using AI-based stabilisation techniques.
The regular Huawei P20 is a two-lens model, with a 12MP RGB and 20MP monochrome lens.
Both the P20 Pro and P20 include support for 960fps super slow motion, putting them in the same class as the Samsung Galaxy S9, Samsung Galaxy S9+ and Sony's Xperia XZ Premium. Sony's upcoming Xperia XZ2 will still have the slow motion edge with support for 1080p shooting where competitors, including the Huawei P20 family, only offer it at 720p resolution.
Around the front, both models feature a 24MP selfie camera with an AI-driven "beautification" mode, as well as 3D portrait lighting features. It's also at the front that you'll notice the similarity to a certain well-known phone brand.
That's because the Huawei P20 and Huawei P20 Pro both feature a "notch" based design, although their screen sizes are somewhat larger than Apple's iPhone X design. The Huawei P20 features a 5.8 inch 16:9 FHD LCD display, while the P20 Pro runs with an 6.1 inch 18:9 OLED display.
The frames of the new devices feature a new optical coating process that gives the rear of the casings a gradual hue that changes according to the light shining on it. Rather predictably, reports from the launch suggest that, like most shiny phone backs, they're rather good at picking up fingerprints rapidly.
Underneath the glass lurks Huawei's own Kirin 970 silicon, with 4GB of RAM on the Huawei P20 and 6GB of RAM on the Huawei P20 Pro.
All members of the Huawei P20 family skip out on headphone jacks entirely, although Huawei did launch its entries into the wireless audio space with its new Huawei FreeBuds and Huawei Active Noise Cancelling Earphones.
Huawei also announced a Porsche Design variant of the P20 family, the PORSCHE DESIGN HUAWEI Mate RS. Typically we've only seen a few of Huawei's Porsche Design handsets here in Australia, and they always command absolute premium prices.
Speaking of pricing, while Huawei Australia has confirmed that Australia will be "among the first" markets to retail its new phones including the Porsche Design model, it didn't reveal local pricing or availability of the new handsets just yet.
Internationally, it's being reported that the P20 will sell for €649 from today, while the P20 Pro will arrive in some markets on 6 April for €899, and the PORSCHE DESIGN HUAWEI Mate RS will sell for a hefty €2,095 from 12 April.
At current exchange rates, that would suggest pricing at around $1050 for the Huawei P20, $1450 for the Huawei P20 Pro and a staggering $3380 for the PORSCHE DESIGN HUAWEI Mate RS, so you'd better start saving your pennies if you want one of those.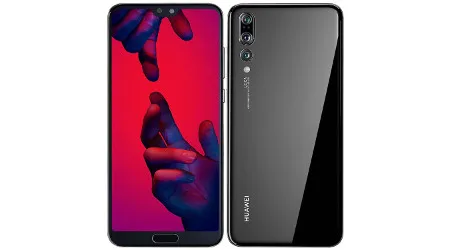 Buy the Huawei P20 Pro 128GB
from Amazon
The Huawei P20 Pro packs a 6.1-inch display, 6GB of RAM, a 2.4GHz octa-core processor and a 40MP camera.
View details
| Device | HUAWEI P20 | HUAWEI P20 Pro | PORSCHE DESIGN HUAWEI Mate RS |
| --- | --- | --- | --- |
| Size | 149.1x70.8x7.65mm | 155.0x73.9x7.8mm | 152.9x72.5x8.5mm |
| Weight | 165g | 180g | 183g |
| Colours | Twilight, Black, Midnight Blue, Pink Gold | Twilight, Black, Midnight Blue, Pink Gold | Black, Red (China only) |
| Display | 5.8" HUAWEI FullView Display 16:9 FHD 3D glass 1080 x 2244 pixels, 428ppi 16.7M colors | 6.1" HUAWEI FullView Display 18:9 OLED 3D glass 1080 x 2240 pixels, 408ppi 16.7M colors | 6.0" HUAWEI FullView Display 18:9 OLED 2880 x 1440 pixels, 538ppi 16.7M colors |
| CPU | HUAWEI Kirin 970 OctaZcore CPU (4 x Cortex A73 2.36GHz + 4 x Cortex A53 1.8GHz) + i7 coZprocessor | HUAWEI Kirin 970 OctaZcore CPU (4 x Cortex A73 2.36GHz + 4 x Cortex A53 1.8GHz) + i7 co-processor | HUAWEI Kirin 970 OctaZcore CPU (4*Cortex A73 2.36GHz + 4*Cortex A53 1.8GHz) + i7 coZprocessor |
| GPU | MaliZG72 MP12 767MHz | MaliZG72 MP12 767MHz | MaliZG72 MP12 |
| NPU | Neural Network Processing Unit | Neural Network Processing Unit | Neural Network Processing Unit |
| Operating System | Android 8.1 | Android 8.1 | Android 8.1 |
| Emotion UI | EMUI 8.1 | EMUI 8.1 | EMUI 8.1 |
| Memory | 4GB RAM + 128GB ROM | 6GB RAM + 128GB ROM | 6GB RAM + 256GB ROM |
| Dual Sim | Single/DualZSIM | Single/DualZSIM | Dual-SIM |
| NFC | Yes | Yes | Yes |
| Connectivity | WiZFi 2.4G and 5G, 802.11a/b/g/n/ac BT4.2, BLE, aptX, aptX HD, LDAC and HWA are supported, USB TypeZC, USB 3.1 GEN1 Infrared Remote Control | WiZFi 2.4G and 5G, 802.11a/b/g/n/ac BT4.2, BLE, aptX, aptX HD, LDAC and HWA are supported, USB TypeZC, USB 3.1 GEN1 Infrared Remote Control | WiZFi 2.4G/5G, 802.11a/b/g/n/ac with WiZFi Direct support BT4.2, support BLE support aptX/aptX HD, LDAC HD and HWA Audio USB Type C DisplayPort 1.2 |
| Camera | Front: 24MP, f/2.0 Rear camera: 12MP RGB (f/1.8) + 20MP monochrome (f/1.6) HUAWEI AIS 4D predictive focus 5x Hybrid Zoom 4K and 960 fps video recording | Front: 24MP, f/2.0 Rear camera: 40MP RGB (f/1.8) + 20MP monochrome (f/1.6) + 8MP telephoto (f/2.4) HUAWEI AIS 4D predictive focus 5x Hybrid Zoom 4K and 960 fps video recording | Front: 24MP, f/2.0 Rear camera: 40MP RGB (f/1.8) + 20MP monochrome (f/1.6) + 8MP Telephoto (f/2.4) HUAWEI AIS PDAF+CAF+Laser+Depth auto focus 5x Hybrid Zoom 4K and 960 fps video recording |
| Battery | 3400mAh | 4000mAh | 4000mAh |
---
Follow us for all the latest mobile phone news and deals
---