How to write a resume
The simple guide to writing a faultless resume.
We're reader-supported and may be paid when you visit links to partner sites. We don't compare all products in the market, but we're working on it!
Writing a resume is a task many of us hate. But if you want to impress prospective employers and enhance your career prospects, a good resume is an essential part of the job-seeking process.
In this guide, we'll explain what makes a good resume, what information to include in your resume, and how it can help you score an interview for your dream job.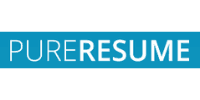 Pure Resume Offer
Get a professionally designed resume starting from $24.99.
What is a resume?
A resume, or résumé, is an important part of a job application in Australia. It's a document that provides a summary of your work experience, relevant skills, education and professional achievements.
The purpose of a resume is to give a potential employer a quick rundown of who you are and why you're suitable for a particular job. Employers use your resume to decide whether they'd like to interview you for a role, so it's vital that you get this document just right.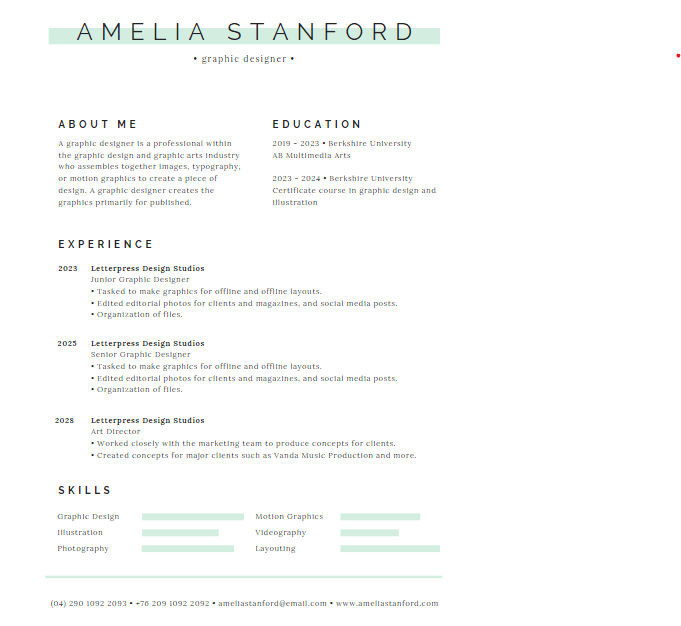 Download this resume template at Canva
What are the features of a resume?
If you're not sure what features to include when writing a resume, take a moment to look at your document through the eyes of an employer. Put yourself in the shoes of a HR manager that needs to sort through hundreds of applications for a particular position.
They'll be looking for resumes that provide all the relevant information in a concise and straightforward manner. The employer will want to know:
Who you are
What previous work experience you have that is relevant to the position
Any skills you have that are relevant to the position
Details of your education and any professional training
A little bit about you
Why you'll be suitable for the job
What they don't want is a novel-length document that lays out every aspect of your life in excruciating detail. Keep your resume brief and be sure to only include information relevant to the job — if you can do that, you'll increase your chances of getting an interview.
Find a resume template to meet your needs
What should I include in my resume?
Now it's time to get down to the nitty gritty of what information to provide in your resume. You'll need to include:
Your personal details. The employer will obviously need to know your name and contact information so they can get in touch to arrange an interview. Use the name you'd prefer to be called by (eg, Tim instead of Timothy) and avoid using any unprofessional-sounding email addresses.
Summary. This short summary can provide a quick overview of your experience, skills and attributes. If you don't have any work experience, focus on your career objectives and key skills.
Work experience. Next, provide details of your relevant work experience. Start with your most recent job and outline your roles, responsibilities and key achievements. If you earned any awards or other professional honours, mention them too.
Education. List your relevant educational achievements, particularly tertiary qualifications or other courses you've completed. If you've recently finished high school, provide details of your secondary school achievements as well.
Skills. You can also list the skills and interests you have that may be relevant to the position, such as speaking multiple languages or being a member of a professional organisation.
References. Provide details of two people who can act as your referees. Ideally, use two former employers, but if you don't have any work experience you could use a former teacher or academic supervisor. If you'd rather not provide the details upfront, specify that "references are available on request".
How long should my resume be?
How many pages should my resume be? How many words should I include?
These are common questions job applicants must grapple with, but the main aim of a resume is to keep it short and sweet. That certainly doesn't mean keeping it to 140 characters or less, but it does mean avoiding overly wordy descriptions and irrelevant information.
As a general guide, limit your resume to two pages. Of course, some job ads will ask for a detailed CV, so read the requirements carefully before applying.
How to write a resume with no experience
If you're applying for your first job, your resume might look a little bare. That's OK — everyone has to start somewhere — but there are a few simple things you can do to make your resume a little more impressive.
The key is to focus on your education and the skills you've acquired. You can also include a brief statement (one or two sentences) outlining your career goals to give the employer a better idea of what you have to offer.
If you've earned a bit of cash mowing lawns or babysitting the neighbour's kids, that's worth mentioning. If you've done any volunteer work or completed an internship, provide details of your roles and responsibilities during that time.
While you may not have experience that's directly relevant to the role, if you can demonstrate that you have a strong work ethic and you work well in a team, it will help enhance your job prospects.
What is the difference between CV and resume?
In Australia, the terms CV (curriculum vitae) and resume often seem to be used interchangeably. But in countries like the US and Canada, there are some key differences to be aware of if an employer asks you to submit a CV instead of a resume.
The main difference is the length. A resume is a short and succinct document you use to provide a quick overview of your relevant skills and experience when applying for a job. A CV is a comprehensive, in-depth document that contains a detailed rundown of your education, work experience, career achievements, awards and other honours.
While a resume is only 1-2 pages only, a CV is usually over 2 pages long — if you've got plenty of experience, it could even run to 10 pages. In the US and Canada, CVs are typically only used for academic applications. Resumes, meanwhile, are used for job applications and can be tailored to suit each different job you apply for.
Writing a resume may be a daunting task, but it's an essential step if you're ever going to score an interview for your dream job. If you can keep it brief, eliminate any unnecessary information, and make your resume simple and straightforward, you'll be well on your way to making a good first impression.
Frequently asked questions about how to write a resume
Should I make my resume stand out from the crowd with funky and unusual fonts?
No. The best approach is to keep it simple. Stick to a standard font like Times New Roman or Arial and focus on making it as easy to read as possible. There may be occasions when it's OK to get a little more creative with the design and layout, but this will depend on the role and the company you're applying to.
I've got many years of experience — how can I include it all without making my resume too long?
The key is to focus more on your recent experience. Prospective employers will pay closer attention to what you've been doing in the past few years than what you did 10 years ago, so provide more details about your recent experience. Include your older jobs too, but keep the details brief.
More guides on Finder