How to source a low-risk investment area
When deciding on the location for your property investment, look for a suburb that is both low-risk and financially viable.
We're reader-supported and may be paid when you visit links to partner sites. We don't compare all products in the market, but we're working on it!
Low-risk investment factors
So you've decided to invest in property, but the question is where? To maximise your chances of success you need to find a suburb where property is in high demand. You also want to ensure that the property offers you adequate rental return.
You need to look at the factors that point to good investment suburbs, such as affordability, demand and supply indicators, as well as desirability for the area to help you research and understand different property market locations.
These factors can make or break your property location decision.
Price growth trends

Check out the growth trends of the area over the past few years and observe whether there has been an upward, stable or downward trend. Remember that suburbs that have recently experienced a boom in property prices may indicate that the market is reaching it's peak, which should raise a red flag as this may mean that property prices are due to fall.
Long-term growth can be a good indicator of demand in the area but don't fall into the trap of thinking that growth needs to be high. In fact, you want growth to be relatively low or stable when you enter the market, otherwise you may have 'missed the boat'.
However, if you're worried if an area is nearing the end of it's growth cycle, check out nearby or neighbouring areas in which the growth may have a flow-on effect. If in doubt, consult a local broker to provide you with insight into the growth trends of the market.
Stock on Market (SOM%)
The SOM% indicates the supply of real estate within a given market. Be wary of oversupply in an area as this can inhibit price growth where supply exceeds demand. Ideally, the lower the SOM%, the better.
However, you should be careful because a low SOM% doesn't necessarily mean that supply won't exceed demand in future. To forecast the SOM% you can browse the council website to see whether there's any planned developments or infrastructure projects for the area.
Vacancy Rate
The vacancy rate of a market reflects the demand for property within the suburb. If the vacancy rate is below the national average, then this is a good sign.
Rental Yield
The rental yield generally indicates the value for money of the area for investors. A yield of 5.5% is relatively healthy, but you should always compare this to the suburb and national median yield to get a better reflection of value for money.

The higher the rental yield, the better chances you'll be able to meet your mortgage repayments and build your investment wealth.
Key take-aways for investment locations
Low recent growth. Avoid buying at the peak of an area's growth cycle as it's only likely to fall which means you may have missed the peak growth period.
Low Stock on Market (SOM%). Look for areas with low SOM% as you don't want to invest in an area that has an oversupply of property as this may inhibit future growth. A low SOM reflects strong demand and buyer sentiment for the area.
Low vacancy rate. Suburbs with a low vacancy rate indicates strong buyer sentiment as there is a shortage of rental accommodation in relation to demand within the market.
High rental yield. Suburbs with a rental yield above the national average indicate good value for money and future capital growth opportunity.
Forecast future demand and supply. Jump on to the local council website to see what planned infrastructure developments are in the pipeline as this may impact future demand and supply for property in the area. For instance, a major housing commission may create an oversupply of apartments in an area which may mean that you are competing with other investors in the area.
Learn more about property investing
Jacinta's first investment property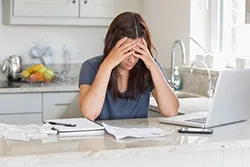 After years of saving, Jacinta has mustered up the funds for a 20% deposit for a $350,000 property in Sydney.
However with no prior experience of property investing, Jacinta is unsure about how to begin the process of sourcing a low-risk investment area.
She turns to an accountant and financial planner who help explain her borrowing capacity and expected cash-flow for a median valued property in the outskirts of Sydney. Jacinta then jumps online to realestate.com.au and CoreLogic to take a look at some recent sales and trends in different markets to get a feel for some investment locations.
After narrowing down her search to three different suburbs in the Newcastle region, Jacinta approaches local mortgage brokers in the area for some advice. Jacinta finds a 1 bedroom unit in Merewether for $350,000 that is likely to offer 5.6% gross rental return.
As the majority of residents are classified as independent youth, Jacinta's broker believes this location will be a wise choice as it is within close vicinity to a university, bars, restaurants and other useful facilities.
Merewether also has a low vacancy rate of 0.67% so Jacinta is confident that this is a good location for her first investment.
Looking for an investment mortgage? Compare your options
After entering your details a mortgage broker from Aussie will call you. They will discuss your situation and help you find a suitable loan.
A comparison of home loans from multiple lenders.

Expert guidance through the entire application process.

Free suburb and property reports.
---

The Adviser's number 1 placed mortgage broker 8 years running (2013-2020)
Images: Shutterstock
More guides on Finder