How to set up direct deposit for your employees
Step-by-step instructions for quick digital payments.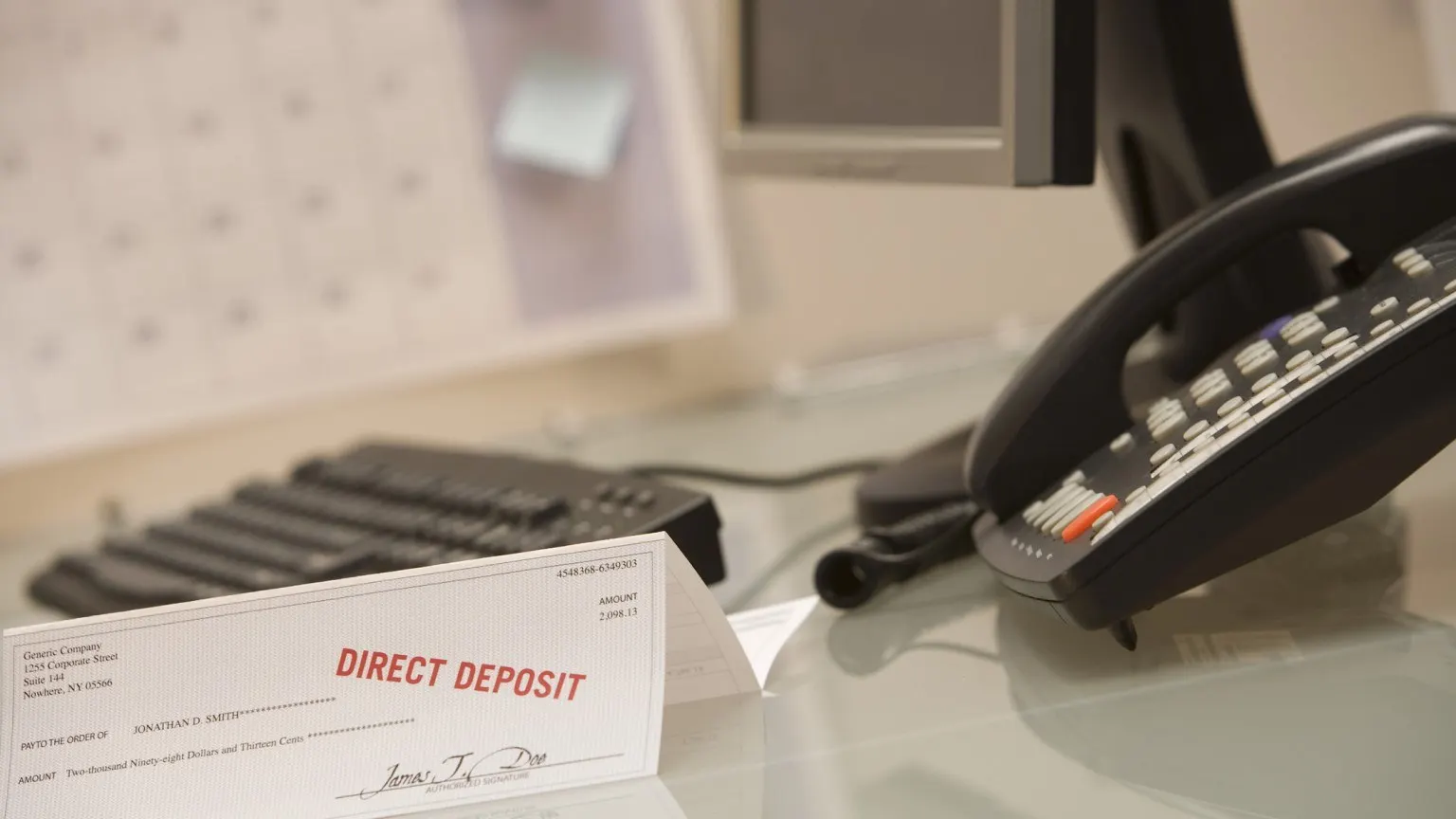 We're reader-supported and may be paid when you visit links to partner sites. We don't compare all products in the market, but we're working on it!
Direct deposit is a reliable, convenient and speedy way to pay your employees. But it isn't free, so you'll want to weigh the costs before signing up.
How to set up direct deposit for employees: A step-by-step guide
The steps required to set up direct deposit might look different depending on the method you use, but here's what you can expect:
Step 1: Choose a direct deposit provider and sign up
Decide whether you're going to use your bank or business software for payroll. If you're using a bank, you can usually sign up in person or through your online account. With payroll software, signing up for direct deposit will likely be integrated into the process of setting up your account.
Step 2: Collect info from your employees
Your employees need to sign a form authorising you to pay them electronically. You'll also need to collect the following information from each of your employees:
Name of their bank
Bank account number
BSB number
Whether the account is a checking or savings
If you use an HR software, it could help you manage this process, as employees can likely log into their account to authorise payment and provide their bank account details directly. Otherwise, you'll need to gather this information manually.
Step 3: Enter their info into the system
If you manually collected your employees' bank account information, you'll have to do this step manually as well. Enter your employees' bank account information and save it to the system.
Step 4: Plan your direct deposits
Share your pay schedule with your provider and employees so they know when to expect the money.
Step 5: Run payroll to send the money
Once the direct deposit service is activated and verified, you're ready to pay your employees. This process differs slightly depending on whether you're using a bank or business software provider, but generally takes less than 10 minutes.
Compare payroll software
How does direct deposit work?
Direct deposit is when your business deposits a payroll check directly into your employee's account. It's entirely digital and automatic, meaning your employees won't have to manually accept the money and you won't have to physically sign a check.
When you send money via direct deposit, it goes through the Australian Payments Network (AusPayNet). The AusPayNet facilitates transactions between financial institutions in Australia. It's a common payment method for employers of all sizes, and is popular because it reduces the amount of paperwork required to run payroll.
How much does setting up direct deposit for my employees cost?
The cost of direct deposit depends on which provider you use. In general, you've got two options — your bank or payroll software.
If you use your bank to send the direct deposits, fees might include:
Setup fee. It's only charged once when you enroll your business in direct deposit.
Transaction fee. Charged every time you send money to an individual employee's account.
Monthly fee. Charged according to the billing cycle.
However, some banks may not offer direct deposit but partner with a payroll provider that does.
If you use payroll software to facilitate your direct deposits, the fees depend on the software you choose — though direct deposit is generally included in the price. For example, with Intuit QuickBooks Online Payroll, direct deposit is a service provided at no extra cost.
Pros and cons
Pros
Businesses frequently use direct deposit to streamline the payment process. A few reasons why it's popular:
Convenient and reliable. Your employees will know exactly when and where their money is sent, which can help them manage their finances more accurately.
It saves you time. Paying your employees via direct deposit can be as simple as running payroll — which you can manage whether or not you're at the office. It's quicker than writing and signing checks or counting out cash.
Electronic records for everybody. Both you and your employees keep a digital payment history that's easy to keep track of — with no physical bookkeeping required.
More secure than check or cash. It's too easy to lose or misplace cash and checks, posing a risk to both you and your employees. On the other hand, the AusPayNet has strict standards to make sure that the direct deposit process is safe and secure.
Cons
Before signing up for direct deposit, weigh the drawbacks, including:
Incremental added payroll cost. Direct deposit doesn't come free, and the fee increases with each employee that signs up.
Less flexibility for employees. Your employees must commit to receiving the money in the same bank account, which could be frustrating if they use multiple accounts or switch banks.
Bottom line
Direct deposit is a common and convenient way to pay your employees, though you'll have to ensure the fees associated with it make sense for your business. The right payroll software can make this process painless.
Frequently asked questions
More guides on Finder