How to use credit card bonus points to pay for flights to New Zealand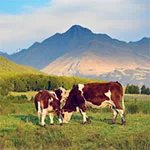 Many rewards and frequent flyer credit cards offer cardholders introductory bonus points that could help you book your flight to New Zealand. For example, a card that offers 50,000 bonus Qantas or Velocity Points would be more than enough to cover a return Economy flight from any capital city in Australia to Auckland. If you prefer the luxury of Business class, a card with a bonus points offer of 80,000 or 100,000 points could be better suited.
These cards generally come with high annual fees and interest rates, so you should make sure that the value of the flight and other card features outweigh the cost of the annual fee. You'll also be required to meet a spend requirement to access the points, so make sure that this aligns with your budget before spending away. You can compare frequent flyer and rewards credit cards with bonus points here to see if any could help you get your New Zealand holiday quicker.