How to find pet friendly rental properties in your city
Need help finding a pet-friendly rental property where you can keep your furry friend? Here's what you need to do.
We're reader-supported and may be paid when you visit links to partner sites. We don't compare all products in the market, but we're working on it!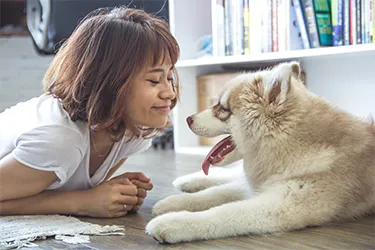 When you're renting, finding a landlord who's willing to let you keep your pet can be challenging.
So if you need help finding a pet-friendly rental property in Australia, read on for some handy tips on how to locate the right property for you and your animal companion.
What's wrong with pets?
Simply mention the word 'pet' and some landlords will run a mile — but why are they so hesitant to let you keep your pet in your rental property? There's a widespread misconception that pets will damage a property, leave odours, and generally decrease the property value over time. There's also the potential for a constantly barking dog or screeching cockatoo to drive the neighbours crazy, resulting in hassle for the landlord and the property manager.
Despite this, figures from the Australian Bureau of Statistics (ABS) reveal that 2.16 million renting Australian families are pet owners. So while some landlords and property managers might not be all that keen to promote a property as pet-friendly right from the outset, they may be more flexible than you think when it comes to allowing you to live with your pet.
From a landlord's perspective, there can be several positives to making their rental pet-friendly. Landlords can often expect to charge a little more rent and, because of the exhausting search many pet owners have to endure before finding a suitable property, they are often loyal long-term tenants.
Pets in apartments
Finding a pet-friendly rental apartment can be problematic for a few reasons: there's less space, less privacy, and you'll also need to consider body corporate regulations on top of your landlord's wishes.
Unfortunately, many strata developments simply impose a 'no pets' rule. However, as demand for pet-friendly rental properties grows and people become more aware of the social and health benefits of companion animals, attitudes towards keeping pets in apartments are starting to change. There are even entire apartment complexes specially designated as pet-friendly, such as Ocean in Narrabeen, the winner of Best Australian Apartment Complex at the Australian Housing Awards in 2014.
If you're looking for a pet-friendly apartment, check out the body corporate's rules concerning pets, as well as if any other tenants keep pets, before deciding whether or not it's worth applying for tenancy.
Pet-Friendly Property Searches
Pet-friendly property search sites
If you're hunting for a pet-friendly property, there are several avenues that can help you find the right property. For example, First National Real Estate offers a pet-friendly property search function, while real estate listing websites also offer a pet-friendly search filter when you're hunting for suitable rental properties.
There are even sites dedicated to helping responsible pet owners find the right rental property for their pet. One example is Rent With Pets, a dedicated pet-friendly rental listings website. It was founded by a Sydney vet with the aim of helping responsible pet owners connect with pet-friendly landlords and property managers.
Another option is to contact a few local real estate agents and see if they have any pet-friendly properties listed on their books. If you put your name out there and create the impression that you are a responsible pet owner and renter, you'll be the first person the agent thinks of when a suitable property becomes available.
Tips to get your rental application approved
When you're applying for a rental property with your pet, it's important to go the extra mile to show that your pet won't cause any problems. If you can prove that you're a responsible and thoughtful pet owner, the chances of finding a flexible landlord are greatly enhanced.
There are several steps you can take to make your application as impressive as possible, including:
Pet character references. People need to provide references before they receive approval to rent a property, so why shouldn't the same be expected of our pets? The property manager will need to feel confident that there will be no risk attached to letting you keep a pet, so ask previous landlords, your dog trainer and even your vet to provide character references for your pet.
Keeping records. Is your pet microchipped, desexed and fully up to date with the necessary vaccinations? Is he protected against fleas, worms and other parasites? Has your dog graduated from obedience school? Providing documentation that proves this will also help your landlord feel comfortable that your pet won't cause any problems. You may even want to put together a pet resume that shows off all of your pet's best features.
Providing cleaning commitments. To overcome your landlord's fears about pets being dirty, maybe you can reach an agreement for the cleaning tasks you will perform when you vacate the property. You'll already need to clean the property to an acceptable state before you leave, so maybe promising to get the carpets professionally cleaned and deodorised will put your landlord's mind at ease.
Mentioning special circumstances. A landlord may also be more lenient towards keeping pets if there are special circumstances involved – for example, if the pet is a companion animal for an autistic child or a vision impaired person.
Doing your research. Try to find out whether any other renters or owners in the same apartment block are allowed to keep a pet, as this can be used to strengthen your case.
Negotiating with your landlord. Consider negotiating an agreement whereby the landlord can regularly come and inspect the property to ensure it is in good condition. Signing an agreement to pay for any damage caused by the pet can also help.
Tips for renting with pets
There's also plenty of other general tips worth keeping in mind to ensure a hassle-free experience when renting with pets:
Don't be afraid to ask. Don't be put off by previous negative experiences with landlords — it can't hurt to ask your current landlord about the possibility of getting a pet. You never know; your landlord might be an animal lover themselves.
Consider paying more rent. In some ways, keeping a pet is a little like having an extra tenant. Consider offering a little more rent each week if it may encourage your landlord to compromise on their 'no-pets' stance. Whatever you decide, make sure to get any agreements in writing.
Choose the right property. You need to remember your pet's best interests when choosing a property, not just your own. For example, expecting to keep a working dog breed like a Kelpie cooped up in an apartment all day isn't ideal.
Ask for a trial period. If the landlord or property manager is not completely sold on the idea of letting you keep a pet, ask if they would consider a trial period so you get a chance to prove that your pet won't cause any problems.
Don't lie. Trying to go behind your landlord's back and hide the fact that you're keeping a pet is a recipe for disaster. If you're found to be breaking the terms of your lease, the property owner is well within their rights to show you the door.
Fix any damage. If something goes wrong and your pet does cause damage to the property, it's better to be proactive rather than try to hide anything from your landlord or property manager. Report the damage immediately and outline the steps you are taking to remedy/repair it.
Prevent problems. If your dog barks at all hours of the day and night or is constantly digging into the neighbour's yard, you run the risk of having complaints made against you which will soon get back to your landlord. Get on top of any problems before they arise — for example, give your dog plenty of exercise and mental stimulation to prevent boredom.
Ready to protect your prized possessions?
More guides on Finder