How to earn flybuys points by unlocking your phone

You can now collect bonus flybuys points just for viewing an ad with the Unlock Rewards app.
Most of us hate ads, but what if you could earn reward points just for watching or looking at an ad on your smartphone? Well, the new app from flybuys could help you do just that.
This week, flybuys has partnered with Aussie startup Unlockd to allow members to earn flybuys points when viewing advertisements with the Unlock Rewards app.
How can I earn bonus flybuys points?
Members can collect flybuys points by opting to view curated ads, content or offers when they unlock their Android smartphone. To ensure the content is relevant, the advertising presented is based on your selected interests and geo-location. When you unlock your phone and see an ad, you can swipe to dismiss the ad or click through for more information.
As you view the ads, you'll have the chance to earn up to 1,000 flybuys points per month. So over a year, you could earn 12,000 flybuys points just from looking at a few ads. That could get you $60 off your shop in 12 months. This isn't a massive reward, but it's an easy way to pick up bonus points without spending anything.
When you download the Unlock Rewards app, you can link it to your flybuys account by entering your membership number and password. Then you'll be asked to nominate some of your interests (such as beauty, health and fitness or travel) to ensure the ads work with your hobbies and interests. Once you're set up, you can also use the app to monitor your points balance and check when your reward cycles ends.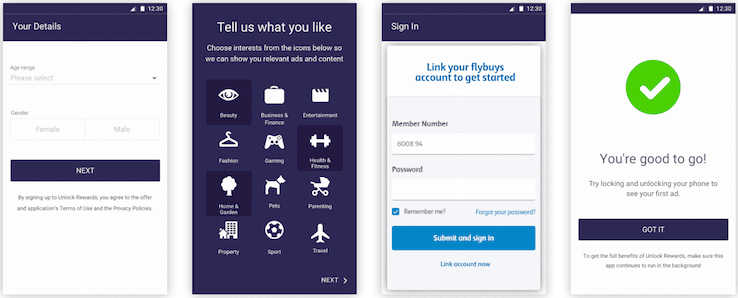 Who can use the app?
Bad new, iPhone fans. At the moment, the Unlock Rewards offer is only available to Android users. Around 45% of flybuys' 8 million active members are estimated to be Android users, so flybuys thought a platform like Unlockd could help provide extra value to those members.
"flybuys is always looking to innovate and find new and meaningful ways for members to collect flybuys points," said Coles general manager for loyalty Adam Story. "It's exciting to be partnering with an Australian company to provide our members with rewards just for unlocking their Android phones."
Given that the average Australian unlocks their smartphone more than 80 times a day, the Unlock Rewards app could be an easy way for flybuys members to rack up more points every day.
For some more inspiration on how to earn points on everyday transactions and costs, check out our guide on everywhere you can earn flybuys points.
Latest frequent flyer and rewards headlines
Image: Shutterstock