How to buy shares as a gift in Australia
Giving shares to a loved one is a great idea, but how do you actually do it?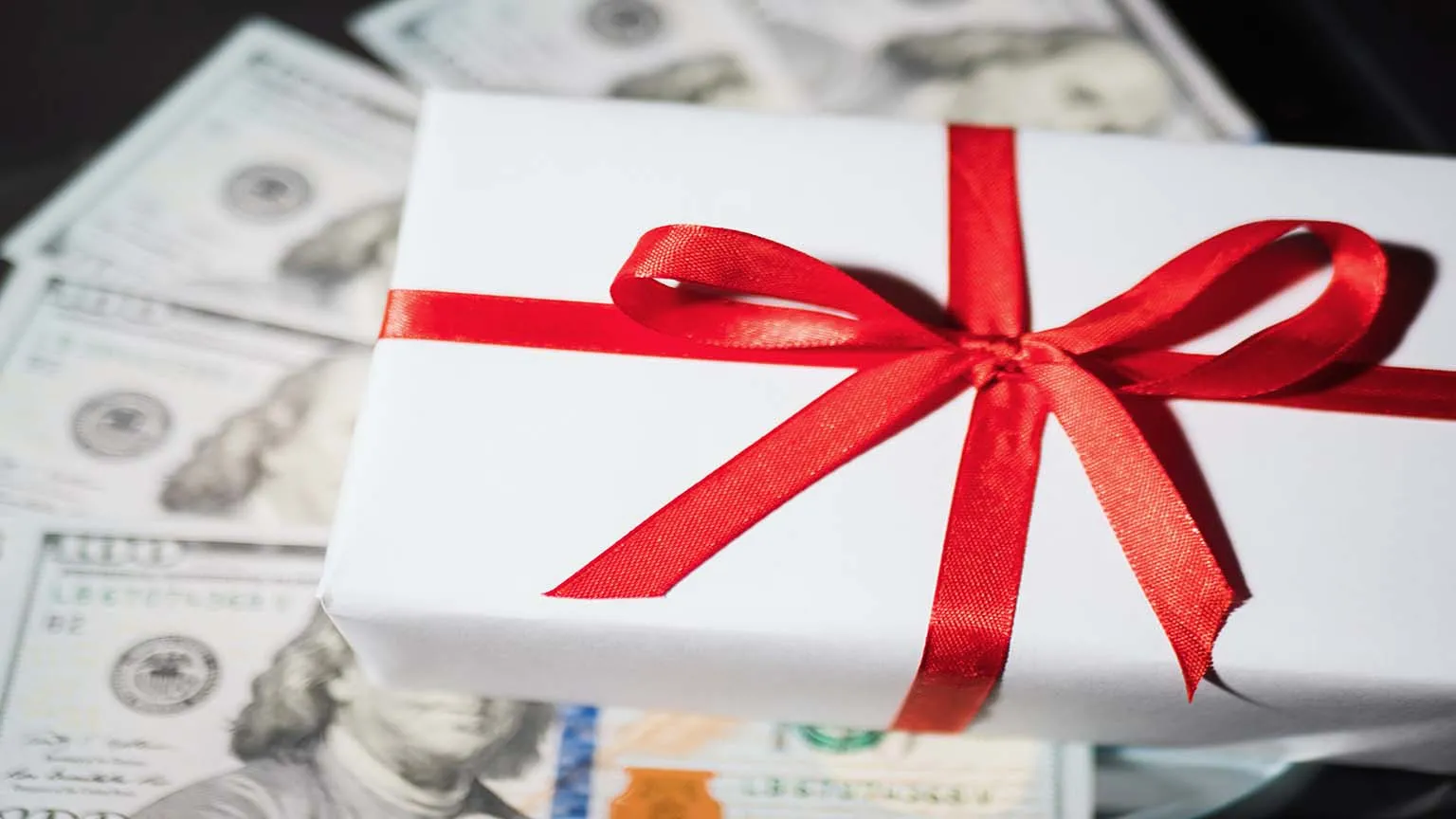 We're reader-supported and may be paid when you visit links to partner sites. We don't compare all products in the market, but we're working on it!
Buying shares for a loved one can be one of the most valuable gifts you can offer them. After all, what beats a gift that gets better every year and has the potential to make you lots of money?
Shares can not only encourage a life-long interest in investing, they can increase significantly in value over time and even help to create an extra income through dividends.
But if you want to buy shares for a family member or friend, how do you go about doing this? Unfortunately, the process in Australia isn't as straightforward as you may think, but it is possible once you know the right steps.
How to gift shares in 4 steps
Gifting shares in Australia
In the past, there have been a few apps that at some point allowed you to gift shares, but these seem to have mostly disappeared – one of the last of these was the investment app Stake, which stopped offering gifts in 2019. Unless another share gifting app pops up to save the day, you'll need to do this the long way.
That means buying the shares you want to gift and then transferring ownership through an off-market transfer. How you go about this will depend on the type of shares you hold, whether the recipient is over 18-years-old and whether they hold a broking account.
What is an off-market transfer?
An off-market transfer is where shares are privately transferred between shareholders or companies without involving the stock market.
A few factors that will impact how you transfer ownership of shares:
Type of registration. There are two types of registered shares in Australia, these are CHESS-registered or issuer sponsored shares. CHESS shares need a broker to perform the transaction while issuer sponsored shares are transferred by the company's share registry.
Your broker. Not all online brokers allow you to transfer shares directly through them. You may need to transfer shares to another broker first or contact the company's share registry.
Do they have a broker? If your recipient uses the same broker as you, it can be easier to do a broker-to-broker transfer.
Age of recipient. If you're buying shares for a person under the age of 18, you'll need to open a "minor" account for them if they don't have one.
Step 1. Select a broker
If you're not already registered with a broker, you'll need to sign up in order to buy shares. The easiest and cheapest way to do this is through an online share trading platform.
At this point you should also think about how you plan to transfer the shares to your friend or relative (see step 3). If they already have a broker, it may be easier to open an account with the same broker they use if they facilitate share transfers.
Alternatively, if you have a broker account and they don't, you could ask them to open an account with the same provider. Sure, it takes the surprise out of the present, but it can streamline the process to both have accounts with the same broker. If they're a child, you'll want to find a broker that offers minor accounts (see below).
A few key points to consider before signing up to a broker:
Transfer option. Do they have an off-market transfer service?
Minor accounts. If your recipient is under 18, check if they offer accounts for children.
Cost of transfer. Off-market transfers typically cost from $25 - $60 depending on the broker or share registry.

Some online brokers have streamlined share transfers between individuals. For example, CMC Markets, SelfWealth and CommSec allow you to transfer ownership by filling out an online form, and it usually takes a couple of days to process. Others may require mail service and take longer to transact or not offer the service at all.
Unfortunately, this information isn't usually easy to find. You may need to call up the individual brokers and have a quick chat. This isn't one to leave to the last minute!
Compare online brokers
Important: Share trading can be financially risky and the value of your investment can go down as well as up. "Standard brokerage" fee is the cost to trade $1,000 or less of ASX-listed shares and ETFs without any qualifications or special eligibility. If ASX shares aren't available, the fee shown is for US shares. Where both CHESS sponsored and custodian shares are offered, we display the cheapest option.
Step 2. Buy the shares
Picking which companies to buy is the fun part. You can either choose a company that they're a fan of or that they interact with regularly, or you could pick a stock that you think will deliver awesome returns over time.
Here are a few types of shares to consider:
Dividend stocks. Blue chip companies, such as the major banks, are good options because they tend to be safer than other types of stocks and they often pay dividends. The shortfall is they're less likely to see significant capital growth in the long run.
Exchange traded funds. If you're looking for a safer, long-term investment, ETFs are a great idea because they're a fund of multiple stocks, so there's usually less price volatility.
Favourite companies. If the person is new to investing, gift shares in a company that they're a fan of or that they interact with on a daily basis. That might be a service such as AfterPay, the bank they use or a renewable energy stock.
Growth stocks. These tend to be newer or less well-known stocks with big potential to grow. Although these are riskier, if you pick the right one, there's more opportunity for profit than with the blue chip stocks.
Global stocks. There's no easy way to directly buy international shares for someone else in Australia. However you can buy units in a global-themed ETF – there are more than 100 ETFs that cover the US, Asia, emerging markets and European market equities.
What are the costs of buying shares?
There's no getting around the fact that shares are a pretty pricey gift. If it's your first time buying stock in a company, there's typically a minimum spend of at least $500, and some brokers also have an off-market transfer minimum of several hundred dollars.
Plus, you should be aware that when you transfer shares you'll also need to pay capital gains tax on any profits you've earned in the time you held them. There are different rules around this depending on how long you held the shares for, whether you're transferring to a spouse and how much you're transferring.
It's a grey area and the rules often change, so your best bet is to check with an accountant before you make any big move.
Step 3. Off-market transfer
Regardless of how or where you bought the shares, passing them on to someone else requires an off-market transfer. An off-market transfer is a private stock transaction that's not performed through the share market.
First, you'll need to work out whether the shares are CHESS sponsored or issuer-sponsored. If you bought the shares or ETF through a stock broker or online trading platform, they're most likely CHESS sponsored (though this isn't always the case) and you'll need to request an off-market transfer form from the same broker.
CHESS vs issuer-sponsored
Australian shares are either registered with a stock broker through the ASX CHESS share registry or they're issuer-sponsored. Ownership details of issuer-sponsored shares are managed by the company's stock issuer.
If you inherited the stocks or they were passed to you by another person, they'll most likely be issuer-sponsored. You'll need to contact the company's share registry to perform the off market transfer. Find this information on the ASX website, search for the company and find the share registry under the details tab.
Example: CommSec off-market transfer form
Some of the main share registries include Link Market Services, Computershare and Advanced Share Registry. Each registry and broker has its own procedures and costs related to transferring stocks, so you'll need to get the finer details from them.
Transfer costs
There's always a transfer fee when you perform an off market transfer. This typically ranges from $27 - $55 per company, depending on your broker or the share registry and there's often a transfer minimum.
Some brokers, such as CMC markets, scrap the transfer fee if you're giving shares to another person using the same broker platform.
Example: CommSec off-market transfer costs
Off-market transfer costs by broker
CMC: $55
CommSec: $54
SelfWealth: $27
IG: No transfer option
Step 4. Submit the form, print confirmation
In a perfect world, your shares would arrive in a pretty package ready for you to sit under the Christmas tree to surprise and delight your loved one.
Sorry to burst the dream, but the reality is you can't transfer shares without getting signatures from both parties when you submit the off-market transfer forms to your broker or the share registry.
On the form, you'll both need to fill in your name, address, contact details, and signature, plus the name and number of shares that are being transferred.
You'll then submit the form to your broker or the share registry, wait for the confirmation to arrive in the mail and then print it out with a bow on top.
Unfortunately, gifting shares won't be much of a surprise to them (unless they're a minor), but who really wants an unexpected gift anyway?
Once the transaction is complete, you can print out the confirmation and add it to a card under the tree. Voila.
Buying shares for children
They might not appreciate it yet, but shares can be an amazing gift for kids to get them interested in finance and support them through adulthood.
Children under the age of 18 cannot legally buy or wholly own shares. However, it's possible to open a "minor" account which is registered under an adult's name until they're old enough. Then, when the minor turns 18, you can transfer ownership solely to them.
Because you're not officially transferring ownership, you shouldn't need to pay capital gains tax when you do.
Micro-investing for kids
Another option for kids is to open an account for them through a micro-investment or robo-advice platform. It's a fairly new idea, but some investment apps now have specific accounts for children that can be set up by parents.
Robo-advisers invest your money into a curated portfolio of stocks or other products based on your profile or preferences. Because it's an online service, you pay a much lower fee than you normally would through a regular investment adviser or stock broker.
The investments held within the account are still not wholly owned by the child, but are held by the adult until they turn 18. The advantage here is that they're easy to set up, they're often cheaper than adult accounts (or free) and the charts and interactive features of the app makes it easier for kids to visualise investing.
Popular investment apps offering children's accounts:
StockSpot. Zero fees for children's accounts if you have less than $10,000 in your fund.
Six Park. No fees for the first 6 months with a minimum $10,000 requirement.
Raiz. The micro-investment app lets you open a Raiz Kids account within your own Raiz account.
The gift of knowledge
Perhaps your friend or family member would prefer to understand how to invest and buy their own shares.
If that's the case, check our list of top books to learn about share trading or head over to some of the excellent investment courses you can take to master your skills in the stock market.
More guides on Finder