How to add or change your frequent flyer number on a booking
Explore the different ways you can add a frequent flyer number to your flight bookings so you can earn more points and status.
We're reader-supported and may be paid when you visit links to partner sites. We don't compare all products in the market, but we're working on it!
Frequent flyer programs offer you points and membership status for any eligible flight that you take, including with partner airlines that may have their own frequent flyer programs. If you're a member of several different frequent flyer programs, this means you can pick and choose when you earn points.
Either way, you have to add your chosen frequent flyer account number to the booking in order to earn any points. So if you haven't included the frequent flyer number you want on a flight, here are the different opportunities you have for adding these details to your ticket.
Update your booking online

Most airline or travel booking services have an online portal or account where you can view your upcoming travel plans and make basic changes, including adding your frequent flyer number to the itinerary. The process can vary between services but generally involves:
Going to the website or portal. The link should be included in the email confirming your booking.
Entering your booking details. Usually, you'll be asked to provide your booking reference number and name so you can log in to the service.
Updating your passenger details. The frequent flyer information is usually located in this section. If it's not, go through each section until you find it.
Add your frequent flyer details. Select or type in the frequent flyer program you want to use to earn points and provide your frequent flyer membership number, then save the updated details.
Tip: Check your booking details through your frequent flyer account
If you're flying with the frequent flyer program's main airline, you may be able to check or update your flight details through your membership account. For example, if you were booked for a work trip with either Qantas or Virgin Australia, you could log into your frequent flyer account, click on the bookings tab of your profile and check to see if your flights show up. If they don't, you can click the link to go to the bookings portal and add your frequent flyer number following the steps above.
Example: Updating your frequent flyer details for a Virgin Australia flight
Here are the steps you could take if you were booked on a Virgin Australia flight and want to add or change your frequent flyer program details.
1. Go to the Virgin Australia website (virginaustralia.com)
2. Click on the "My Bookings" tab in the left-hand navigation column and enter your booking details. You'll then be taken to a list of your upcoming bookings.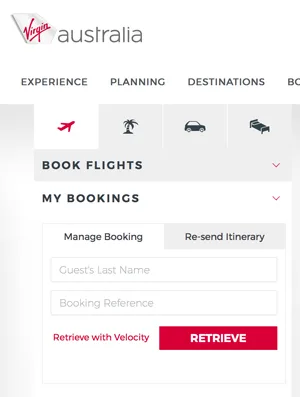 3. Select the booking you want to change your frequent flyer details for. This will bring up a page with a summary of the booking.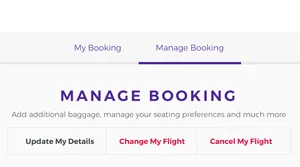 4. Click on "Manage Booking", then "Update My Details". This takes you to a page where you can update the details of all the guests travelling on the booking.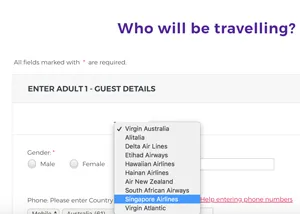 5. Select your chosen frequent flyer program from the dropdown menu, enter your membership number and follow the prompts to confirm the update.
If you had already added your Velocity Frequent Flyer details and then decided you wanted to earn points through another frequent flyer program, you could also make the update by logging into your Velocity account, selecting "My Bookings" from the left-hand column and then following the rest of the steps above.
Contact the airline or booking agent
Another option is to call or email the airline or booking agent that you used for your upcoming flights. Let them know your flight details and ask if they can add your chosen frequent flyer details to the booking.
Depending on the company you've booked with, you may also be able to use an online chat service or social media account to request this change. For example, KLM Royal Dutch Airlines offers flight documentation through Facebook messenger, while American Airlines has been known to update flight details and itineraries via Twitter. But if you do choose this option, make sure you only provide your details through a direct message, rather than a public post to social media.
Check if the airline code is needed for your booking
If you're adding a frequent flyer number for a partner airline that offers its own frequent flyer program, you may also need to provide the airline code for your chosen frequent flyer program. For example, if you were flying with Singapore Airlines and wanted to earn Velocity Points, Virgin Australia's airline code (VA) would need to be included on the booking so you could earn Velocity Points.
Usually this information will show up when you're changing your frequent flyer details for a booking online but you may need to provide the airline code if you're updating your information by phone, email or social media. You can check codes on the International Air Transport Association's page (http://www.iata.org/publications/Pages/code-search.aspx).
Add or change your frequent flyer number at check-in
Whether you're checking in online or at the airport, there's usually an opportunity to update your basic details. This is usually included under the "passenger" section for online and self-service check-in options. If you can't find this option, head to a staffed check-in desk at the airport and ask a team member to add your frequent flyer details to your booking.
Example: Changing your frequent flyer number when checking in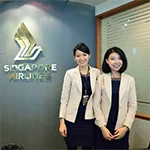 Here's an example of how changing your frequent flyer number could help you maximise rewards between programs. Say you're booked on a flight from Sydney to London with Singapore Airlines. When you booked the flight, you decided to also sign up to the Singapore Airlines KrisFlyer program so you could earn points for your trip.
After making the booking and adding your KrisFlyer details, you realise that this flight would give you enough Status Credits through the Velocity Frequent Flyer program to reach Gold Velocity Status (and get perks such as lounge access). So when you're checking in at the airport, you ask the Singapore Airlines staff member to change your frequent flyer details to Velocity. After switching these details, your Velocity account would then reflect the points and Status Credits from your flight/s within 14 days.
At a customer service desk
If you check-in without realising your frequent flyer details are not on your booking, you may be able to update them at a customer service desk. This largely depends on the airport and airline you're flying with, so it's worth looking at the airport map or visiting the airline website to check your options.
If you have access to the airline's lounge, you could ask the airline staff working at the lounge if they could update your details. Another option is to line up at the check-in counter again and politely ask if you can add these details – although it's probably better to avoid this option if it's really busy.
Ask at the boarding gate
This is the very last chance you'll have to add your frequent flyer number before you fly. If you get to the gate before boarding has started, you'll usually see a couple of airline staff members getting ready for the service. As long as they're not too busy, you should be able to ask them to update your details. In this instance, being pleasant and polite could go a long way towards getting you what you want.
Adding your frequent flyer number after the flight
If you forgot to put any frequent flyer number on your booking before you flew, you might be able to submit a claim to have the points and status credits added to your account afterwards. Just keep in mind that you can only do this if no other frequent flyer number was already listed for the flight. Check out this guide on how to claim points after a flight for details on the steps to take with different frequent flyer programs, including Qantas and Velocity.
Whether you've decided to add a frequent flyer number to your flight or you want to change it to maximise rewards with a particular program, these options give you a chance to include your membership details before you fly. As a final step, you can also check your boarding pass to confirm these details have been added – or hold onto it and submit a missing points claim after your trip.
Compare frequent flyer credit cards
Pictures: Virgin Australia and Shutterstock
Back to top
More guides on Finder
American Express Velocity Business Card

The American Express Velocity Business Card earns points per $1 spent and offers complimentary travel insurance and two complimentary Virgin Australia lounge passes each year.
Supercharge your frequent flyer points with Points Finder