How nappies show that Amazon still has a few things to learn about the Australian market
Plus... which size should you order for your child?
After many false alarms, Amazon finally launched in Australia overnight. An apparent delay in the launch date may indicate that the mega-retailer had a few issues to iron out, and the initial launch range shows that it may still have a few things to learn.
Nappies in Australia are generally known by specific names corresponding to the child's development stage: newborn, crawler, toddler, and so on. However, nappies in the US tend to be sold by size number, with each size corresponding to a development stage.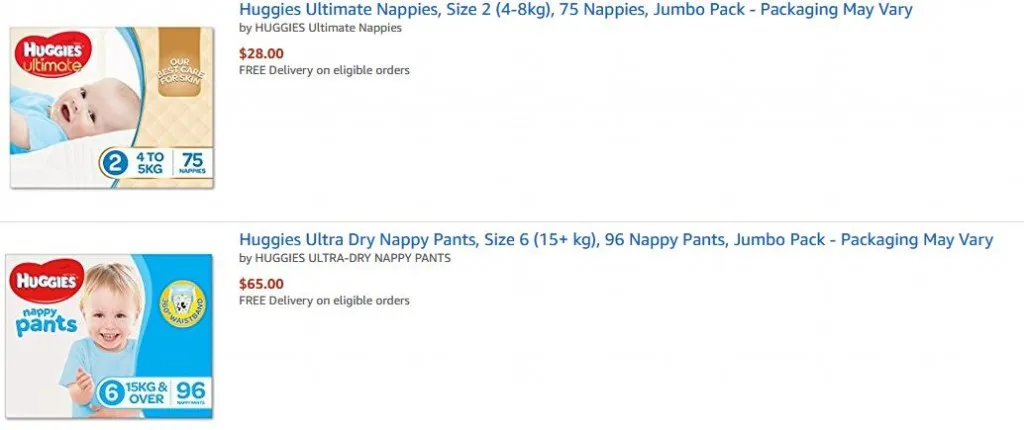 Right now, it looks as though Amazon is currently listing nappies in Australia by size number, with no corresponding description. This will no doubt be confusing for Aussie parents and shows that Amazon still has a way to go in adapting to the local market. This appears to be an issue with Huggies nappies specifically at the moment.
How long will it take Amazon to notice this issue and update its descriptions? Time will tell, but this is one example of how important localisation is to global businesses expanding into new markets.
However, if you are looking to stock up on nappies, we're here to help. See below for a list of Australian nappy sizes and their US equivalent:
| Australian size | US size |
| --- | --- |
| Newborn | 1 |
| Infant | 2 |
| Crawler | 3 |
| Toddler | 4 |
| Walker | 5 |
| Junior | 6 |
Graham Cooke's Insights Blog examines issues affecting the Australian consumer. It appears regularly on finder.com.au.
Picture: Shutterstock