How much spending money do I need for Bali?
We suggest you budget for AUD$19 per day if you're having a low-cost trip, or AUD$100 a day for a luxury getaway.
We're reader-supported and may be paid when you visit links to partner sites. We don't compare all products in the market, but we're working on it!
Compared to Australia, Bali has very cheap prices which means you can live a life of luxury, even if it's just for a little while. Some expenses may compare to Australian prices such as cocktails, but with the amount you'll be saving elsewhere such as on resort stays and transport, there's no need to worry about spoiling your holiday with high prices.
How much spending money for Bali?
For spending money we recommend bringing the following, based on your travel budget:
Low-cost: IDR200,000 ($19) per person, per day if you plan to eat local and take public transport
Mid-range: IDR530,000 ($50) per person, per day if you plan to dine in restaurants and hire a car or take private transport
Luxe: IDR1,000,000+ ($100+) if you plan on only going to the top restaurants and splurging on all of the day trips
Exchange rate is approximate, obtained from xe.com on 9 November 2018.
What is the best way to take money to Bali?
You won't have issues accessing money in Bali as ATMs are very common. However, we recommend exchanging money into the local currency before you leave as ATM scams in Bali are also common.
Credit cards and travel money cards are accepted at major hotels and more expensive restaurants but smaller hotels, guesthouses, hostels and local restaurants rely on cash payments only so it's safer to bring money with you and not rely on your credit card.
How much are taxis in Bali?
The price of taxis in Bali varies based on where you are travelling as some destinations are quite far away. An example price from the Bali airport to Ubud is IDR300,000 ($28).
A cheaper option between destinations in Bali (not including the airport) is to use Uber or GoJek, a local app that is similar to Uber. Costs will be half the price or less.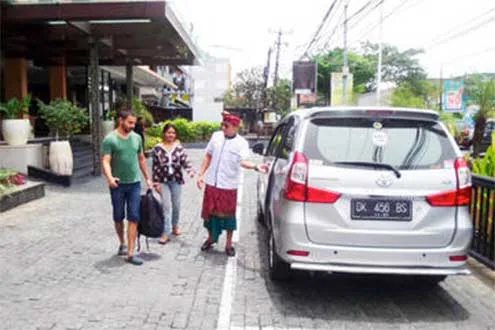 Bali airport transfers from $12.15
from Klook
Discover Bali at your own pace by hiring your very own private Bali car rental.
View details
How much does a hire car/scooter cost in Bali?
A daily scooter rental is IDR50,000 ($4.70) with discounts offered for longer rentals.
A car rental booked using our rental car comparison site one month in advance for drivers over 30 is as low as IDR689,000 ($64.57) per day for a small car. Large cars for a single day rental start at IDR860,000 ($80.98).
How much is food and drink in Bali?
Food and drink prices vary depending on which area of the island you are staying in and what type of experience you're after. Uluwatu and Seminyak tend to have the most expensive restaurants, while areas such as Canggu and Ubud have cheaper options. That said, it is possible to find both cheap street eats and fine dining in all tourist areas in Bali.
Cheap options include eating at local restaurants called warungs for as little as IDR12,000-IDR32,000 ($1.13-$3 per person). Western restaurants have meals for IDR50,000-IDR100,000 ($4.70-$9.40) and fine dining restaurants and beach clubs serve meals for IDR150,000-IDR300,000 ($14.25-$28.30).
A beer at the beach or a cheap restaurant will cost you IDR15,000 ($1.40) and at nicer restaurants such as beach clubs like La Laguna the price will jump to IDR50,000 ($4.70). Cocktails range significantly depending on the bar, club or restaurant with prices as low as IDR50,000 ($4.70) and up to IDR170,000 ($16).
If you're looking for iconic Balinese dining experience, Jimbaran is well-known for its waterfront seafood dinners where local restaurants place tables right on the sand and serve up fresh food while you watch the sun set over the sea. You can also indulge in private dinners set amongst the rice paddies.
How much is sightseeing in Bali?
Sightseeing on a budget can be done when you rent a scooter and visit attractions such as temples like Tanah Lot IDR60,000 ($5.65), the Monkey Forest IDR50,000 ($4.70) and the Tegalalang Rice Terraces IDR15,000 ($1.41).
An easier option is to book day tours which include a private driver that will take you to attractions around the island. Drivers typically cost IDR500,000 ($47.14) for the day and attractions are additional.
The most expensive things to do in Bali to budget for are hiking Mount Batur, IDR250,000 ($23.57), and trips to Nusa Lembongan or Nusa Penida, IDR1,500,000 ($141).
How much is it for a Bali SIM card?
It is most convenient to buy a SIM card at the airport but it is also the most costly with prices of IDR200,000 ($18.85) for a minimum of 1G and up, but these SIM cards are registered, which is now required by law.
A cheaper option is to buy your SIM card at a kiosk once in town for prices as low as IDR28,000 ($2.65) for 3G of data. These SIM cards will not be registered and may stop working.
All SIM cards and the plans purchased automatically last for 30 days.
An additional option is to buy a registered SIM card before your trip.
How much money do I need for a week in Bali?
If you want a budget option that includes renting scooters, sticking to drinking beer and eating at mostly cheap restaurants then you can get away with only IDR1,400,000 ($130) in spending money for the week.
If you want to eat at a mix of local and western restaurants, have the occasional cocktail and go on some of the more expensive excursions then IDR3,710,000 ($350) will be comfortable.
If you want to spend your nights at the top beach clubs, have private drivers and only eat western food then budget IDR7,000,000 ($700) or more for the week in spending money.
Quick facts about money in Bali
Currency: Indonesia rupiah (IDR)
Exchange rate: AUD$1 is equal to IDR10,644.88
Cost of food: IDR32,000-IDR300,000 ($3-$28.50)
Cost of a local beer: IDR15,000-IDR50,000 ($1.40-$4.70)
Travel money cards for Bali: Browse top travel money cards for Indonesia
Exchange rate is approximate, obtained from xe.com on 9 November 2018.
Compare travel money options for Bali
More guides on Finder