How magnesium works after exercise
Why magnesium is so important post-gym and the benefits of magnesium supplements if you're not getting enough in your diet
We're committed to our readers and editorial independence. We don't compare all products in the market and may receive compensation when we refer you to our partners, but this does not influence our opinions or reviews. Learn more about Finder.
Magnesium is an important mineral, especially for anyone who works out. Unfortunately, it's also one that a lot of people don't get enough of in their diet. Here, we look at the reasons why you need plenty of magnesium and how to make sure you get the right amount.
How magnesium helps your body after exercise
If you work out regularly, magnesium is definitely a nutrient that you don't want to be lacking in. Sweating gets rid of key electrolytes in the body, including magnesium. These need to be replaced after a gym session, especially if it was a fairly intense one.
Magnesium helps the muscles to relax post-workout, which counteracts the role that calcium plays in contracting the muscles. A lack of magnesium can upset this delicate balance and you're likely to feel the effects of this as sore muscles. If you don't replace the magnesium you lose while you're working out, your muscles find it harder to recover.
Magnesium is also involved in helping your body to convert glycogen into glucose. If there isn't enough magnesium to do this, the body moves into anaerobic metabolism instead. The end result? Lactic acid build up, fatigue and even more potential for sore muscles.
Studies have suggested that magnesium can help you to perform better, which isn't too surprising when you consider the benefits for your muscles and general energy levels. According to studies, even being slightly deficient in magnesium can affect your performance and forces your body to work harder.
If you regularly suffer from sore muscles after a gym session, it could be a sign that you're not getting enough magnesium.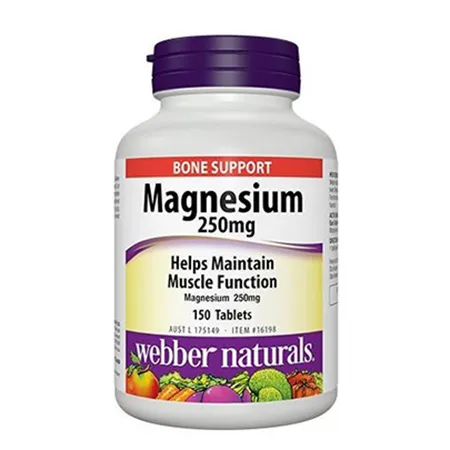 Source: Amazon Australia
When is the best time to consume magnesium?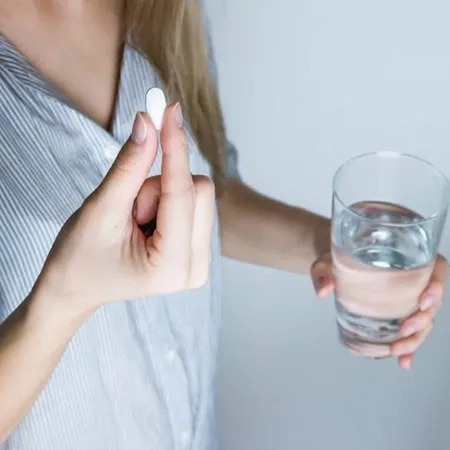 Ideally, you want to be replacing the magnesium you've lost as quickly as possible so that your muscles don't feel the effects. Experts often recommend that you consume something with magnesium in it straight after a workout and do the same roughly 1-2 hours before you go to bed.
In a nutshell, getting plenty of magnesium every day is an important part, so don't worry too much if you don't think you're taking it at the "right" times. You're doing a lot better than people who don't get enough magnesium full stop!
Magnesium and sleep
If you don't sleep well, you might want to have a look at your magnesium intake. Studies have linked low magnesium levels to poor sleep quality.
Magnesium can promote better sleep on a number of levels. This includes stimulating the parasympathetic nervous system (which calms the body) and increasing production of melatonin (otherwise known as "the sleep hormone"). Its calming and relaxing effects can also play a big role in reducing the effects of anxiety and stress, and this can also help to improve your sleep patterns.
Other benefits of magnesium
Research has also suggested that magnesium can keep blood pressure in check. This can result in less strain on your heart.
Reduced inflammation is another bonus. Some studies have shown a link between low magnesium levels and inflammation and others have shown that getting plenty of magnesium actually decreases inflammation levels.
For diabetics, magnesium can help to reduce blood sugar levels and research has also indicated that getting enough magnesium every day can reduce your risk factor for developing diabetes.
If you're plagued by migraines, magnesium may be a factor here too. Some studies have suggested that supplements can have a positive effect on how severe migraine attacks are and how often they occur.
So as you can see, the benefits of magnesium supplements can be pretty broad, especially if you're not currently getting enough through your diet alone.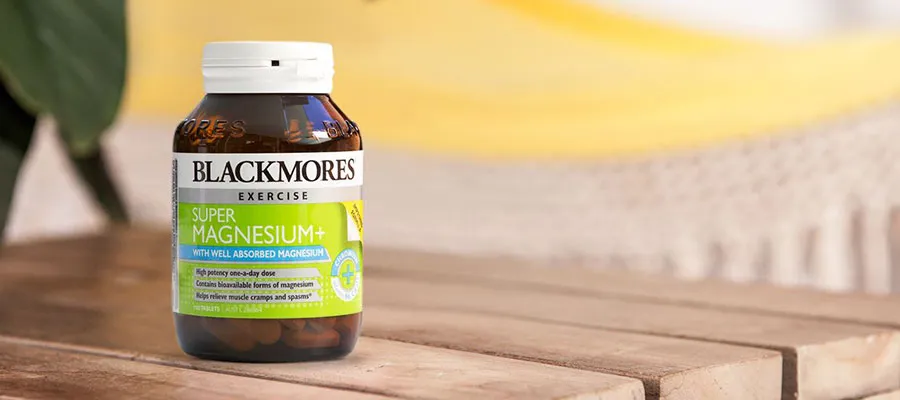 Source: Blackmores
How much magnesium do you need?
Men aged up to 30 are advised to get up to 400mg of magnesium every day and this rises slightly to 420mg for males in their 30s and beyond.
Women don't need quite as much – they're advised to get up to 310mg of magnesium every day if they're under 30. Women also need a bit more magnesium once they hit their 30s – the amount they need goes up to 320mg. Pregnant women need to up their magnesium intake to 350mg (up to age 30) or 360mg (age 31 and upwards).
You may be more likely to be deficient in magnesium if you have diabetes or digestive issues that affect absorption of nutrients. Your body's ability to absorb magnesium also decreases as you get older.
If you decide to supplement, the recommended upper limit is 350mg. If you take supplements that contain more than 350mg of magnesium, you may start to experience some of the side effects of too much magnesium (which we talk about below).
What foods contain magnesium?
Some of the foods you can stock up on for a magnesium boost include:
Almonds
Avocado
Dried apricots
Cashews
Banana
Beans (black beans, kidney beans)
Some whole grain breads
Peanuts and peanut butter
Pumpkin
Leafy greens such as spinach and chard
Dark chocolate (especially the high quality kind)
Peas
Some bottled waters are also fortified with minerals such as magnesium
What happens if you take too much magnesium?
It is possible to take too much magnesium and this is something to think about when you weigh up whether you really do need to get the benefits of magnesium supplements or if you're already getting plenty of magnesium from your diet.
The risk isn't that high if you're not supplementing because for most healthy people, your body will try to flush excess magnesium. However, this doesn't always happen if you have kidney or heart problems or digestive issues.
Some of the signs you may be getting too much magnesium include diarrhoea, vomiting, fatigue, weak muscles, an erratic heartbeat, low blood pressure, breathing difficulties and as a worst case scenario, it can lead to a heart attack.
If you take supplements with more than 350mg of magnesium, you may notice some of the digestive symptoms in particular.
Buy magnesium supplements online
You can buy magnesium supplements online from these stores:
Top 10 Sites to Buy Supplements Online
More guides on Finder