We're reader-supported and may be paid when you visit links to partner sites. We don't compare all products in the market, but we're working on it!
One of the best things about solar panels is that they'll eventually pay for themselves — and save you money in the long run. The solar break-even point is the time when the savings start to be greater than the price of the system. Also called solar payback time, this measure is a handy way to compare the return value of different solar panel systems for your home.
Payback time is typically 4 - 7 years...but in depends
Generally, the amount of time it takes to start saving money varies from 4 - 7 years. However, this depends on factors like:
Your battery size
Where you live
Then angle of your roof
Your retailer

Luckily, you can get an estimate from most solar installers:
Solar Run is a solar retailer who can help you install solar on your rooftop.
Get quotes for solar panels and battery storage

Clean Energy Council approved retailer

NSW, VIC, SA, QLD and ACT
---

Note: Solar service not available in the Northern Territory, Tasmania and Western Australia.
Where do you live?
Payback times will differ depending on where you live.
If you're in lower Victoria or a southern, less sunny area, 6 - 7 years as a general minimum.
If you're in the sunnier areas of SA, WA, NSW, NT and QLD, it could take as little as 4 - 6 years.
According to the Alternative Technology Association Projects and Policy Manager, Damien Moyse, it typically takes under a decade for a household solar system to pay for itself.
"The best a household can achieve in the lower parts of Victoria is around six to seven years. This is around 15% p.a. return on money invested."
"Things are a bit better in SA, WA, NSW, NT and QLD where sunshine is better and grid tariffs are often a bit higher (particularly in the case of SA, QLD and NT). Four- to six-year paybacks may be achievable in these parts of the country."
How many solar panels do you need?
When asking how many solar panels you will need, first you need to know what your current home power usage is. Generally it's a good idea to speak to an expert. However, you can do some of your own calculations to get a general idea:
1. Grab your most recent energy bill
Work out how much you use each day
If you have a recent energy bill lying around you should find this figure on there. Divid youre usage by the number of days on your bill (usually 91 days). Energy usage is sometimes given for the year — divide this by 365 to calculate your average daily use.
Example: Yearly use of 4,000 kilowatt hours (kWh)
For example, say your yearly use is 4,000 kilowatt hours (kWh). Simply divide this by 365 (days per year) to get an average daily usage of 10.9kWh.
Remember that this is an average and give plenty of room for cloudy days and winter. We'll use 15kWh to give a buffer.
2. Find out how much sunlight per day your roof gets
Next we need to figure out how much sunlight your home gets. This is easier said than done, and for this we will have to call in the experts. Contact a solar installer or local solar authority to get some information on the sunlight measurements in your area.
Let's say your home receives a solid 6 hours of sunlight per day, which is a reasonable average accounting for the movement of the sun and possible shade from trees or other structures. So now we divide your daily usage by the number of hours of sunlight.
Calculate the energy you need to generate each hour of sun you get
15kWh/6 = 2.5kw needed every hours
We now multiply our kilowatt hours by 1,000, which converts the figure into watts, rather than kilowatts (this makes subsequent calculations easier).
2.5 X 1,000 = 2,500 watts
So your solar panel system needs to produce 2,500 watts or 2.5kw of energy per hour to power your home. Simple, wasn't it?
The decision
Solar panels are rated for the amount of watts they produce.
Example: 200-watt solar panels
Let's say you want to buy 200-watt solar panels, it's easy enough to work out that you will need 13 panels to cover your 2,500 watts per hour.
200 watt panels X 13 = 2,600 watts per hour.
Performing these calculations will really help when it comes to comparing quotes or determining whether panels are feasible for your home. Remember that this figure is just a guideline, and when making a decision as big as this you should seek out professional advice early and often.
YOU MAY ALSO BE INTERESTED IN: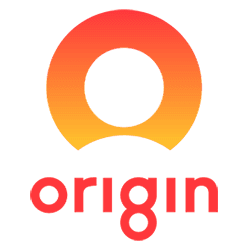 Get a price estimate from Origin Energy
No lock in contracts, solar options and in-app bill management.
Case studies
These couples from Sydney, Melbourne and Perth recently decided to go green and switch to solar energy. Read about how long it took before they started saving money.
Luke and Logan's 3kW PV solar system in Sydney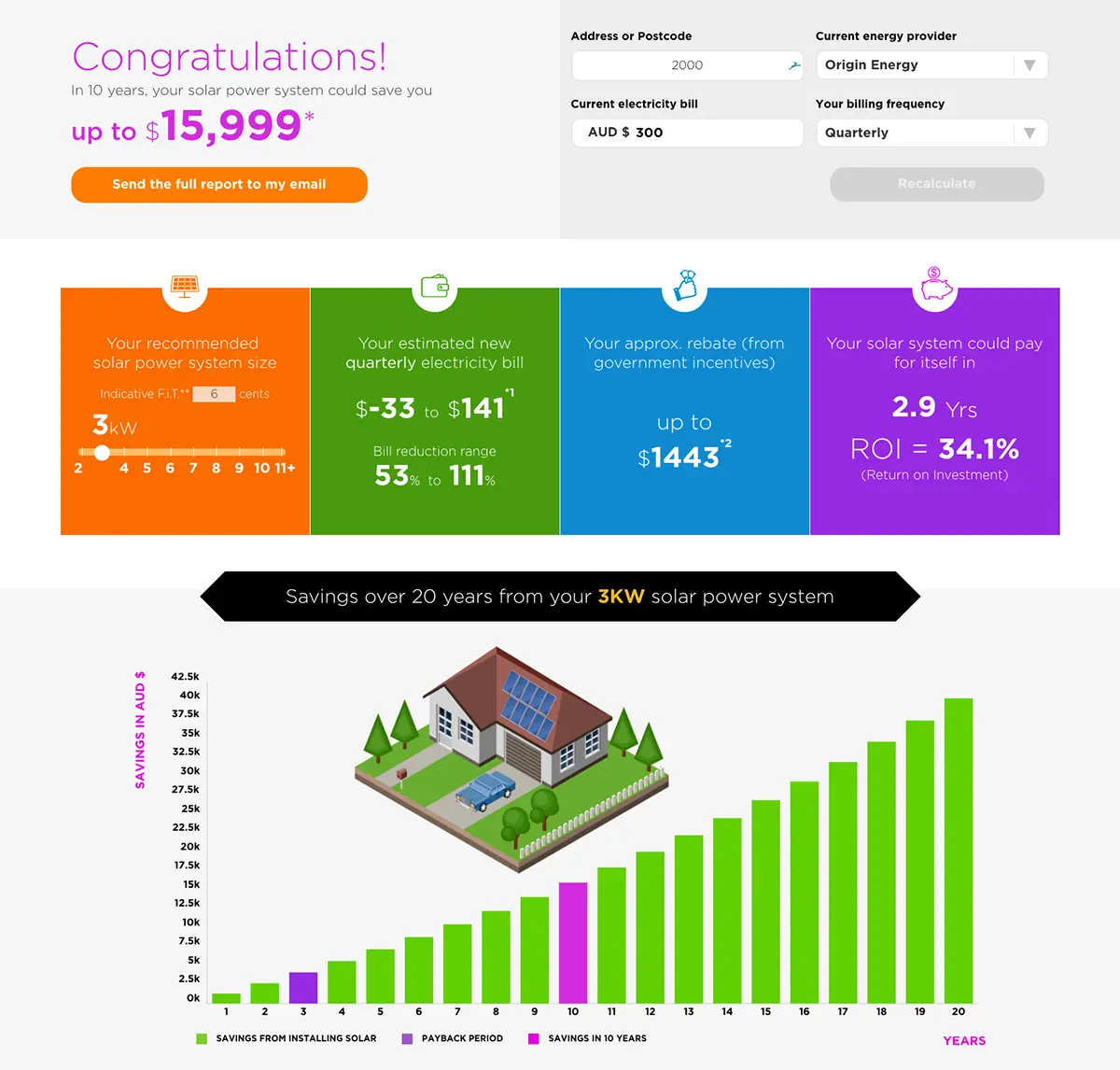 The couple live in a small, freestanding two-bedroom house in the suburbs of Sydney with their son, Jack.
They bought a 3kW system. Before solar they paid $1,200 a year for energy. Their solar system now covers their electricity bill. It works out to be more cost effective to use solar energy than sell it. Their feed-in arrangement is based on covering their own electricity use first. They make about $60 a year from feed-in tariffs.
For Luke and Logan, it will take about three years before the savings on their electricity bill covers the cost of installing PV solar in their home. This is a return on investment of over 30% p.a.
Michelle and Graham's 2kW PV solar system in Melbourne
Green thinking Michelle and Graham live in a two-bedroom house in Melbourne. They don't have kids but plan on starting a family in the future.
They installed a 2kW PV solar system in their home to cut back on energy costs.
Their computers, televisions, dishwasher and washer/dryer make up the bulk of their energy consumption; before solar they paid a little over $300 every quarter. After installing solar in their home their bill was reduced to about $230. Solar energy saves Michelle and Graham around $300 every year.
Assuming their electricity consumption stays the same, their solar panels are going to pay back the cost of the installation in about five years. This represents a return on investment of 20% p.a.
A Perth family's 5 kW PV solar system
The family lives in a four-bedroom house in Perth. Their house is large, has a pool, their kids each have computers, there are televisions in most rooms of the house and they have all the modern conveniences like washers, dryers and air conditioning which runs occasionally during the summer months.
The family's energy consumption is above the national average: they use about 40 kWh per day and pay almost $1,000 per quarter for electricity or $3,920 every year.
Fred and Kate installed a 5kW solar system to cut back on energy costs. Installing solar cut their energy bill by approximately 30-40%.
The 5kW system cost them $7,000. Considering their energy saving, it will only take two years for the energy savings to catch up to the price of their solar system. This is a 40% p.a. return on investment.
Factors affecting your saving
The cost and saving of solar energy is influenced by household electricity use and the size of the solar PV system. Other factors like panel configuration and the type of inverter also impact efficiency as well as bad weather and spikes in electricity use.
STCs. Small scale technology certificates can cut payback time even further. STCs are a government rebate. You're allocated a number of certificates based on the size of your PV solar system and the location of your house. Each certificate is worth about $40 and you can claim your STCs 15 years in advance.
FiTs. The feed-in tariff rate is how much the electricity company will pay you for your solar power. The feed-in tariff rate has been reduced in recent years due to cut government subsidies.
Understanding your electricity tariff type
Single rate. You pay the same rate for your electricity during day and night. The most widely available and accessible tariff type.
Time of use. This is a flexible pricing tariff arrangement. Electricity pricing varies on the time of the day. On-peak electricity is more expensive than off-peak electricity and shoulder-peak sits between these two periods. This tariff type is available with smart and interval meters.
Understanding solar feed-in tariffs (FiTs)
A FiT is the rate you're paid for selling your unused solar electricity back to the grid.
WA, NSW and QLD have no government mandate about minimum FiT rates; the other states do. Energy companies in these states will supply PV solar panel owners with a rate anyway.
Most panel owners install a solar PV system to offset their household electricity usage. FiT rates are important if you plan to install a system that can produce surplus power during peak usage times: 9am to 5pm.
Feed-in tariff is less than what you pay for your power, so try and move the bulk of your power consumption to the middle of the day when electricity is more expensive.
Understanding electricity and gas tariffs.
Other considerations
Think about the following when you're considering solar power for your home.
The size of the solar PV system. A 4kWh produces double the energy of a 2kWh system. Your household energy needs should inform the choice of size of your solar PV system.
Your average energy consumption Pools, heating and household appliances can use a lot of electricity. Purchasing household appliances can affect your energy needs.
Usage patterns. Do you use more electricity during the day or night? Installing a solar PV system can see your metering arrangement change to a time of use tariff for property electricity consumption. Electricity is cheaper at night.
What should I expect from my solar PV system?
Calculator screenshots: Solar Market
Latest electricity and gas headlines
More guides on Finder
Lower your household bills